What legacy did Australia's former Grand Mufti, Sheikh Taj Din al-Hilali -- named "Muslim Man of the Year" in 2005 and the country's most senior, longest-serving (1988-2007) Muslim cleric -- leave behind?
In 1988, when Hilali was imam of the largest mosque in Australia, he gave a speech at Sydney University in which he described Jews as the cause of all wars and the existential enemy of humanity.
In July 2006, he called the Holocaust a "Zionist lie" and referred to Israel as a "cancer".
In October 2006 -- insinuating that the long prison sentences handed to Sydney's Lebanese gang-rapists for attacking young teenage girls in the year 2000, were unfair -- he compared Australian women who do not wear the Islamic veil to meat left uncovered in the streets and then eaten by cats. During his long career, Hilali also praised suicide bombers as heroes and called the September 11, 2001 terror attacks in the United States "God′s work against oppressors" and "the work of 100 percent American gangs".
At the time, Hilali's principal adviser and spokesperson, Keysar Trad, wrote, "The criminal dregs of white society colonised this country and... the descendants of these criminal dregs tell us that they are better than us." Trad subsequently served as president of the Australian Federation of Islamic Councils -- the national umbrella organization, which represents Australian Muslims at national and international level -- from July 2016 until May 2017.
According to Australian senator Cory Bernardi:
"In 2009, the New South Wales Supreme Court found that Mr. Trad 'incites people to commit acts of violence', 'incites people to have racist attitudes' and is a 'dangerous and disgraceful individual'... When talking about the gang rape of young women in Sydney by a group of Lebanese men... Mr. Trad ... described these types of perpetrators as 'stupid young boys'... Mr. Trad did not condemn Sheikh Hilali's disgraceful comments about women being 'uncovered meat' in a speech about rape. Instead Mr. Trad chose to defend that speech and the sheikh's comments".
In February, Trad told Sky News presenter Andrew Bolt that an angry husband can beat his wife as "a last resort" but should only use his fists against her once he sees that "counselling" -- chocolate and flowers, according to Trad -- does not work.
Trad also called for the introduction of polygamy in Australia. He said that taking a second wife was "an alternative to divorce", as, "in our religion, god hates divorce".
Recently, in May 2017, after an emergency election, Rateb Jneid replaced Trad as president of the Australian Federation of Islamic Councils.
Since 2011, Ibrahim Abu Mohamed, who does not speak English and relies on translators, has been the Grand Mufti of Australia. In 1995, before moving to the West, Abu Mohamed wrote:
"The West does not bring to us any good, all they bring are their diseases, their designs and their shortcomings... They insist to impose on us their corrupt values, and their philosophy and mannerism, the very things which brought disease, fear, crime and stress to them, the very things which severed ties and broke relationships."
According to the Daily Telegraph:
The Grand Mufti's views were also laid bare... with the release of details of a book he wrote saying non-Muslims wanted their women to walk around 'exposed as a piece of sweet pastry ... ­devoured by the eyes of men'".
In December 2012, Abu Mohamed led an Australian delegation of Muslim scholars to the Gaza Strip, where they met senior Hamas political leader Ismail Haniyeh. Abu Mohamed told local news agencies:
"I am pleased to stand on the land of jihad to learn from its sons and I have the honor to be among the people of Gaza, where the weakness always becomes strength, the few becomes many and the humiliation turns into pride".
In 2013, Grand Mufti Abu Mohamed visited sheikh Yusuf al-Qara­dawi, spiritual leader of the Muslim Brotherhood, in Qatar. Qaradawi advocates suicide bombings; has urged the world's Muslims to fight in Syria and has said that killing people who leave Islam is essential, as Islam would otherwise disappear.
After the Paris attacks in November 2015, Abu Mohamed implied that the ISIS atrocities were partly caused by "Islamophobia", saying:
"It is... imperative that all causative factors such as racism, Islamophobia, curtailing freedoms through securitisation, duplicitous foreign policies and military intervention must be comprehensively addressed."
With Muslim leaders such as former Grand Mufti Hilali, former president of the Association of Muslim Councils, Kayser Trad, and current Grand Mufti Ibrahim Abu Mohamed, it should hardly come as a surprise that sharia -- and indeed jihad -- have made significant inroads in Australia. In 2011, the Australian Federation of Islamic Councils sent a submission to the Federal Parliament's Committee on Multicultural Affairs, asking for Muslims to be able to marry, divorce and conduct financial transactions under the principles of sharia law. Sharia law, the president at the time of the Australian Federation of Islamic Councils ludicrously argued, far from discriminating against women, "guarantees women's rights that are not recognised in mainstream Australian courts".
Although polygamy is illegal in Australia, a study in 2011 found that, "Valid Muslim polygynist marriages, lawfully entered into overseas, are recognized, with second and third wives and their children able to claim welfare and other benefits". When former Prime Minister Tony Abbott called for action after learning about the issue, he was told that it would cost more to pay the wives the single parent benefit. Centrelink, the Australian authority responsible for welfare and other benefits, said that it did not hold data based on polygamous relationships or religion, and that Islamic marriages are not registered. The problem of unregistered Islamic marriages and social welfare fraud is a familiar issue in Europe.
Last year, a 14-year-old Melbourne girl was forced to marry Mohammad Shakir, 34, in a ceremony at a Victoria mosque. In March, Shakir pleaded guilty to a criminal charge of forced-marriage. Ibrahim Omerdic, the Melbourne imam who performed the Islamic wedding ceremony, is also due to appear in court on criminal charges.
Muslim Australian girls, some allegedly as young as nine, have also been taken overseas, or are being threatened with it, and forced to become child brides. A nine-year-old girl reported that she would be taken to Afghanistan to marry, while others were told they would be forced to marry cousins of their parents when they turned 13. In 2012, a 16-year old refugee girl from Afghanistan was flown to Pakistan for a "family holiday" and forced to marry a man she had never met.
The Australian Federal Police investigated 69 incidents of forced or under-age marriage in the 2015-16 financial year, up from 33 the previous year. In the 2013-14 financial year, only 11 cases were investigated. Government agencies are said to consider the figure of 69 potential recent cases the tip of the iceberg, with many girls "too fearful to contact police". A government child-welfare hotline has received more than 70 calls for help in the past two years, mainly from concerned teachers, counsellors and school principals. Forced marriage was criminalized in March 2013 in Australia. However, the law is not retroactive and marriages entered into prior to the law are beyond the authorities' jurisdiction, meaning those girls are almost certainly lost.
Female genital mutilation (FGM) is another Islamic practice that has recently come to public notice in Australia. In March 2016, three people, among them the mother and a Muslim cleric, were sentenced in Sydney for their role in the female genital mutilation of two seven-year-old sisters. While there are no official numbers, it is estimated that there are 83,000 women and girls in Australia who may have been subjected to FGM. 1,100 girls are born every year to women who may have had FGM, which means that their daughters are also at risk of being subject to FGM.
The Royal Commission into Institutional Responses to Child Sexual Abuse, which has spent the past four years probing numerous religious organizations, including Catholics, Anglicans, Pentecostals, Jews, Jehovah's Witnesses and obscure cults numbering a negligible amount of members, such as new age ashrams, has made no inquiries into Islam. The commission has held 6,500 one-on-one private interview sessions with survivors or witnesses making allegations of child sexual abuse within institutions, but only three sessions in relation to Islamic institutions.
Four Islamic terrorist attacks, including the Lindt Café siege in Sydney in December 2014, in which the manager and a mother of three were killed, have taken place in Australia. Eleven attacks have been foiled, including planned public beheadings. This statistic does not include the January 2017 car-ramming in Melbourne. The driver, Dimitrious Gargasoulas, murdered six people, including children, and wounded 20 others, when he plowed his car into pedestrians. Even though a witness claimed that Gargasoulas was shouting "Allahu Akbar", police refused to treat the event as a terrorist attack and even allegedly told a reporter to remove her interview with the witness from the internet. Gargasoulas had apparently converted to Islam prior to the attack and told the judge in a subsequent court hearing, "Your Honour, did you know the Muslim faith is the correct faith according to the whole world?"
Recently, Australia adopted stricter vetting rules for immigrants to avoid admitting those who harbor hostile Islamic views. Evidently, this measure comes several decades too late: Those who harbor hostile Islamic views were let in a long time ago. Now, what will Australia do about those who are there?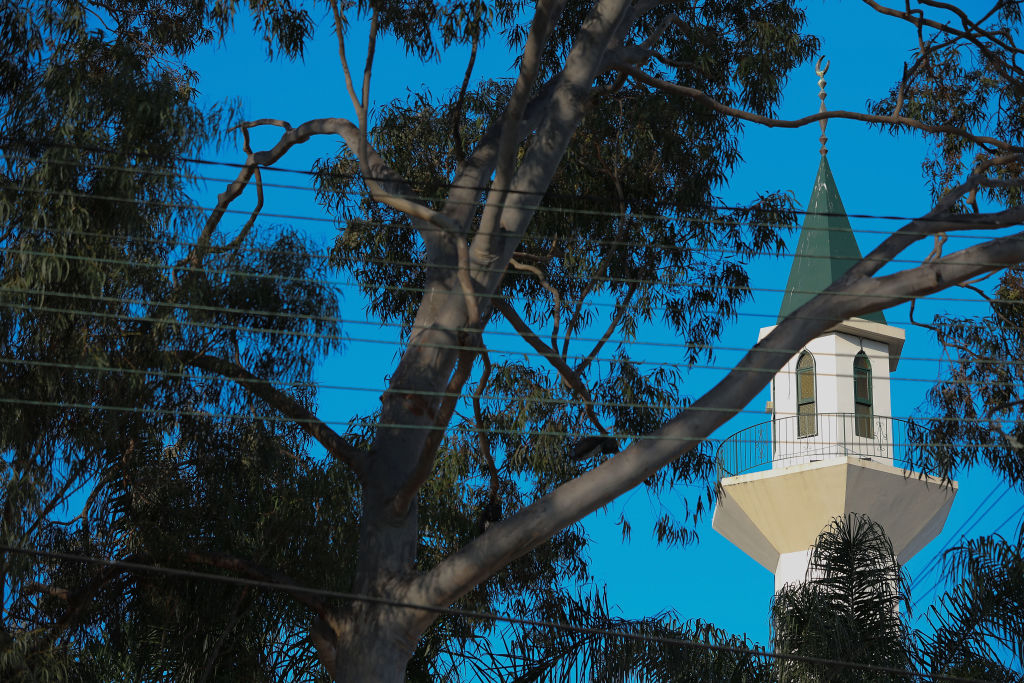 A mosque minaret in Sydney, Australia. (Photo by Cole Bennetts/Getty Images)
John Richardson is a researcher based in the United States.