The government of Bangladesh, led by historically known secular political party Awami League, has completely surrendered to the country's radical forces regarding the demands, made by Hefazat-e-Islam and some other Islamic political and religious organizations, including the removal of the sculpture that was designed with the theme of the Greek goddess of justice. The statue was installed in last December following a decision taken by the Chief Justice. On May 26, at night, Bangladeshi authorities, in the name of the "consent of the chief justice", removed the sculpture from the front side of the Supreme Court. The current chief justice, incidentally, is the ever first non-Muslim to hold the constitutional post.
In reaction, the next day, after Friday prayers, Islamists, led by Hefazat-e-Islam, arranged a rally and expressed joy and satisfaction over removal of the sculpture and demanded further removal of all existing idols/statues/sculptures -- whatever one might call them -- across the country. "Bangladesh is a Muslim country, no culture of statue establishment would be allowed by the people here... all of them must be removed," said Nur Hossain Quashemi, the president of Dhaka branch of Hefazat-e-Islam, to the media.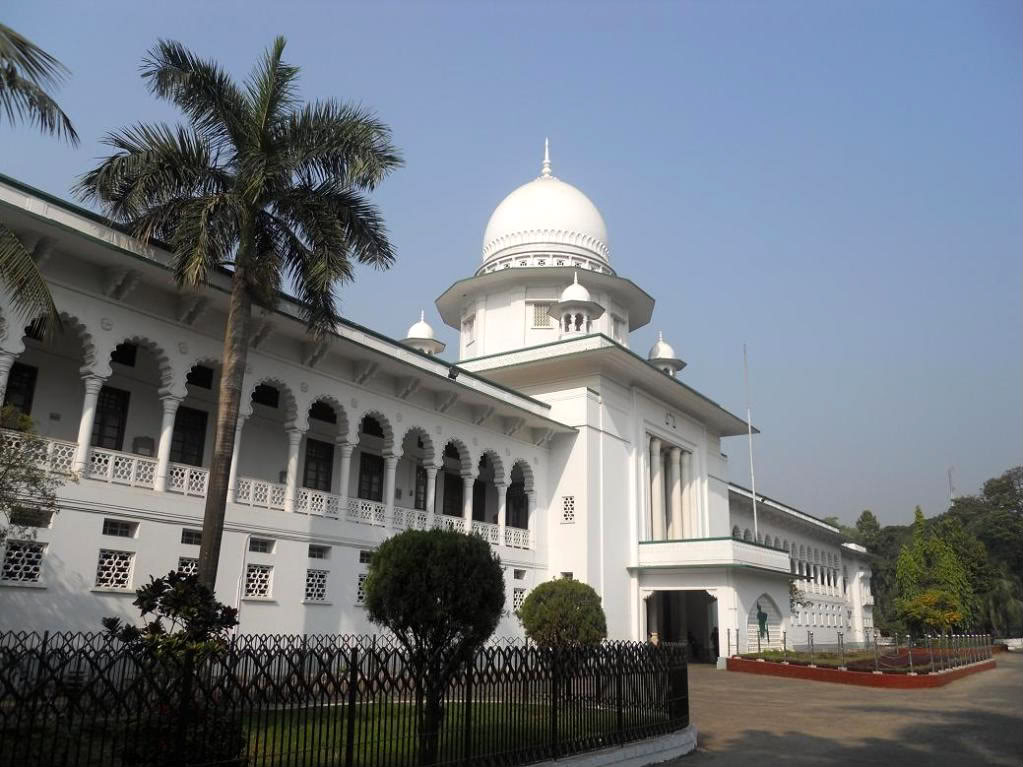 The Supreme Court of Bangladesh, in Dhaka. (Image source: F2416/Wikimedia Commons)
Before the removal of the sculpture, a group of Islamist leaders, on April 11, led by Hefazat-e-Islam, met Prime Minister Sheikh Hasina at her official residence in Dhaka and demanded that she remove the sculpture.
"I don't like it myself," the prime minister said. "It is being called a Greek statue, but how will a Greek statue get here?"
She also said, "I will sit with the Chief Justice very soon. Have patience and don't create a situation about the issue. Have some faith in me; I will do whatever necessary about the matter." In the same meeting, she also recognized Dawra degree of Qawmi Madrasa education as equivalent to Master's degree of general education, even though it does not allow science or technology. The system is basically based only on Arabic-language learning.
The statue was eventually returned to the court, although on its rear side, but the problem remains.
Hefazat-e-Islam, a pressure group based in Chittagong, the second largest city of Bangladesh, has become the most aggressive voice in the country. In 2013, half a million Islamists in Dhaka and demanded implementation of 13 points that they launched including banning sculptures in public places. They were supported by almost all the Islamist organizations. Their points were:
Reinstate the phrase "Absolute trust and faith in the Almighty Allah" in the constitution as one of the fundamental principles of state policy.
Pass a law keeping a provision of capital punishment for maligning Allah, Islam and Prophet Muhammad and smear campaigns against Muslims.
Punish the "atheist" leaders of Shahbagh, bloggers and anti-Islamists who make "derogatory comments" about Prophet Muhammad (pbuh).
Stop killing, attacking and shooting Islamic scholars and madrasa students.
Free all the arrested Islamic scholars and madrasa students.
Lift restrictions on mosques and remove obstacles to holding religious programmes.
Declare Qadianis (Ahmadiyyas) non-Muslim and stop their publicity and conspiracies.
Ban all foreign culture including free mixing of men and women and candlelit vigils.
Stop setting up sculptures at intersections, colleges and universities across the country.
Make Islamic education mandatory from primary to higher secondary levels after scrapping women's policy and education policy.
Stop threatening teachers and students of Qawmi madrasas, Islamic scholars, imams and khatibs.
Stop creating hatred against Muslims among young generation by misrepresentation of Islamic culture in the media.
Stop anti-Islam activities by NGOs, evil attempts by Qadianis and conversion by Christian missionaries at Chittagong Hill Tracts and elsewhere in the country.
Common people as well as followers hear the sermons of Hefazat's leaders. In his preaching, Hefazat chief, Shah Ahmed Shafi, tells his followers not to educate girls and not to let women become financially independent:
"The Quran says: You [women] should stay at your home... Your duty is to stay at the husband's house and safeguard property. Your primary duty is to stay home and look after your family and children only. Do not go out even for shopping".
Considering the politics of voting and the Islamic sentiment, the government has omitted poems and stories from textbooks written either by secular writers or non-Muslims. Bangladesh now resembles the beginning of Iran's revolution. Millions of Bangladeshi youths are increasingly wearing Islamic attire; and freedom of speech and freedom of movement are fast becoming a luxury -- if not a threat to the safety -- of Bangladesh's more secular-minded people, already feeling themselves a minority of sorts.
According to the Institute for Policy Analysis of Conflict (IPAC), Southeast Asian and Bangladeshi extremism are becoming increasingly intertwined. The latest report of the institute examines how extremists come together in different ways. The report says:
Radicalized Bangladeshi migrant workers in Singapore and Malaysia are forming cells to plan violence at home (they apparently are not interested in attacking their host countries);
Bangladeshi students in Malaysia are forming partnerships with pro-ISIS groups in Bangladesh;
Bangladeshi and Southeast Asian ISIS fighters are meeting in Syria;
Pro-ISIS Malaysian and Filipinos are recruiting Bangladeshis to fight in southern Philippines; and
Indonesians and Malaysians are seeking to assist persecuted Muslims in Myanmar through contacts with members of the Bangladesh-based Rohingya.
Many fear that the country may soon be pressured into allowing more and more extreme versions of Islam.
Mohshin Habib, a Bangladeshi author, columnist and journalist, is Executive Editor of The Daily Asian Age.