During the month of Ramadan alone, the world witnessed 160 Islamic attacks in 29 countries, in which 1627 people were murdered and 1824 injured. Nevertheless, the dual efforts to deny any links between Islamic terrorism and Islam on the one hand, and the efforts to accommodate Islam to the greatest extent possible on the other, seem to continue unaffected by the realities of Islamic terrorism -- in Australia, as well, which is experiencing its own share of sharia and jihad.
At the end of May, the Public Health Association of Australia (PHAA) called on the Australian Parliament's Joint Standing Committee on Foreign Affairs, Defence and Trade to:
"...include a recommendation in its report that disavows the notion that there is any inherent link between Islam and terrorism... The Committee should condemn any politician who refers divisively (expressly or implied) to any religious or ethnic group for the purpose of political gain."
PHAA Chief Executive Michael Moore said that there is no inherent link between any religion and acts of terror:
"When you look at terrorism and the IRA, I don't think many people blamed Christianity for terrorism when clearly there was an overlay. In fact there's nothing ­inherent in Christianity that links to terrorism".
Since when are public health officials qualified to make authoritative statements on the theology of Islam or its linkage to Islamic terrorism?
Muslim psychiatrist Tanveer Ahmed, would disagree. Speaking in June about the Australian media's disproportionate focus on "Islamophobia" he said:
"While terrorism's origins have many factors, Islamic terrorists, as heinous as their acts are, they are often merely doing what the scriptures are telling them."
While Australian officials rush to declare that Islamic terrorism has nothing to do with Islam, revealingly they have referred to Islam or Islamic culture to exonerate Muslims on several occasions. In April, despite pleading guilty to sexually assaulting eight women and girls on a beach in Queensland, a young Afghan man was acquitted. The reason for the acquittal: "Cultural differences". According to the judge, "seeing girls in bikinis is different to the environment in which he grew up". The teen received two years' probation without being convicted of anything.
Similarly, in 2014 , a registered sex-offender and pedophile, Ali Jaffari, was accused of attempted child-abduction. However, Australian police dropped all charges against him, after a magistrate told prosecutors that he would have difficulties finding Jaffari guilty. According to news reports:
Magistrate Ron Saines said if he was hearing the matter, he would have reasonable doubt, citing "cultural differences" as one factor, which would result in the charges being dismissed.
In Australia, according to judges, women and children must accept sexual assaults because it is part of the "Islamic culture" of their attackers. It would seem that in parts of Australia, this "Islamic culture" has replaced the rule of law.
A recent taxpayer-funded study about domestic violence is an example of the trend, in certain parts of Australia, towards replacing Australian values with Islamic ones. According to the study, while refugees are grateful for, "peace, freedom, healthcare and education", the "major point of contention" is the issue of women's and children's rights:
The three-year study, funded by the Australian Research Council, concludes: "Many refugees see some human rights, in particular those relating to women and children's rights, as detrimental to their successful settlement in Australia."

It says some refugees argue "women's and child's rights contravene the cultural values, norms and mores" of their ethnic groups.
The study called for "cultural sensitivity and understanding of the impact on male refugees and... feelings of alienation and disappointment".
Domestic violence in Muslim households is already a hot topic in Australia. Keysar Trad, a former President of the Australian Federation of Islamic Councils, told Sky News in February that an angry husband can beat his wife as "a last resort". In April, the women's branch of Islamic group Hizb Ut-Tahrir posted a video from an all-women's event in Sydney to Facebook, in which two women demonstrated wife beating and called it "a beautiful blessing".
Accommodating Islam in Australia takes other forms as well. For Ramadan this year, Muslim inmates of two maximum-security prisons in the State of Victoria were given taxpayer-funded microwave ovens in their cells for the month, so they could heat their food up after sunset, when they can break their fast. The issue apparently caused unrest among the non-Muslims in the jails.
In Auburn, female Muslim swimming pool users were given a separate curtained pool, so that they could swim without male pool users seeing them. Belgravia Leisure, which operates the facility, said, "the curtain was installed to overcome cultural barriers and encourage Muslim women to use the pool". The company's general manager, Anthony McIntosh, said it was "a move to make the pool accessible for all cultural groups".
None of the above, however, seems to be enough to appease Muslim sentiments. In March, Anne Aly, Australia's first female Muslim Member of Parliament, said that racial-discrimination laws should be expanded to cover insults based on religion as well. The Grand Mufti of Australia, Ibrahim Abu Mohammed, has voiced similar opinions.
In June, the Islamic Council of Victoria made a submission to a Parliamentary inquiry, requesting from the government:
"To create safe spaces urgently needed by Muslim youth to meet and talk about a range of issues in emotional terms, where they can be frank and even use words, which in a public space would sound inflammatory".
In other words, Muslims should have a taxpayer-funded "safe space" where they can incite unhindered against Australians?
Some Muslims have decided to create a "safe space" on their own, segregated from the rest of Australian society. In Brisbane, the Australian International Islamic College is planning an exclusively Muslim enclave, including a mosque covering 1,970 square meters; a three-storey elder-care and residential building, 3,000 square meters of retail space and 120 residential apartments, in addition to new classrooms and a childcare center for 2,000 students. The existing site is already home to the college, which caters to students from kindergarten to 12th grade. So much for "multiculturalism".
Clearly, the appeasement is not working. It never has. Appeasement, in fact, usually seems to have the opposite effect. Here are a few recent examples of how Australian policies have been working out lately:
In April, a Christian man in Sydney wearing a cross was attacked by a Muslim gang of youths, who, while screaming "Allah', and "f**k Jesus", threw his cross to the ground and violently assaulting him. According to Baptist Pastor George Capsis, this was the fourth such attack on a Christian in Sydney in the past six months.
In Sydney's Punchbowl Boys High School -- one of 19 schools in New South Wales identified as at risk of radicalizing Muslim students -- students were "pressured to attend daily prayer meetings, lectures on the Koran and even cut their hair by peers badgering them to conform to Islam".
The 19 at-risk schools all participate in an anti-radicalization program, but the principal of Punchbowl Boys High School, Chris Griffiths, a convert to Islam who has since been fired, had refused to participate in it; he said that he was "not comfortable with prayer groups being monitored or the school being 'stigmatised'".
Griffiths need not have worried. Those de-radicalization programs apparently do not work very well. In March, a Sydney teenager who was in a de-radicalization program pleaded guilty to planning a terrorist attack on Anzac Day in 2016. The teenager was accused of trying to obtain a gun for his intended April 25 attack; then, when that failed, a bomb manual.
In March, a teacher at Punchbowl Primary School quit her job after she and her family received death threats from the children in the primary school, with some of them saying they would behead her:
She said she was abused by students when she stopped them from hanging a Syrian flag in the classroom.

...

Many of the students also reportedly spoke of family members fighting in the war in Syria and pupils would walk out mid-way through a lesson to go and pray.
According to news reports, the teacher's complaints to the New South Wales Department of Education were dismissed.
Jihad also came to Australia during the recent Ramadan. After ISIS had told its supporters to attack the infidels "in their homes", Yacqub Khayre, an Australian Muslim, took that literally. On June 5, in a serviced-apartment block in an affluent Melbourne suburb, he took a woman hostage, killed another man, then, during the attack, called a television station and told them that his attack was for ISIS and al-Qaeda. But the Australian police are not easily fooled: they said at the time that terrorism was just "one line of inquiry". Khayre, a Somali immigrant, was, it turned out, well-known by the authorities. He had, in fact, been acquitted of plotting a terror attack at a Sydney army base in 2010; had served sentences for arson and violent crimes, and had been paroled in November 2016.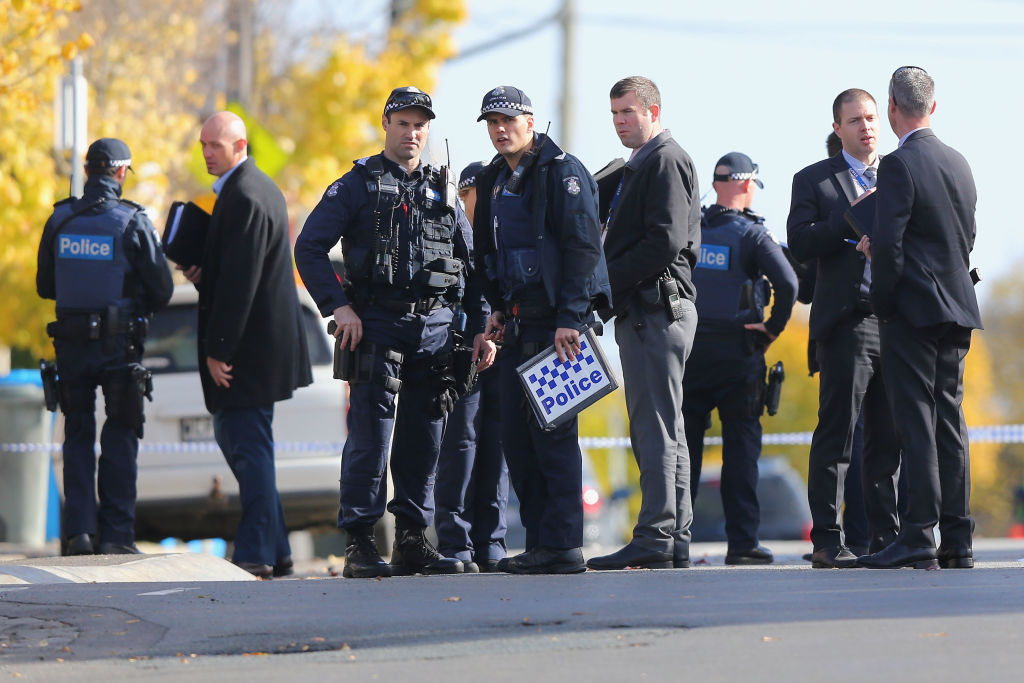 Police investigate at the scene of an Islamist terror attack in Melbourne, Australia, on June 6, 2017, the day after police shot dead the attacker. (Photo by Michael Dodge/Getty Images)
John Richardson is a researcher based in the United States.