Ramadan is supposed to be an Islamic holy month of fasting. In reality, as one is thought to be doubly rewarded in paradise for deeds "fighting corruption" during Ramadan, it is a month of "jihad and victories."
It therefore nearly always leads to an increase in jihad violence in different parts of the world.
Breitbart News counted at least 1,620 people killed by militant Muslims during Ramadan in 2017. Most of these were killed in Muslim-majority countries. However, deadly Islamic terrorist attacks also hit Western cities such as London.
When dealing with Muslim terror, it can be useful to separate it into two different, categories: Big Terror and Little Terror. Big Terror includes mass casualty attacks such as suicide bombings. Little Terror includes other forms of violence and harassment, such as torching cars, that have a negative impact on daily life. Both forms of terror are intended to spread fear.
France suffers from tens of thousands of car fires every year. Sweden, which has the highest number of Muslim immigrants in Scandinavia, also has the highest number of car fires. In the Muslim-dominated Swedish city of Malmö, cars are now torched on a nearly daily basis.
In June 2017 during Ramadan, dozens of instances of wheel-tampering were reported in different police districts in Denmark. In all cases, the lug nuts that secure the wheels of a car had been loosened. One motorist was driving along when he heard an odd noise. Shortly afterward, his left front wheel appeared in front of the car and rolled off into a field. The car ended up in a ditch; the man, in a hospital. The police have so far been unable to find the perpetrators. They have been advising all motorists thoroughly to check their lug nuts before starting their car.
In June 2017, Oslo, Norway, experienced a significant number of car fires within a few weeks. Officially, the police claimed they could see no connection between these fires, which spiked during Ramadan and mainly took place in Muslim-dominated areas. Anonymous sources claimed that a group of young immigrant men – who had apparently been complicit in the burnings -- had shouted: "We're going to make Malmö!"
If current levels of immigration continue, native Norwegians will be a minority in their own country within a few decades. In some parts of inner-city Oslo, they are already a minority. The author Halvor Fosli, in 2015, published a book in which he interviewed ethnic Norwegians living in those areas. They are called "infidel whore." Many feel as if they are strangers in what once was their own country. Yet the politicians and mass media are not interested. The ruling elites are far more interested in cases of alleged "Islamophobia" or "white racism."
Erna Solberg, Norway's supposedly conservative Prime Minister, has long been known for her positive views of Islam and mass immigration. As PM, she has repeatedly warned against Islamophobia and Christian "racism" against Muslims. In 2011, then as leader of the major opposition party, Solberg stated that Muslims in Europe are now being harassed just as Jews were in the 1930s, during the rise of Nazism.
On June 25, 2017, an estimated 8,000 Muslims celebrated Eid al-Fitr, the end of Ramadan, in a major sports arena and concert hall in Oslo. Prime Minister Erna Solberg attended. She made some comments about creating a sense of community, and warned against anti-Muslim forces and others trying to divide people. According to national media, many of the Muslims treated the Prime Minister as if she were a "superstar."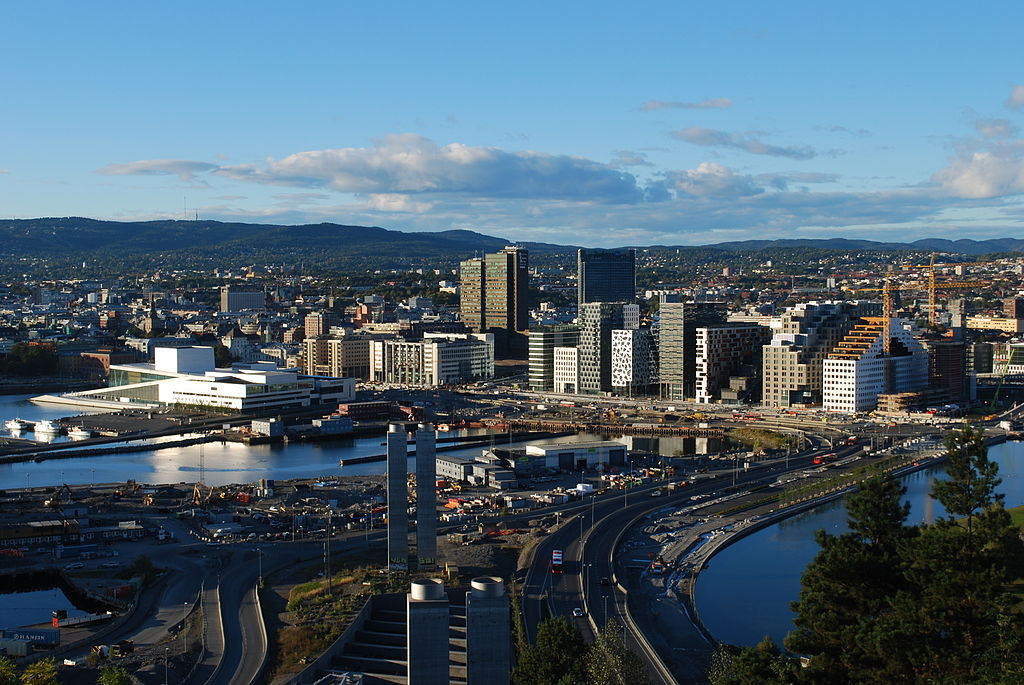 Oslo, Norway. (Image source: Helge Høifødt/Wikimedia Commons)
Cemal Knudsen Yucel, from the organization Ex-Muslims of Norway, said he was sad to see politicians and media promote Islam and Islamic values on television yet again. As a former Muslim, he has never experienced this kind of celebration in his Muslim home country. There, Eid al-Fitr is normally celebrated with your family, not at a stadium with thousands of people. In his view, this shows how effectively Islam builds power in the society in which it operates. A country's senior political leader attending a gathering of thousands of Muslims in the nation's capital city, can only elevate Islam's status and prominence in society.
The Islam-friendly newspaper Aftenposten writes that the Rabita Mosque was a co-organizer of this big Islamic party, attended not only by the Prime Minister but also the national media. The Rabita Mosque in Oslo has for years been involved in highly controversial activities, as pointed out by the author Hege Storhaug. The mosque has been visited by well-known jihadists and its leaders are suspected of having ties to the Muslim Brotherhood, an international Islamist organization with the motto:
"Allah is our objective; the Prophet is our leader; the Quran is our law; Jihad is our way; dying in the way of Allah is our highest hope."
A report commissioned by the Swedish Civil Contingencies Agency (MSB) suggested in early 2017 that the Muslim Brotherhood is secretly leading Islamic groups in building a parallel society in Sweden by infiltrating organizations and political parties in the country.
The Muslim Brotherhood, in the 1930s and 1940s, enjoyed friendly ties with Adolf Hitler and the Nazis. Sheikh Yusuf al-Qaradawi, one of its foremost spokesmen today, has stated that Allah sent Hitler to punish the Jews, and indicated that the next genocide of Jews will be at the hands of Muslims. Qaradawi, a leading advocate of suicide-bombing, has also bragged that Muslims will conquer Europe.
Since its founding in Egypt in 1928 by Hassan Al Banna, the Muslim Brotherhood has for generations been involved in fostering those who would promote its expansionist goals. Jihadists and Islamic terrorists who have been members include Sayyid Qutb, Abdullah Azzam, Ayman al-Zawahiri, leader of the Al-Qaeda terrorist network after Osama bin Laden, and Abu Bakr al-Baghdadi, the self-proclaimed caliph of the Islamic State (IS or ISIS).
That a mosque with suspected links to such an organization arranged a major event in Oslo -- and was applauded by the country's head of state -- is frightening. While a totalitarian Iron Burka of sharia, jihad, terror, and violence is descending on Europe, many Western leaders and members of the media welcome it, embrace it and claim it enriches our society.
Prime Minister Solberg's main political rival, Social Democratic party leader Jonas Gahr Støre, is possibly even more smitten than she is. In 2008, the Norwegian government sponsored dialogue talks in Oslo with members of the Muslim Brotherhood in the Middle East. Støre, from the Labor Party, was then foreign minister. The prime minister at the time, Jens Stoltenberg, is now leader of the Western defense alliance NATO.
The Muslim Brotherhood, which also has ties to, among other groups, the extremely brutal Palestinian terrorist organization Hamas, in 2007 made Norway, under the left-wing Stoltenberg government, the first Western country to "normalize" its relationship with Hamas. AUF, the youth organization of the Norwegian Labor Party, the labor unions (LO) and its coalition partner, the Socialist Left Party, also advocated for this affiliation.
The policy of normalizing ties with Hamas was widely applauded by many Norwegian mass media and left-wing activists in 2007. The major Oslo-based newspaper Aftenposten praised it as a "wise" move. When this author strongly objected to cooperating with terrorists, the Norwegian media and left-wing activists, few years later, accused me of encouraging terrorism.
Raymond Johansen in 2007 had friendly public meetings on behalf of the Norwegian government with the Hamas leader Ismail Haniyeh. In 2011, Haniyeh praised the global terrorist leader Osama bin Laden as "an Arab holy warrior." In 2017, Ismail Haniyeh was chosen to be the new overall leader of Hamas. The British Broadcasting Corporation (BBC) then called him a "pragmatist." Between 2009 and 2015, Johansen was the Party Secretary of the Labor Party, Norway's largest political party for nearly a century. In 2014, he warned in the state broadcaster NRK against the "Fascist" movements now threatening Europe. Did he mean the Muslim Brotherhood or other Islamic organizations who threaten artists and authors? No, comically, Johansen mentioned just me, personally, by name, as a dangerous "extremist" who needs to be confronted. Nobody else. Just me.
Raymond Johansen, currently serving as the Governing Mayor of Oslo, has stated that an attack on Muslims is an attack on him. The vast majority of Muslim immigrants vote for the Labor Party or other left-wing parties. Mullah Krekar, a radical Muslim and "refugee" notorious for publicly praising Islamic terrorists and jihadist massacres, has advised Muslims in Norway to vote for Labor or other Socialist parties.
The deputy leader of the Norwegian Labor Party is a Muslim woman from a family of Pakistani immigrants. The leader Jonas Gahr Støre, as Foreign Minister, held talks by telephone with the Islamic terrorist leader Khaled Mashaal from Hamas. In a book published in 2014, Støre criticized "Islamophobes" again, including this author.
On September 11, 2017, Norway will have parliamentary elections. The voters have a realistic choice between two Prime Ministers: Erna Solberg or Jonas Gahr Støre. Both are Islam-friendly, anti-national globalists and multiculturalists who promote mass immigration. Other European countries such as Germany are in a similar situation: virtually all the establishment political parties are promoting more immigration and more Islam.
Fjordman, a Norwegian historian, is an expert on Europe, Islam and multiculturalism.