If you search for crime, you can find it in any society. Sadly, in Sweden today, you do not have to search very hard. A casual look at newspapers on any random day will be filled with stories about armed robberies, sexual assaults, rapes, public gang shootings and perhaps explosives in restaurants. This crime wave is no longer merely confined to the major cities. Many smaller towns and some rural communities are now affected as well.
In some Swedish municipalities, harassment and violent threats have become major issues even at public libraries. In the town of Trelleborg, in the autumn of 2017, a gang of 30-50 youths effectively occupied the local library. One mother, who asked that her name not be used, explained that she is now scared to visit the library with her children. The last time she went, visitors were harassed by a loud, aggressive youth gang. When a guard asked the gang-members to leave, they surrounded him. The local police say that they are aware of this problem, but that they do not have sufficient staff to patrol the library every day.
In October 2017, an 81-year-old Swedish woman in the town of Mölndal was harassed and threatened by some youths while walking her dog. A few boys around the age of 12 walked in front of her and blew cigarette smoke in her face; one of them threatened to attack her dog and her. Then he spat her in her face. The woman now says that she is afraid to go out. The local police confirm that elderly people are harassed in similar ways. In a separate incident, some youths stole a loaf of bread from another woman in her 80s.
On the evening of October 29, 2017, a car was torched in the Muslim-dominated district of Rosengård in Malmö. On October 30, another car was torched in the same area. The local daily Sydsvenskan mentioned these incidents with just a couple of sentences. Why? Because car-burnings have become a part of daily life. They are not major news anymore. Cars are torched in Swedish towns on a regular basis.
Between January and September 2017, Sweden experienced 6000 car-burnings. That equals roughly 22 car-burnings per day. (Insurance companies estimate that about half of these incidents are attempts at insurance fraud.) Schools and other buildings have been targeted by arsonists, as well.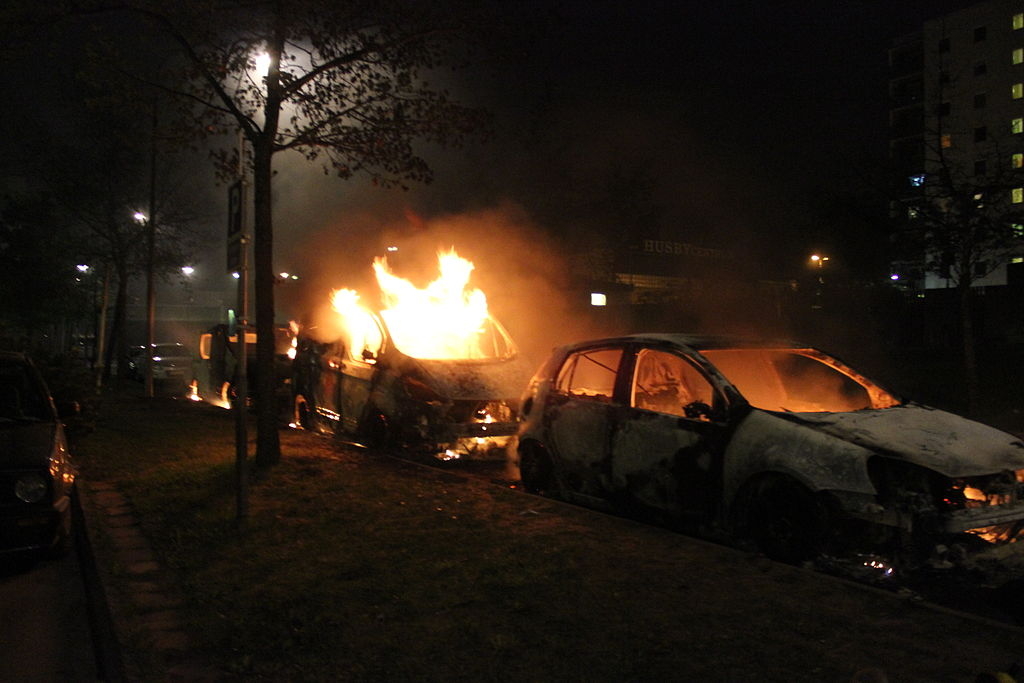 Cars burn in the Stockholm suburb of Husby during a riot on May 20, 2013. (Image source: Telefonkiosk/Wikimedia Commons)
The police in parts of Sweden have also experienced, in recent years, a rising number of violent attacks. Police vehicles and stations have been targeted; sometimes even policemen in the privacy of their homes.
On October 29, 2017, a stone was thrown through the front door of the police station in the small town of Kinna. A police station in Dalbo, Växjö had several windows smashed with stones and was shot at with fireworks. The local police chief commented that the police earlier experienced vandalism against their cars, too. A police station at Vännäs in northern Sweden was hit by a rock a day earlier.
On October 29, a police patrol in the town of Linköping was ambushed by people throwing rocks at them. One policeman was injured, struck in the face by a stone.
On October 18, a police station in the southern city of Helsingborg was hit by an explosion. No one was injured, but a large part of the building, as well as the windows on the building opposite, were damaged by the blast. "This is very serious. An attack on the police is not just an attack against society, but on everyone's safety," said Sweden's National Police Commissioner, Dan Eliasson.
On October 28, in the middle of the night, someone fired roughly 20 bullets into the private home of a police officer in Västerås. The policeman and his family were asleep at the time. The shots went straight through the house and into the neighbor's house. According to the regional police chief Carin Götblad, only luck prevented anyone from being hit.
Despite many such incidents, Johanna Skinnari, a researcher at the Swedish National Council for Crime Prevention, claims that it is not possible to determine whether or not attacks on the police are becoming more common. She did add, however, that "ordinary threats and harassment" are on the rise. Her research, she explained, found that these attacks tend to reinforce the "intimidation capital" of the perpetrators, "to show they're tough and not afraid of the police."
A Swedish policewoman described how criminals have published photographs of her, her husband and her 2-year-old son, whom they threatened to murder. She said that similar stories about police officers in Sweden are now common. Some policemen have begun checking for bombs under their cars before starting them. As one violent criminal told the Swedish police: "You are no longer hunting us. We are hunting you. We will hunt you and your families."
Swedes pay some of the world's highest taxes. Despite this burden, parts of the country suffer from a chronic lack of police resources. Many crimes go unsolved. Witnesses are sometimes afraid of talking to the police. At other times, the police lack the capacity to investigate even serious crimes such as murder or rape.
Being a policeman is not an attractive job in Sweden today. The risks are high; the salary is low. The majority of Swedish police officers -- an alarming 58% -- are considering finding a different profession.
The police warn that foreign criminals view Sweden as a most attractive country. If you steal something, the chances of being caught are almost zero. If you should be sentenced for a crime, you might spend only a short time in a comfortable prison. A lot of weapons are illegally circulating among criminal gangs, from pistols to hand grenades.
A journalist, Ivar Arpi, commented that parts of the country are no longer under the control of the state. At many train stations, libraries and hospitals, threatening and harassing the staff have become a daily routine. In troubled areas, shops are forced to close: thanks to rampant crime, they can no longer buy insurance. Throwing stones at the police or rescue service personnel is now "normal." The use of hand grenades in attacks in Sweden is now comparable to regions of Mexico in which drug cartels operate.
The Gothenburg regional daily Göteborgs-Posten argues that a "low-intensity war" is currently being waged against the Swedish police. This situation exists, the newspaper notes, although the Swedish economy is still strong. What happens to these tensions if the economy suffers a downturn?
PO Hellqvist, who has worked for 30 years at the Swedish Security Service (Säpo), sounded an alarm on a "power struggle" between Swedish authorities and criminal gangs in certain areas. He says he is concerned about the growth of parallel societies, complete with their own "morality police," partly cut off from, and often hostile to, the rest of society. Such communities have historically been a breeding ground for terrorism. Hellqvist adds he is even more worried about people who become radicalized locally than about ISIS jihadists returning from the Middle East. The local radicals, he notes, are more numerous.
Three employees of Sweden's public broadcasting station SVT were convicted of human trafficking after they smuggled a Syrian migrant into Sweden in 2014. They will not, however, lose their jobs because of this. At the same time, another Syrian Muslim migrant was being arrested in Germany; he is suspected of plotting a mass-murder terrorist attack.
Kjell-Olof Feldt, who served as a powerful Minister of Finance during most of the 1980s, was widely respected as an honest and competent minister (even though some of his fellow Social Democrats thought his economic policies too "right-wing"). In October 2017, the now-retired Feldt gave an interview to a Swedish newspaper in which he expressed concerns about the future of his own party, as well as about the future of Sweden. Feldt says that the way the established political parties have handled immigration has weakened trust in politicians. He described the current immigration policies in Sweden as a "ticking bomb". When asked what politicians can do to solve these problems, Feldt replied: "I do not know. I think hardly anyone knows." Current political leaders, in his view, are simply trying to keep a lid on the situation and stifle debate.
Meanwhile, a report claims that Swedish students and other citizens have been pushed to the back of the public-housing queue. Municipalities across Sweden suffer from a housing shortage. The authorities, it seems, have sometimes been prioritizing recently-arrived asylum seekers and immigrants over the country's native population. The Swedish government is looking to house 100,000 more immigrants in 2018.
Fjordman, a Norwegian historian, is an expert on Europe, Islam and multiculturalism.