Palestinian teenage girls are facing ridicule and hate for attending a summer camp for coexistence in the US. The camp, which brings Palestinian and Israeli girls together, is organized by Creativity for Peace, an organization in Santa Fe, New Mexico. Since 2003, up to 20 Israeli and Palestinian girls, aged 15 to 17, each year have participated in the Creativity for Peace camp.
Photos of the Israeli and Palestinian girls enjoying their time together have enraged many Palestinians and other Arabs, who took to social media to express their disgust and outrage over the event and hurl abuse at the Palestinian participants.
The angry reactions to the joint Palestinian-Israeli camp in the US should be seen in the context of the Palestinians' strong opposition to all forms of "normalization" with Israel.
The Palestinian girls who attended the coexistence camp are being accused, among other things, of injuring the feelings of their people by "promoting normalization" with the Israeli "enemy."
Palestinian activists have waged a long-standing war against any form of "normalization" with Israel. Activists have repeatedly targeted even meetings between Israelis and Palestinians, especially in Ramallah and east Jerusalem, on the pretext that such encounters pave the way for "normalization" with Israel.
Some of these activists have resorted to threats, intimidation and violence to prevent such meetings from taking place.
At the Ambassador Hotel in Jerusalem, for example, two years ago, a group of Israeli and Palestinian peace activists tried to hold a conference. Just before the conference began, Palestinian activists stormed the hall. They chanted slogans against "normalization" with Israel and forced participants to call off the event. This was not the first incident of its kind at the hotel.
Or take the case of another group of Israeli and Palestinian peace activists who tried to hold a conference in Al-Bireh (the twin city of Ramallah), in 2014.
There, too, Palestinian protesters forced participants to cancel the meeting after attacking the hall and hurling abuse, especially at Palestinian "traitors" attending the conference. Palestinian Authority policemen had to rescue the Israeli peace activists and escort them out of the city out of concern for their safety.
Who are these individuals, so dedicated to derailing "normalization" with Israel?
They hail from a wide spectrum of Palestinian society, including Fatah, Hamas, Popular Front for the Liberation of Palestine (PFLP), Democratic Front for the Liberation of Palestine (DFLP) and the Palestinian People's Party (formerly the Communist Party).
These factions are far more foe than friend when it comes to interrelations among each other, but when it comes to thwarting coexistence, they join together to unite and destroy.
To them, even Palestinian and Israeli children playing soccer together or attending joint musical concerts is anathema.
Now it is the turn of the Palestinian teens who attended the summer camp in the US to taste this venom.
As far as the enemies of "normalization" are concerned, those girls are nothing more than criminals. They played with Israeli girls, danced with them, and they even watched movies and went shopping together. Rising to the height of criminality -- the biggest slap in the face of their people -- these Palestinian teens shared sleeping quarters with the Israeli girls.
On social media, these Palestinian girls and their families are being condemned as "traitors" and "prostitutes." Those are only some of the insults leveled against them, especially on innumerable Facebook accounts.
Those who are waging the smear campaign against these girls have already made up their mind -- that this is a "Normalization Camp." The Israeli girls attending the summer camp are being described as "settlers" in order to whip up Palestinian anger even more by making the Palestinian girls look as if they are socializing with "extremist Jewish settlers."
In addition to attacking the children, many Palestinians also directed their outrage towards the parents for allowing their daughters to socialize with Israeli girls. "Regrettably, the absence of cultural awareness and national belonging among the parents is the number one reason (for such encounters)," remarked Mu'ath Al-Hims on Facebook.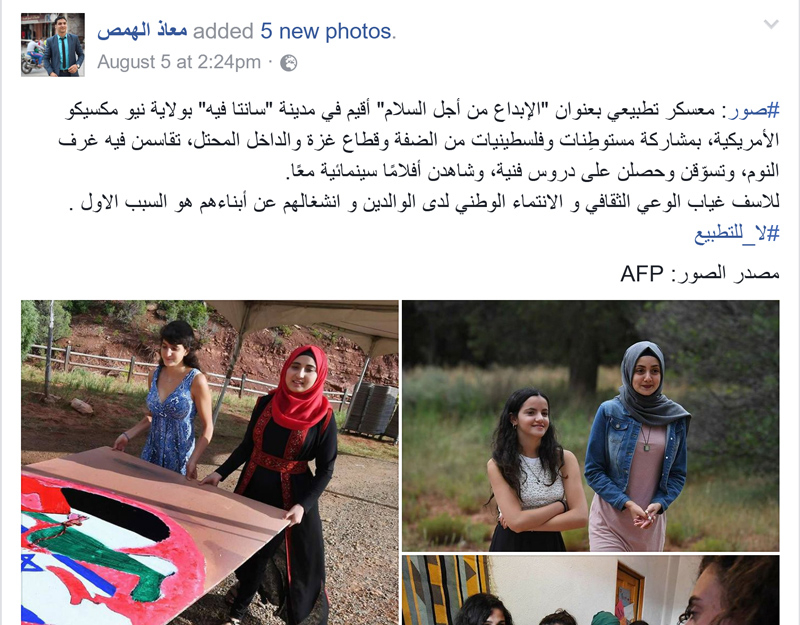 Mu'ath Al-Hims' remarks on Facebook, criticizing the parents of Palestinian girls who allowed their daughters to socialize with Israeli girls.
The bulk of the humiliation, however, was reserved for the girls themselves. Palestinian activists spared no words in this regard.
Commenting on the photos of the Israeli and Palestinian girls at the camp, Tayseer Katot wrote: "This is disgraceful and undignified. This dispirited group [of girls] does not deserve to be called Palestinian."
"Appalling and unfortunate" was the assessment of Majed Al-Hasayneh concerning the photos of the Palestinian and Israeli girls mixing together at the camp.
Even more descriptive was Mahmoud Abu Al-Bara's post: "Prostitutes raised by Fatah (the Palestinian faction headed by Palestinian Authority President Mahmoud Abbas).
Imad Chiri, another Facebook user, commented: "This is clear treason and shameless normalization."
Most comments posted by Palestinians and other Arabs in response to the joint Palestinian-Israeli camp vilify the Palestinian girls and their families. The postings brand them as traitors, sluts, filthy people who are not ashamed to be seen in the company of Israeli girls. Then there is the barrage of abuse that is not fit for print.
The Palestinian girls being castigated on social media are the latest victims of a culture of hate into which Palestinians have been inculcated. This environment is the direct result of an ongoing campaign of incitement and indoctrination that aims to delegitimize and demonize Israel and Jews.
Only a handful of Palestinians dared to come out to defend the teenage girls and their families. Why? Two words: agreement and fear.
Such campaigns of abuse will surely, as they are doubtless intended to do, deter families from sending their children to such encounters with Israelis. What parent in his or her right mind would allow a child to be exposed to such an onslaught of hate?
In addition, such campaigns will surely warn any Palestinian leader against seeking real peace with Israel.
Rather than "creativity for peace," the Palestinian line is more accurately "creativity for hate."
Khaled Abu Toameh, an award-winning journalist and television producer, is based in Jerusalem.