Reporters continue scratching their heads about what PresidentTrum p meant when he spoke of the "calm before the storm" Thursday as he was hosting a dinner for military commanders and their spouses. It seems clear to me that he was sending a powerful message to North Korea and Iran: change your behavior now, or prepare to face new but unspecified painful consequences.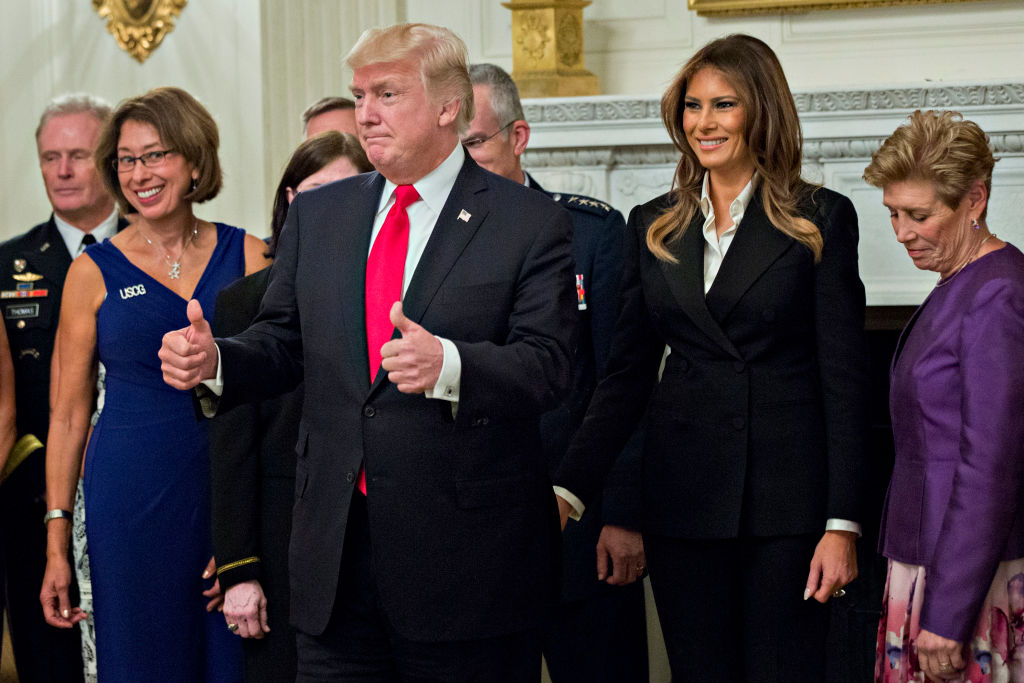 U.S. President Donald Trump and first lady Melania Trump pose for pictures with senior military leaders and spouses after a briefing in the White House on October 5, 2017. During the photo session, President Trump spoke of the "calm before the storm". (Photo by Andrew Harrer-Pool/Getty Images)
North Korea and Iran are taking the measure of President Trump to see how far they can push him and how much they can get away with. The North Koreans continue testing nuclear weapons and long-range missiles and threaten to launch a nuclear attack on America and our allies that could kills millions. Iran is likely engaging in activities that could contribute to the design and development of its own nuclear explosive device.
If these worrisome actions by the two rogue nations persist, there will be a storm. And as candidate Trump said during his campaign for the White House, he will not tell our enemies what kind of storm to expect -- only that he will not allow current trends that endanger our national security and that of our allies to continue unabated.
The president must make some difficult decisions: whether to continue to rely on economic sanctions that don't appear to be working against North Korea; and whether to refuse to certify Iranian compliance with the bad nuclear deal and demand that additional constraints be placed on the Islamic Republic's dangerous and provocative activities.
President Trump faces an Oct. 15 deadline to decide whether to certify Iranian compliance with the nuclear agreement, which is designed to keep it from developing nuclear weapons for the next few years. News reports say he is expected to refuse to make that certification.
U.S. policy toward both Iran and North Korea is closely related, because we must prevent Iran from joining the nuclear club and becoming another, even more dangerous version of North Korea.
The sad reality is that even if Iran were to comply with the letter of the nuclear agreement, it will still be able to develop the capability to build up a vast nuclear arsenal within a relatively short time. This is the fundamental flaw of the agreement.
And Iran claims that the nuclear deal permits it to refuse to allow the International Atomic Energy Agency (IAEA) to inspect military facilities. This has led the IAEA to conclude that it cannot assure the world that Iran is not even now designing and developing a nuclear arsenal with missiles capable of delivering them to American allies in the Mideast and Europe, and soon the U.S. itself.
All the Iranians need to do to become a nuclear power is to resume spinning centrifuges. The nuclear agreement, which was reached with the Obama administration in 2015, will allow them to do that in a few years.
So whether we like it or not, a storm is coming. Whether that storm will be diplomatic, economic or military depends on the leaders of North Korea and Iran. If they choose to negotiate constraints on their increasingly dangerous activities, they can avoid the other more painful options.
Our military options are and should always be a last resort. They are the worst possible options -- other than Iran developing a nuclear arsenal and North Korea developing a nuclear delivery system that can reach our population centers and wipe out major American cities.
With fanatical dictators like those in control of North Korea and Iran, we cannot rely on containment and deterrence as acceptable policies to prevent them from using nuclear weapons, as we have done for years with the Soviet Union (and now Russia) and China.
So President Trump cannot afford to wait and do nothing as Iran and North Korea grow ever stronger, ever more menacing and become greater and greater threats. He must do something -- now. The nature of what is done, and what kind of storm it may be, is up to our enemies. I hope they choose wisely.
Alan M. Dershowitz, Felix Frankfurter Professor of Law, Emeritus, at Harvard Law School and author of, "Trumped Up! How Criminalization of Political Differences Endangers Democracy," which is now available.

This article first appeared in FoxNews.com