Until last year, observers were debating how fast Turkey's drift away from democracy was progressing. Today the talk is rather about how fast Turkey is drifting from undemocratic practice to simple rogue-state practice.
More than 50,000 people have been arrested and some 110,000 others dismissed from government jobs in the country's largest-scale crackdown ever on people with alleged links to terror groups or to the U.S.-based cleric, Fethullah Gülen, whom Turkey accuses of orchestrating the failed coup in July 2016. As cruel as that looks, a case of two Turkish teachers is undeniably worse than just cruel: it displays a remorseless state mechanism.
In March, a professor of literature, Nuriye Gulmen, and a primary school teacher, Semih Ozakca, both victims of the purge, started protesting by going on a hunger strike: a liquid diet of lemon, saltwater and sugar solutions. Since then, their health has reached critical condition. On May 22, the 76th day of their hunger strike, the police broke down their door and detained them. The reason for their arrest? The police feared "that their protest could turn into death fasts and new protests".
At the first hearing on September 15, neither of the "suspected terrorists" was present at the courtroom because the police claimed that if they were brought to court, they could try to escape. After nearly seven months of hunger strike, and their health in critical condition, the idea that "they could try to escape" -- if not a joke -- could only have meant that the Turkish authorities had decided to ridicule themselves. Before the first hearing detention, warrants were issued regarding the 18 lawyers who would defend Gulmen and Ozakca. So the hearing proceeded without the suspects or their lawyers present at the hearing. It was a Kafkaesque scene from a NATO member state in the 21st century.
In the earlier days of their hunger strike, Suleyman Soylu, the interior minister, said that the two teachers had lost their jobs because of links to the leftist militant group Revolutionary People's Liberation Party/Front (DHKP-C). "There are organic ties between these two persons and the DHKP-C terrorist organisation... It is very clear," the minister said. The minister's claim was galactically far from the truth. The teachers' lawyer said they had both been acquitted of the charges the minister had mentioned. In 2012, they were acquitted of being members of a militant organization, but in 2017 they were fired from their jobs for having been suspects in a case in which they had been acquitted five years earlier.
At the second hearing of their trial on September 28, Ozakca was brought to court in a wheelchair, but doctors did not allow Gulmen to be present because of her worsened condition. Ozakca said: "Give us back our jobs and we will stop the hunger strike ... The [ruling government] is trying to tame us by taking away our bread."
Usually, suspects stand trial while still free. Here, the court rejected their appeal to be tried trial without being held in detention. Gulmen should be brought to court from jail "by force, if necessary," the judge ruled. Fortunately, the suspects had not tried to escape! The court could sigh with relief....
Not even sky is vast as the state's remorselessness. At a soccer game in August, a group of fans displayed a placard in support of Ozakca and Gulmen. The placard read: "Let Nuriye and Semih live." Just one line -- it was a simple, peaceful wish that the two teachers do not die in jail during their hunger strike. The governor's officials and the law enforcement authorities acted immediately. From security cameras, they identified the persons who displayed the placard and launched a criminal probe against them on charges of "supporting a terror organization."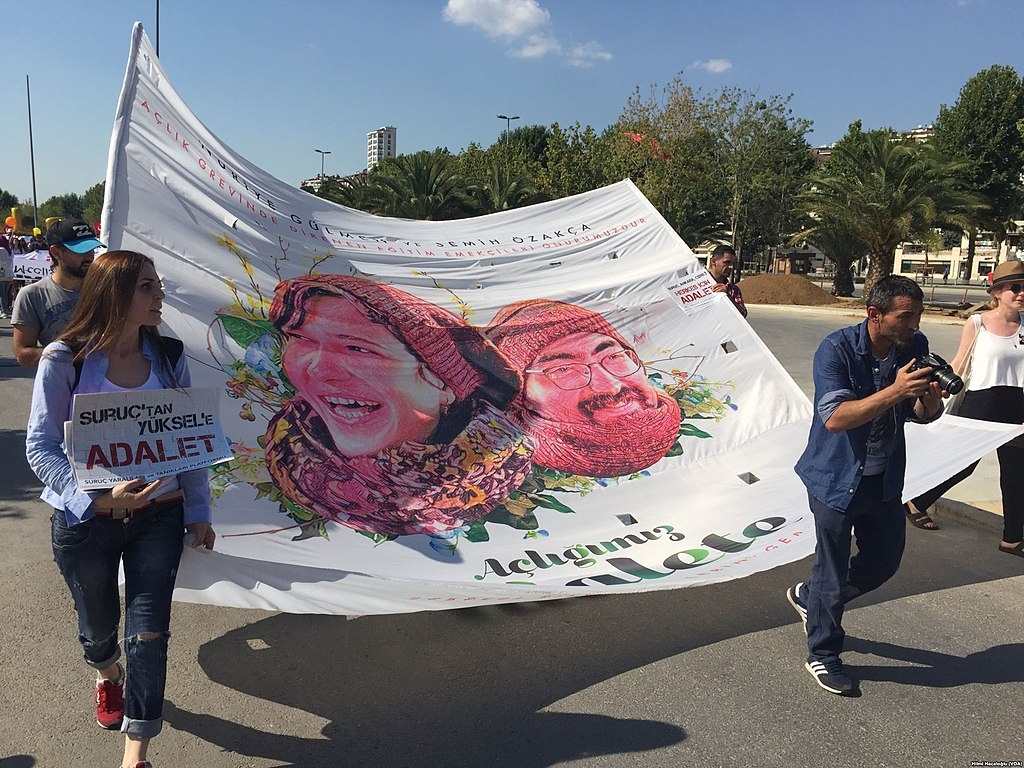 Protesters bearing a picture of Nuriye Gulmen and Semih Ozakca during the "Rally for Justice" in Istanbul, July 9, 2017. (Image source: Hilmi Hacaloğlu/VOA/Wikimedia Commons)
The evidence? The placard that read "Let Nuriye and Semih live." In a way, the Turkish authorities were telling the public that everyone should think "Let Nuriye and Semih die" -- otherwise one is a terrorist!
Ozakca and Gulmen should not be left to the mercy of a remorseless state apparatus. They must be lent every kind of international support. "Let Nuriye and Semih live!"
Burak Bekdil, one of Turkey's leading journalists, was recently fired from Turkey's leading newspaper after 29 years, for writing what was taking place in Turkey for Gatestone. He is a Fellow at the Middle East Forum.