If you were a police officer what would you rather do: sit in the cold outside the house of a known extremist all day, or sit behind a desk with a cup of tea and scrolling through Twitter?
In May, just after the second of four Islamist terrorist attacks in the UK so far this year, British intelligence officials apparently identified 23,000 known extremists in the country. Of these, around 3,000 are believed to pose a present threat and are under investigation or active monitoring. The other 20,000 are categorised as posing a "residual risk". Due to the strain on resources, those 20,000 are not under constant observation.
This is a subject which, since the terrorist attack in May, has caused some agonising among the British public, not least because of the identities of the attackers. Khalid Masood, the Westminster Bridge and Parliament assailant, for instance, as well as Salman Abedi (the young man of Libyan heritage who carried out a suicide bombing outside a concert in Manchester) had both been on the radar of the British authorities -- both had been in the pool of people considered "former subjects of interest" but not an immediate threat. If the authorities had sufficient resources to follow everyone of interest, perhaps they would have been under observation at the time they were planning their attacks. Perhaps, also, a number of people killed in those attacks would still be alive.
The public, though, can be forgiving on these matters. They recognise that resources are not endless, that judgements have to be made and that departments have to choose where to allocate their budgets.
These choices are another reason why the public may judge dimly last week's announcement from the Home Office. Last week, Britain's Home Secretary Amber Rudd announced the creation of a new national police hub to crack down on hate-crime and "trolling" online. The unit -- which will apparently be run by specialist officers -- will assess complaints and work out whether they amount to a crime or not. They will also recommend removing material from online platforms if they -- at the official hate-crime hub -- deem such material "hateful".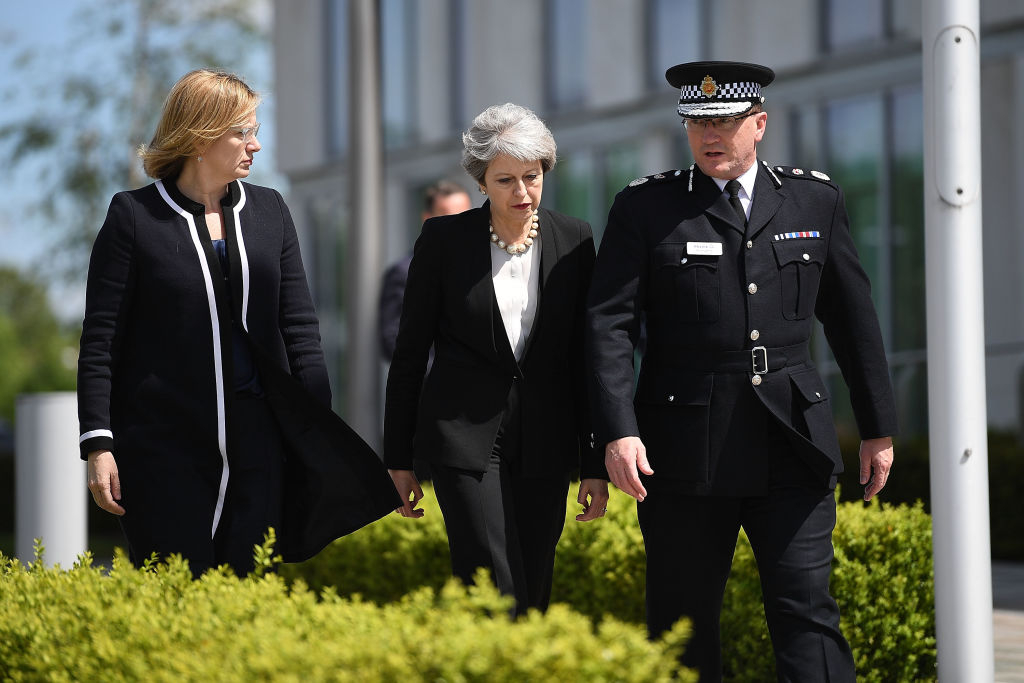 Last week, Britain's Home Secretary Amber Rudd announced the creation of a new national police hub to crack down on hate-crime and "trolling" online. Pictured: Rudd (left) and Prime Minister Theresa May (center) meet Chief Constable of Greater Manchester Police Ian Hopkins on May 23, 2017 in Manchester, England. (Photo by Leon Neal/Getty Images)
The initiative claims to "improve support for victims and increase prosecutions of trolls who abuse others online over their race, religion, sexual orientation, disability or transgender identity." The Home Secretary has said:
"What is illegal offline is illegal online, and those who commit these cowardly crimes should be met with the full force of the law. The national online hate crime hub that we are funding is an important step to ensure more victims have the confidence to come forward and report the vile abuse to which they are being subjected."
The problem is that "hate" is an ill-defined thing. What is hateful to one person may not be hateful to another. What is hateful in one context may not be hateful in another. Might there one day be people who will claim to find material "hateful" when it is in fact merely material containing opinions with which they do not agree?
There are, quite rightly, already strong and appropriate provisions in place to prevent incitement, which is already a crime. But "hate" is different from incitement. Let alone "hate" when allowed to be diagnosed by such a broad range of people.
In Britain, there is an added complexity. Since 1999 and the publication of the Macpherson Report (into the racist murder of the black teenager Stephen Lawrence) in the UK, the British authorities have gone along with a definition of hate-crime which allows the victim (real or perceived) to be the arbiter of whether an offence has been committed. This privilege allows a list of people who believe they have been "trolled" or "abused" online over their "race, religion, sexual orientation, disability or transgender identity" to be arbiters as well as reporters of any and all such crimes. It is worth considering where this can end up.
Someone who is transgender, for instance, may well be referred to unpleasantly by somebody online. If someone says they will kill him, that this is already a crime. What, however, if someone simply asks, for instance, what their chromosomes are? What if the "trans" person says he is unwilling to concede that chromosomes matter, and it is how he identifies them -- and that alone -- that matters. Can anyone daring to express dissent against this -- or any popular -- view be reported for "trolling", "abusing" and "committing a hate crime"? Will material which says that chromosomes matter be removed from the internet? It is hard to see how it could remain available, able as it is to cause such deep upset and potential cries of "hate".
Consider furthermore what might happen if someone -- anyone -- were to go along with the official line that Islamism is a major problem but differed with the official view -- which is that this Islamism has no connection with the peaceable and popular religion of Islam. What if they expressed this concern or thought? It is not inconceivable that somebody one day might? How then will the authorities view this? Is it hate? Can things that are hateful also be true? And if so, which do we prioritise: "hateful" facts or "hate-less" lies?
Alert to such criticisms, the relevant authorities have stressed that freedom of speech will still exist within in the UK. And the National Police Chiefs' Council lead for hate crime, assistant chief constable Mark Hamilton, has said: "We recognise and will uphold the right to free speech even where it causes offence -- but this does not extend to inciting hatred or threatening people."
In 2015-2016, a total of 62,518 hate crimes were recorded by forces in England and Wales. The Crown Prosecution Service says that it completed 15,442 hate crime prosecutions during that year. All of which happened at the same time as Khalid Masood, Salman Abedi and 20,000 other "known extremists" were allowed to walk free. And so the priorities of the authorities and the priorities of the public would appear to be dividing: a fact that can only have negative consequences -- whether they are "hateful" or not.
Douglas Murray, British author, commentator and public affairs analyst, is based in London, England. His latest book, an international best-seller, is "The Strange Death of Europe: Immigration, Identity, Islam."