Although the media has extensively covered the Burmese Army's expulsion of Muslim Rohingya people from Rakhine Province in Myanmar -- and although no one is recommending the horrors of murder or mass expulsions -- little attention has been paid to Rohingya ties to international Islamic terrorism.
Aided by foreign terrorist networks in Pakistan and support from Rohingya exiles in Arab Gulf States, Myanmar's Islamists and their foreign backers ultimately may want to establish a sharia state in Rakhine.
Approximately 1.1 million Rohingya live in Rakhine, a coastal province in Myanmar (Burma). Almost all are Muslim; their language closely resembles Bengali, the tongue of Bangladesh, to their north. Some Rohingya have lived in Rakhine since the 15th century. Most, however, trace their residency in Myanmar to the late 19th century, as descendants of Muslim Bengalis who were moved there by British colonial decree.
On August 25, 2017, the Burmese military launched what human rights organizations have called an "ethnic cleansing" campaign -- something Myanmar leader Aung San Suu Kyi has denied -- against Rohingya Muslims in northern Rakhine, a week after Muslim rebels attacked a military base, police barracks, and border guard posts, killing at least 71 people. The attackers were members of the Islamist Arakan Rohingya Salvation Group (ARSA). Some of these operatives likely received training in terrorist camps in Pakistan and Bangladesh.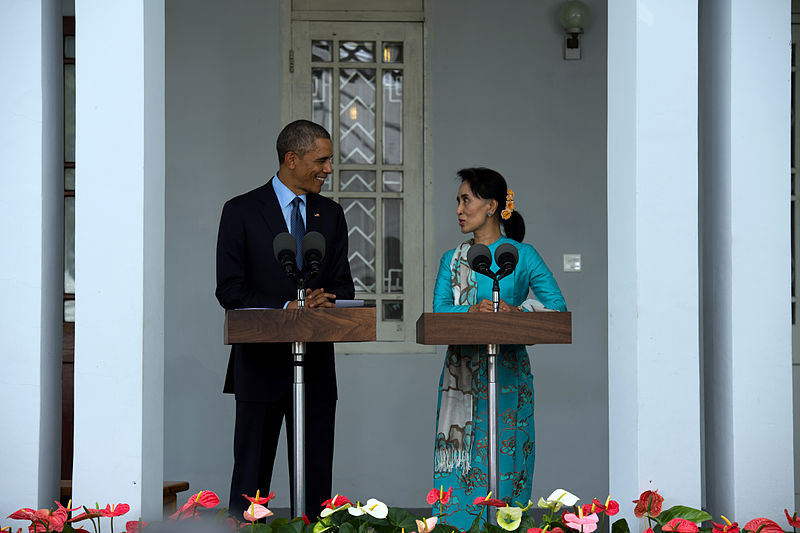 Myanmar's leader, Aung San Suu Kyi, has denied allegations that the country's security forces launched an "ethnic cleansing" campaign. Pictured: Then U.S. President Barack Obama with Aung San Suu Kyi, in Rangoon, Myanmar, on November 14, 2014. (Image source: U.S. State Department)
According to the Brussels-based International Crisis Group, the Rohingya diaspora in Saudi Arabia and Pakistan is also providing financial assistance to their religious cousins in Myanmar. Additionally, many of the more than 50,000 Rohingya émigrés in the United Arab Emirates send back money to their ethnic relations in Myanmar. The Emir of Sharjah in the UAE, Sultan bin Muhammad al-Qasimi, also financially supports Myanmar's Rohingya.
Arab Gulf States, too, grant sanctuary to Islamists from the ethnic Rohingya diaspora. For instance, Ata Ullah, ARSA's founder, was born to Rohingya exiles in Karachi, Pakistan, before immigrating to Saudi Arabia. There, he created ARSA in 2012, after a series of clashes between the Rohingya and government security forces in Myanmar. But this tension between Rohingya and ethnic Burmese did not originate in contemporary times.
This animosity dates to 1886, when what is today's Rakhine State was detached from the rest of Burmese territory and incorporated into the British Crown Colony of India. This was the price Britain exacted from Burma after losing two wars against the British Empire.
After the integration of northernmost Burma into India, the British colonial government organized a mass migration of Muslims from the Bengali-dominated region of the sub-continent (today's Bangladesh) to what is now Myanmar's Rakhine State. Britain's decision greatly offended the Burmese, as Myanmar (Burma) had been an overwhelmingly Buddhist state. The migration sparked immediate inter-religious tensions, and subsequent periods of religious warfare.
Today, these Buddhist-Muslim tensions continue. Buddhists accuse the Muslim Rohingya of raping and murdering Buddhist women -- a theme that surfaced in a high-profile trial of three Rohingya Muslims in 2012.
Non-Muslim ethnic minorities who live in the Muslim-majority Rakhine State also accuse Rohingya of attacking their villages, burning their homes and raping women. Myanmar claimed that Rohingya Muslims are guilty of the mass murder of Hindus who also live in Rakhine State. Myanmar's authorities have, for instance, unearthed a mass grave of Hindu victims. Reportedly, about 20 refugees are under arrest by Bangladesh as suspects in the massacre of these Hindus.
After these attacks by Muslim Rohingya militants, Mohan Bhagwat, a Hindu leader in India, expressed concern over the infiltration of India by Rohingya, claiming that they are "a threat to national security," with "links to jihadists."
Additionally, Pakistan's Islamic terrorist networks are transforming Saudi-educated ethnic Rohingya émigrés into jihadi warriors. At least three well-known Pakistan-based terrorist organizations have aided the Rohingya jihadis. They include: the Harakat ul-Jihad Islami (HUJI), Lashkar-e-Taiba, Lashkar-e-Jhangvi, and Jaish-e-Muhammad. Some of these militants receive training across the border from Myanmar in the Chittagong region of Bangladesh.
Cooperation between Rohingya guerillas and Pakistani terrorist groups continues to develop. One report claims that Lashkar-e-Taiba operatives train Rohingya jihadi terrorists in explosive techniques in Pakistani terrorist camps. The same report also relates that two members of a four-man terrorist cell, all of whom were killed while planting an improvised explosive device (IED) in the Rakhine village of Buthidaung in May 2017, were actually Pakistanis.
Myanmar's hostility to its Rohingya minority once even drew Osama bin Laden's attention. In 1996, he mentioned their persecution in his Declaration of Jihad against the West. Now that the Rohingya plight is a front-page item, Al-Qaeda has called upon jihadists to aid their fellow Muslims and to punish Myanmar.
The Rohingya issue may serve to revive the fortunes of Al-Qaeda's Southeast Asian derivative, Jemaah Islamiyah (JI). Once eviscerated by counter-terrorist strikes on its leadership and the foiling of planned terrorist operations, JI may seize upon the Rohingya crisis to revive its operational strength. The Islamic State and Afghanistan's Taliban have issued similar calls for jihad against Myanmar.
Foreign government support may indeed be strengthening terrorists in Myanmar. Established governments of Muslim majority states, such as Malaysia and Indonesia, are echoing calls for Muslims to defend the Rohingya. In January 2017, Malaysia hosted an emergency session of the Organization of Islamic Cooperation (OIC) about the Rohingya refugee crisis. Malaysia appears to be a leading force in Southeast Asia agitating for the OIC to maintain pressure on Myanmar. Sunni Turkey's president, Recep Tayyip Erdogan, and Shia Iran's supreme leader, Ayatollah Ali Khamenei, also appear to be beating war drums.
Perhaps the West should heed the counsel of Myanmar expert Sumantra Maitra, who wrote that the best course of action for the West is to do nothing, as involvement will only empower the Rohingya to transform their resistance movement into a full-fledged Islamic terrorist movement.
The Muslim world's condemnation of Myanmar should give the West pause before it joins in the widespread criticism of Myanmar. Al-Qaeda's call "upon all Mujahidin in Bangladesh, India, Pakistan, and the Philippines to set out for Burma to help their Muslim brothers" is accompanied with a threat that the Myanmar government "shall be made to taste what our Muslim brothers have tasted."
In fact, Shami Ur Rahman (a.k.a. Suban Haq), a Bangladeshi al-Qaeda operative as well as a British citizen, was arrested in mid-September in New Delhi, India for helping to radicalize Rohingya diaspora in Bangladesh.
In addition to fighting atrocities against innocent people, it is critical to protect the Free World, which, until the Rohingya crisis, Myanmar had made great progress toward joining.
Dr. Lawrence A. Franklin was the Iran Desk Officer for Secretary of Defense Rumsfeld. He also served on active duty with the U.S. Army and as a Colonel in the Air Force Reserve, where he was a Military Attaché at the U.S. Embassy in Israel.