Suburbs ("banlieues") -- distant from the affluent boulevards and bistros of Paris -- form the "other France". They are the "peripheral France", ("La France Périphérique") as the geographer Christophe Guilluy calls them in an important book. They are where "living together" between communities has really been tested.
In the last 20 years, these French suburbs have not only become "concentrations of poverty and social isolation", but have gone from being some of France's most densely-populated Jewish areas to "lost territories of the Republic", according to the great historian Georges Bensoussan, in his book, Les territoires perdus de la République.
These suburbs have become transformed into one of the most visible signs of the Islamization of France.
Anti-Semitism has returned as one of Europe's worst diseases. France hosts Europe's largest Jewish community, and Jews have been fleeing the suburbs to either emigrate or move to gentrified districts of the cities, where they feel more protected. What happens to the Jews will have a seismic impact on the entire continent.
In the Parisian suburb of Bagneux, someone recently vandalized the memorial plaque for Ilan Halimi, a young Jew who was kidnapped, tortured and murdered by a "barbarian gang" in 2006, just for being a Jew. At the time, it was France's first case of murderous anti-Semitism in many years. After it, Islamists murdered Jews at a school in Toulouse and a kosher supermarket in Paris.
As Le Monde reported in a chilling new inquiry, anti-Semitism now knocks daily at the doors of the French Jews. It has been creating a serious migratory trend: French Jews have become "internal refugees".
French Jews are now not only threatened in their synagogues and schools, but in their homes. A Jewish family was recently held hostage, beaten and robbed in their home in the suburb of Seine Saint-Denis. Before that, a retired Jewish doctor and schoolteacher, Sarah Halimi, was beaten and thrown to her death from her balcony, in the Belleville district of Paris. The man who murdered her, while yelling "Allahu Akbar" ("Allah is Greater"), was a Muslim neighbor. Two Jewish brothers were recently attacked on a Paris street by men wielding a hacksaw and shouting "You dirty Jews! You are going to die".
Recently, "Paul" received a letter containing death threats, in his mailbox at Noisy-le-Grand. The note said, "Allahu Akbar" and contained a 9mm bullet. The next day brought second letter. That one said, "you will all die". This time it contained the bullet of a Kalashnikov rifle. Many Jewish families, warns Le Monde, are under pressure. In Garges-lès-Gonesse (Val-d'Oise), young Jewish men who had built a temporary autumnal hut (a sukkah) in the yard of their synagogue were attacked in the neighborhood by people shouting, "Dirty Jews".
Historic Jewish quarters have been emptied. Jérôme Fourquet and Sylvain Manternach, in their book, "L'an prochain à Jérusalem?" ("Next Year in Jerusalem?") tell of Jewish children leaving public schools in favor of private ones. Organizations have been helping 400 Jewish families relocate their children into private schools, to be more secure.
Between 2005-2015, there were 4,092 anti-Semitic attacks in France. According to a September study by the Foundation for Political Innovation, 60% of Jews in France said they were "worried about being physically attacked in the street as Jews."
After the Paris terror attacks in 2015, a Jewish Agency-affiliated think tank prepared a plan to help 120,000 French Jews emigrate to Israel. There were 5,000 departures in 2016 and 7,900 in 2015. In addition to a total of 20,000 Jews emigrating from France to Israel in the past three years, there has also been an internal "high mobility" shift, from the eastern to the western part of Paris -- to the sixteenth and seventeenth arrondissements. In the last 10 years, "60,000 of the 350,000 Jews of the Île-de-France have moved", according to Sammy Ghozlan, President of the National Office of Vigilance against Anti-Semitism.
The French government has launched an operation to protect 800 synagogues, schools and community centers. But as Le Monde explains, there is little it can do to protect Jews on the streets and in their homes. Islamic anti-Semitism is devouring the French Republic.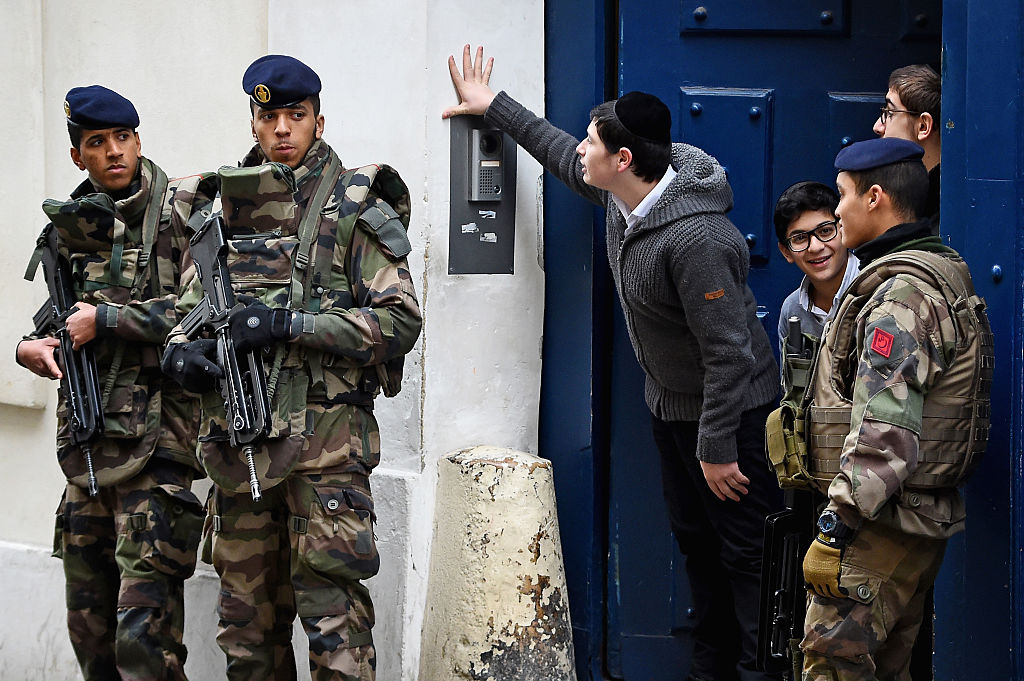 Pictured: French soldiers guard a Jewish school in Paris. (Photo by Jeff J Mitchell/Getty Images)
According to a study conducted by Ifop, "exposure to anti-Semitic violence is highly correlated with wearing a kippa". The Jewish skullcap has disappeared from public view in many areas of France. In Marseille, it was explicit -- a local Jewish leader called on Jews, for their safety, to avoid wearing the Jewish symbols in public. While Jewish symbols disappear, Islamic symbols proliferate, from burkinis on the beaches to the veils at the workplace. Jews who did not flee France are trying to become "invisible".
Until the year 2000, the Parisian suburb of Bondy "was nice and quiet, with 250 to 300 Jewish families, and synagogues full on the Sabbath. Now, only about a hundred Jewish families remain", said a local resident, Alain Benhamou, who left after he saw the words "dirty Jews" painted on the walls.
Jewish families have also been leaving Toulouse due to anti-Semitism. Former Prime Minister Manuel Valls talked about "a territorial, ethnic and social apartheid". France's suburbs are rapidly becoming apartheid societies.
A few days ago, French authorities sentenced Abdelkader Merah, the brother of the terrorist who murdered four Jews in Toulouse, to 20 years in prison for being part of a criminal terrorist conspiracy. The trial was called by a French scholar of Islam, Gilles Kepel, a "biopsy" of the "other France": the Islamized, de-Judaized, peripheral France. "It is striking that after decades spent in France, [Merah's] mother still speaks very poor French and that it was necessary to call a translator to the court", Kepel said.
In Seine-Saint-Denis, 40% of the inhabitants are now Muslim. The result? Historical Jewish communities in towns such as La Courneuve, Aubervilliers, Stains, Pierrefitte-sur-Seine, Trappes, Aulnay-sous-Bois, Le Blanc-Mesnil and Saint Denis are now vanishing. Because of the lack of security, in places such as Courneuve, where there were 600 to 700 Jewish families, there are now fewer than 100. For many of these Jews, it is a second escape.
70% of the half-million Jews in France are Sephardic -- those who were expelled from Spain in 1492 and who fled to the Middle East, North Africa and Turkey, rather than to Europe. They came to France between 1956 and 1962, when Algeria, Morocco and Tunisia gained independence -- as did, for example, two French Nobel Prize laureates for physics, Claude Cohen-Tannoudji (1996), born in Algiers, and Serge Haroche (2014), born in Casablanca, Morocco.
In a suburb south of Paris, Kremlin-Bicêtre, with a population of 25,000 people, 25% now are Muslim. Until 1990, 10% of the population was Jewish; now it is 5%.
Anti-Semitism has revolutionized France -- both its geography and demography. Jew-hate has become the gateway to the "France soumise" -- the submission of France.
Giulio Meotti, Cultural Editor for Il Foglio, is an Italian journalist and author.