Compared to Americans, as everyone knows, people in the Nordic countries -- and here I am speaking of the blond, blue-eyed natives who descend from generations of Christians (and, before that, followers of Thor and Odin) -- are not big believers these days, and do not spend a lot of time in church. But that does not mean they are not devoted to their Christian heritage. At least in Norway, which is probably the most culturally conservative of the Nordic lands, Confirmation is still a universal rite of passage. Most of the official national holidays are Christian holy days, even if most people could not tell you exactly what Ascension Day and Pentecost commemorate. At Christmastime, the main streets are decked out with lights and wreaths, every home has a Christmas tree, and you cannot turn on the radio without hearing Christmas songs.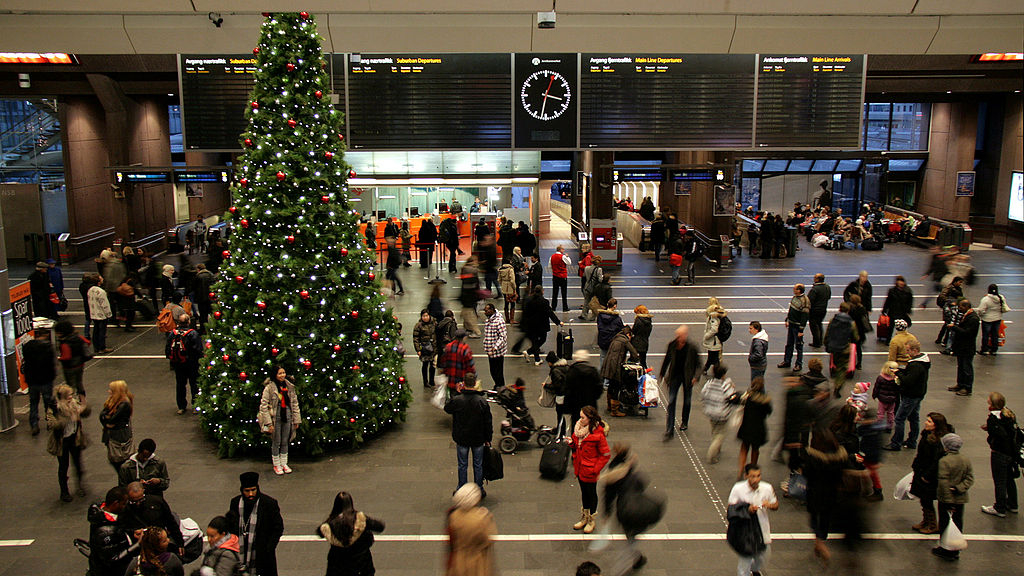 A Christmas tree in Oslo's central railway station, Norway. (Image source: Jorge Franganillo/Wikimedia Commons)
In some regards, the celebration of Christmas goes even further in Norway than it does in the U.S., or at least in some parts of the U.S. Because, until a generation or so ago, almost everybody in Norway was at least a nominal Christian, and because the separation of church and state is a relatively new concept in these parts. The Church of Norway was the nation's established church until this past January, and continues to be fully funded by, and to have strong ties to, the government. Christmas events at public schools still tend to have a more religious tinge than they do in public schools in the U.S., at least in religiously diverse urban areas such as New York City and Los Angeles.
It drew national attention, then, when Document.no, an online outpost of honesty about Islam, reported on November 7 that the Stigeråsen School, an elementary school in Skien (Henrik Ibsen's hometown), announced that this year that its Christmas festivities would include not only the usual reading by pupils of verses from the Bible but also a bonus -- two verses from the Koran. All of the verses in question are about Jesus, whom Islam considers a prophet, although not, of course, the Son of God.
Breaking the news of these plans, reporter Hanne Tolg noted that some such change in traditional holiday programming was probably inevitable, given that 40% of the kids at the Stigeråsen School speak Norwegian as a second language (if they speak it at all). Still, added Tolg, the whole thing was pretty bizarre, given that (a) Christmas is not an Islamic holy day, and (b) thanks to such misguided innovations, a whole generation of Norwegian children will grow up thinking "that Allah and the Koran have something to do with Christmas."
No major Norwegian newspaper reported on the Stigeråsen School's Christmas plans. Tolg found out about it thanks to a tip-off. Clearly, local officials did not want to attract national attention or spark national debate -- and the mainstream media do not want to play any part in getting the people of Norway riled up about such matters.
Nonetheless, Tolg's report, posted on an alternate news and commentary website, was the most shared news item in Norway on the morning of November 8 -- showing just how much Norwegians still care about their traditions, and how concerned they are about multiculturalist efforts to muck them up.
But the story did not end there. As it happens, Norway's biggest newspaper, VG, operates a so-called "fact check" operation not unlike the Tampa Bay Times's notorious PolitiFact. It is called Faktisk.no, and it quickly confirmed that Tolg's story was true. Faktisk.no, however, did not leave it at that, even though affirming the factuality of Document.no's account would seem, in this instance, to be the proper beginning and end of the job for a "fact check" website. Plainly, the people at Faktisk.no -- which is to say, the people at VG -- were not satisfied with a mere fact check. They felt the need to put their own spin on the story. So they went beyond fact, their manifest purpose apparently being to defend and justify the school's plans.
To this end, Faktisk.no interviewed Skien's top education honcho, Grete Gjelten, who provided, as she herself put it, "context." The reason for including the Koran verses, she maintained, was "to create respect and understanding between different religions."
Of course, as Tolg herself noted, shoehorning Koran verses into a Christmas event does nothing but cause misunderstanding.
The school also wished to "show the pupils the differences between the religions." Gjelten went on a bit about this, but probably did not succeed in convincing anyone that including the two Koran verses in a Christmas show would serve to increase any child's awareness of the extensive, manifold theological disparities between Christianity and Islam.
On the contrary, Gjelten's claim itself -- which Faktisk.no, unsurprisingly, did not challenge or question -- is an insult to the intelligence of any adult reader. Far from seeking to enhance interfaith respect, understanding, or awareness, the Stigeråsen School's Christmas plans provide yet another example of dhimmitude: craven European submission to Islam. This year, there might be a couple of Koran verses in a Christmas show; next year, a yuletide event at which both religions are celebrated on an even footing; and not too many years after that, perhaps, a children's celebration at which there is no cross and no Christmas tree, only prayer rugs, benedictions in Arabic, and hijabs for the girls.
Bruce Bawer is the author of the new novel The Alhambra (Swamp Fox Editions). His book While Europe Slept (2006) was a New York Times bestseller and National Book Critics Circle Award finalist.