"Islam cannot be either 'moderate' or 'not moderate.' Islam can only be one thing," Turkish President Recep Tayyip Erdogan said on November 9. "Recently the concept of 'moderate Islam' has received attention. But the patent of this concept originated in the West... They are now trying to pump up this idea again. What they really want to do is weaken Islam..."
Erdogan is working on strengthening Islam in the West, something he does, among other ways, by building Turkish mosques in Western countries. It is hardly surprising that he does not want the West to "weaken Islam", but at the moment there seems little risk of that happening. The establishment of Turkish mosques in Western countries appears to be proceeding apace with very little opposition. Conversely, building Western churches in Turkey is inconceivable.
Erdogan clearly sees Turks living in the West as a spearhead of Islam. "Yes, integrate yourselves into German society but don't assimilate yourselves. No one has the right to deprive us of our culture and our identity", Erdogan told Turks in Germany as early as 2011. This year, he told Turks living in the West:
"Go live in better neighborhoods. Drive the best cars. Live in the best houses. Make not three, but five children. Because you are the future of Europe. That will be the best response to the injustices against you."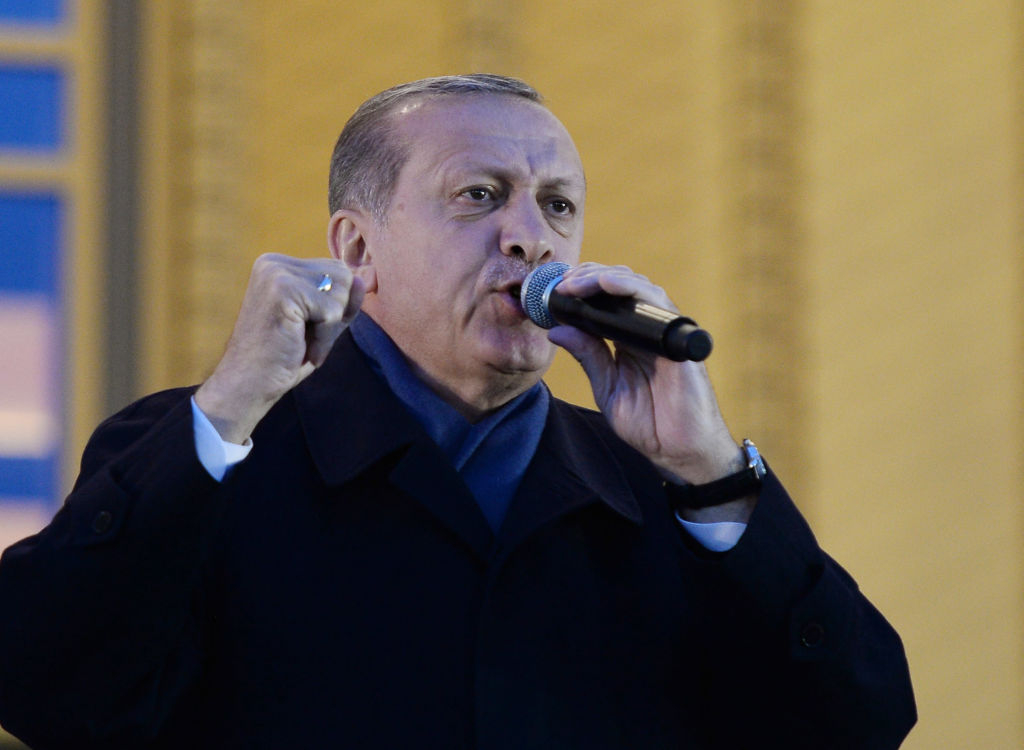 Turkish President Tayyip Erdogan clearly sees Turks living in the West as a spearhead of Islam. This year, he told Turks living in the West: "Go live in better neighborhoods. Drive the best cars. Live in the best houses. Make not three, but five children. Because you are the future of Europe. That will be the best response to the injustices against you." (Photo by Gokhan Sahin/Getty Images)
Erdogan is evidently working to ensure, by continuously building new mosques and expanding old ones across Europe, that Muslims will indeed be the future of the continent.
One Western country where Erdogan is ramping up Islam is Denmark. Two new Turkish mosques are about to open in the Danish cities of Roskilde and Holbæk; in the past year, two Turkish mosques opened in the cities of Fredericia and Aarhus. New Turkish mosques were opened in Ringsted and Hedehusene in 2013; and in Køge the existing mosque opened a cultural center. There are 27 Turkish mosques in Denmark; eight of them are expanding or wish to expand.
The new mosque in Roskilde, complete with minarets, is owned by Turkey's Directorate of Religious Affairs (Diyanet). The inclusion of minarets is due to second- and third-generation Turkish immigrants, who wanted the mosque to look like a "proper mosque".
"It is a general trend in all of Europe that Diyanet is expanding physically with new mosques, and through [the mosques] also religiously, politically and culturally" said professor Samim Akgönül, of the university of Strasbourg. He has analyzed the Friday sermons that Diyanet sends to mosques all over Europe; his analyses show that the sermons are full of political and nationalistic messages favoring Erdogan's regime.
According to Tuncay Yilmaz, chairman of the board of Roskilde's Ayasofya Mosque, "Diyanet is not political, I can promise you that. Obviously they belong to the Turkish state, but they are independent of the government".
That statement is false. Diyanet is an agency of the Turkish government -- and an extremely active one. As Gatestone's Burak Bekdil has noted:
"In a briefing for a parliamentary commission, Diyanet admitted that it gathered intelligence via imams from 38 countries on the activities of suspected followers of the US-based preacher Fetullah Gülen, whom the Turkish government accused of being the mastermind of the attempted coup on July 15... Diyanet said its imams gathered intelligence and prepared reports from Abkhazia, Germany, Albania, Australia, Austria, Azerbaijan, Belarus, Belgium, Bosnia and Herzegovina, Bulgaria, Denmark, Estonia, Finland, Georgia, the Netherlands, the United Kingdom, Sweden, Switzerland, Italy, Japan, Montenegro, Kazakhstan, Kenya, Kyrgyzstan, Kosovo, Lithuania, Macedonia, Mongolia, Mauritania, Nigeria, Norway, Poland, Romania, Saudi Arabia, Tajikistan, Tanzania, Turkmenistan and Ukraine".
In Denmark, nonetheless, the newest Turkish-state mosque was welcomed with open arms. The mayor of Roskilde, Joy Mogensen, who knew that the Turkish government owned the mosque, participated in the ceremony of laying the foundation stone in February 2016. She claims that the very fact that she and the city's bishop were invited to the ceremony meant that there were "good people" in the mosque working for "integration" -- otherwise they would not have allowed "a Christian woman like myself without a headscarf" to participate in their ceremony.
One of those people "working for integration" is the chairman of the board of the mosque, Tuncay Yilmaz, who is also a member of the Roskilde city council for the Social Democratic party. He happens to have close ties to the radical Islamic organization Milli Görüs, which runs a travel agency where Yilmaz works. He organizes their trips to Mecca. "I am not a member of that organization" Yilmaz says. "The only connection is that I work for their travel agency".
Clearly, Roskilde's mayor does not consider Yilmaz's affiliation a problem, nor does the city council. "If we had observed anything suspicious about that organization, we would have talked to him about it; but we haven't heard anything like that" said Søren Kargaard, chairman of the Social Democratics in Roskilde, when asked by journalists about Yilmaz's connection to Milli Görüs. Well, perhaps if Kargaard had bothered to look up Milli Görüs to inform himself about it, this is what he would have found, according to a 2005 report from the Middle East Quarterly:
"Germany's domestic intelligence agency, has repeatedly warned about Milli Görüş's activities, describing the group in its annual reports as a 'foreign extremist organization'. The agency also reported that 'although Milli Görüş, in public statements, pretends to adhere to the basic principles of Western democracies, abolition of the laicist government system in Turkey and the establishment of an Islamic state and social system are, as before, among its goals... As the Office for the Protection of the Constitution (Landesverfassungsschutz) in Hessen notes: The threat of Islamism for Germany is posed ... primarily by Milli Görüş and other affiliated groups. They try to spread Islamist views within the boundaries of the law. Then they try to implement ... for all Muslims in Germany a strict interpretation of the Qur'an and of the Shari'a. ... Their public support of tolerance and religious freedom should be treated with caution".
This assessment, however, does not seem to bother Danish authorities, who appear to see no problems with their cities becoming Islamized by the Turks. That kind of ignorance -- or pretense of ignorance -- amounts to the dereliction of duty on the part of people such as the mayor of Roskilde and Mr. Kargaard.
How many more mosques will it take?
Judith Bergman is a columnist, lawyer and political analyst.