If you want to punish a non-Muslim, especially a poor Christian in Pakistan, point your index finger at him and utter the word "blasphemy." You will soon find thousands of Islamic hardliners beside you chanting, "Death to blasphemers!" Similarly, if you want to root out a Hindu family from its ancestral home in Bangladesh, just accuse one of its members of insulting the Islamic Prophet Muhammad. You will soon find thousands of Muslims rushing to burn the Hindu family's whole neighborhood down, without hesitation or evidence.
Such behavior towards minorities -- Christians in Pakistan and Hindus in Bangladesh -- has become commonplace among fundamentalist Muslims in both countries, whose governments have surrendered to Islamists.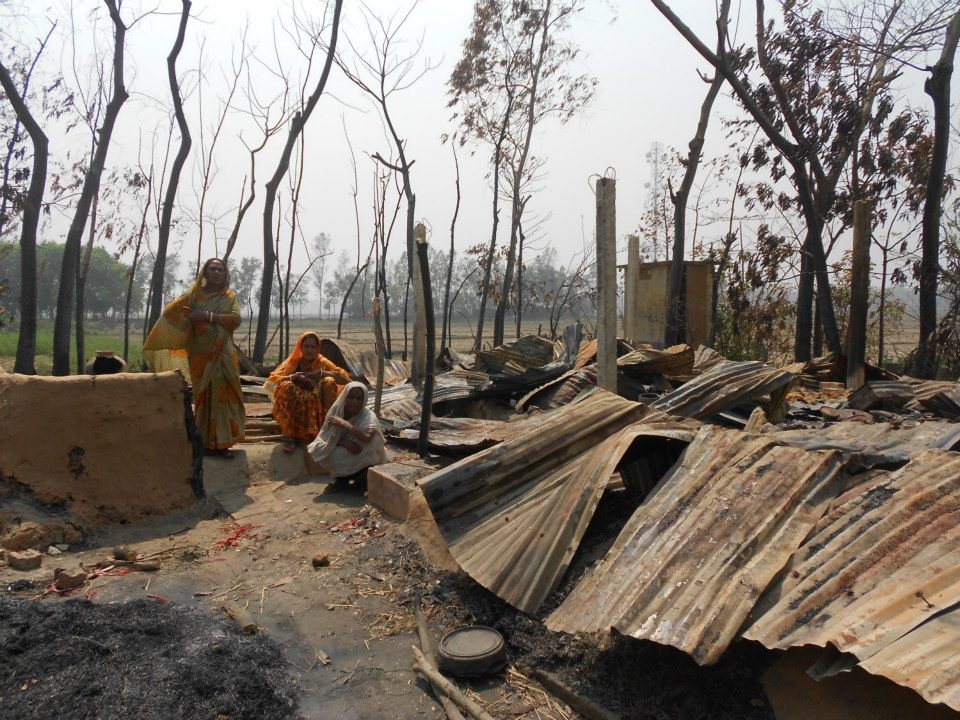 Hindu women stand beside the ruins of their home in Chittagong, Bangladesh, after it was destroyed by Islamists who attacked their community, in March 2013. (Image source: Mehedi Hasan Khan/Global Voices/Wikimedia Commons)
On November 5, for instance, a Bangladeshi Muslim, Alomgir Hossein, filed a complaint against a Hindu, Titu Roy, for allegedly posting derogatory remarks about the Islamic Prophet Muhammed on Facebook. The Muslims of Titu Roy's hometown of Thakurpara (a Hindu-dominated village in Rangpur) gave police a 24-hour ultimatum to arrest the "blasphemer," or they would take action.
Although Titu Roy lives with his wife and two children 500 miles away in Narayanganj, a few days later, after Friday prayers, around 20,000 Muslims from neighboring villages descended upon Thakurpara to take "revenge." Ignoring police attempts at dissuasion, the mob set fire to at least 30 Hindu homes, and looted and vandalized others.
When police intervened, clashes erupted. One man was killed and 20 others were injured, including four policemen. The police claimed it was activists from the Islamic party Jamaat-e-Islami who led the arson attacks to create unrest ahead of the parliamentary elections.
In a horrible twist, an investigation into the Facebook post that ostensibly sparked the riots revealed an apparent case of mistaken identity. It turned out that the user who wrote the supposedly offensive comments was MD Titu, not Titu Roy. (MD is an abbreviation for Muhammed, used by millions of Muslims across the world; Titu is one of the rare names that is used by both Muslims and Hindus.)
This was also not the first time that Muslims used social media pots as an excuse to attack Hindus in Bangladesh. According to the U.S. State Department's International Religious Freedom report for 2016:
"There were a significant number of attacks against religious minorities [in Bangladesh], particularly Hindus. In October hundreds of villagers in the eastern part of the country vandalized more than 50 Hindu family homes and 15 Hindu temples, following a Facebook post believed by some to be offensive to Islam. High levels of election-related violence in June resulted in the death of 126 individuals and injuries to 9,000 others. In one attack in a suburb of Dhaka, the media reported hundreds of attackers used sticks and bamboo poles to beat a group of Catholics and vandalize their homes and shops, injuring an estimated 60 people."
The report further cited religious minorities in Bangladesh who claim that the government continues to discriminate against them in property disputes, and does not adequately protect them from attacks. A report from Minority Rights Group International, released in November 2016, confirmed the findings:
"A large number of attacks targeting religious minorities in particular have subsequently been claimed by the organization Islamic State — a claim vigorously denied by the Bangladeshi government, which has attributed the attacks to domestic militant groups. Regardless of their authorship, since the beginning of this new outbreak of violence, the authorities have visibly failed to ensure the protection of those targeted."
According to an eminent Bangladeshi economist and researcher, Dr. Abul Barkat of Dhaka University, within 30 years, there will be no Hindus left in the country, based on "the rate of exodus over the past 49 years." Barkat, author of "Political Economy of Unpeopling of Indigenous People: The Case of Bangladesh," said that between 1964 and 2013, 11.3 million Hindus had left Bangladesh due to religious persecution and discrimination.
The Hindus of Bangladesh, a country created in 1971 from East Pakistan, have a long history of repression at the hands of Muslims. According to a 2013 report by the Hindu American Foundation (HAF):
"Hindu minorities living in countries throughout South Asia and other parts of the world are subject to varying degrees of legal and institutional discrimination, restrictions on their religious freedom, social prejudice, violence, social persecution, and economic and political marginalization. Hindu women are especially vulnerable and face kidnappings and forced conversions in countries such as Bangladesh and Pakistan. In several countries where Hindus are minorities, non-state actors advance a discriminatory and exclusivist agenda, often with the tacit or explicit support of the state."
The HAF has designated Bangladesh as one of four "egregious violators" of the human rights of their Hindu populations, second only to Afghanistan. It is little wonder, then, that the Hindu population there is in steep decline, with a 2011 national census suggesting that a mere 8.4% remained, with nearly one million having left the country after 2001. To this day, Hindus continue to seek refuge in neighboring India.
Although secularism is enshrined in the constitution of Bangladesh, the country is being "purified" by -- and for -- its fundamentalist Muslims.
Mohshin Habib, a Bangladeshi author, columnist and journalist, is Executive Editor of The Daily Asian Age.