"He has a strong paranoid orientation. He is ready for retaliation and, not without reason, sees himself as surrounded by enemies. But he ignores his role in creating those enemies, and righteously threatens his targets. The conspiracy theories he spins are not merely for popular consumption in the Arab world, but genuinely reflect his paranoid mindset. He is convinced that the United States, Israel and Iran have been in league for the purpose of eliminating him, and finds a persuasive chain of evidence for this conclusion."

— Explaining Saddam Hussein: A Psychological Profile, by Dr. Jerrold M. Post, presented to the House Armed Services Committee, December 1990.
In the text above replace the words "in the Arab world" with "Turkey," and delete the word "Iran" in the preceding line, and one will get a short paragraph "Explaining Turkish President Recep Tayyip Erdogan: A Psychological Profile." A number of high-profile investigations developing on American soil are threatening Erdogan's legitimacy while Turkey's strongman resorts to the tactic he knows best: spin global conspiracy theories to influence voter behavior in a country where the average schooling is a mere 6.5 years.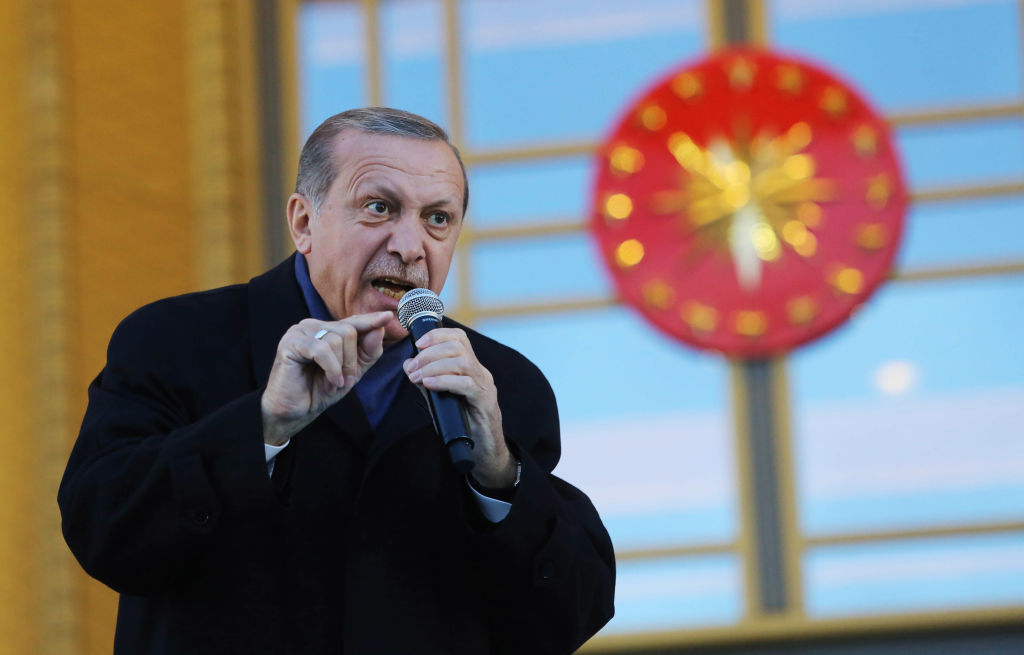 A number of high-profile investigations developing on American soil are threatening Turkish President Recep Tayyip Erdogan's legitimacy while he resorts to the tactic he knows best: spin global conspiracy theories to influence voter behavior in a country where the average schooling is a mere 6.5 years. (Photo by Elif Sogut/Getty Images)
The name of Reza Zarrab, a young and wealthy Turkish-Iranian gold trader, fell into the Turkish public domain at the end of 2013 when the Turks woke up to news that, in early morning raids, squads of public prosecutors and police had detained the sons of cabinet secretaries, a mayor, a state bank manager and prominent businessmen -- all with publicly known close ties to Erdogan, then prime minister. The mounds of evidence included telephone conversations, video material, and more -- all unmasking the trafficking of huge amounts of illegal money and expensive gifts to them among the suspects, including from Zarrab himself.
Dozens of audio recordings revealed a network of relations among Erdogan's closest political and business allies, involving billions of dollars. In one audio recording Erdogan was heard ordering his son to get rid of all the cash he kept at home; and his son, after trying for several hours, tells him there are still millions left. Erdogan denied the authenticity of the evidence and claimed this was a coup d'état against his elected administration. He then purged all prosecutors and police officers investigating the charges.
In the investigation, Zarrab was accused of running a network that laundered at least $87 billion to bypass U.S. and international sanctions on Iran, and bribing ministers, their sons and senior public officials in Turkey. Meanwhile, the police found around $9 million in cash stuffed into shoeboxes at the home of Suleyman Arslan, then general manager of Halkbank, a government-owned bank that was instrumental in trade between Turkey and Iran. Then EU Minister, Egemen Bagis, was the other recipient of cash from Zarrab, according to the prosecutors. And Housing Minister Erdogan Bayraktar was accused of arranging multibillion dollar contracts for government-friendly companies. At the peak of the wave of arrests and investigation, Bayraktar would publicly say: "Whatever I have done, I have done it with [Erdogan's] knowledge and orders." And he would argue that "the prime minister [Erdogan] too should resign."
A week after the investigation officially took off, three ministers resigned from cabinet, but that was not the end of the story. On the same day, a chief prosecutor in Istanbul ordered the detention of 30 more suspects on charges of bribes involving around $100 million. Among the top suspects were Erdogan's son, Bilal, and Yasin al-Qadi, who had been put on a U.S. list of "specially designated global terrorists" for his alleged activity to sponsor terrorism.
Erdogan's government quickly covered up the investigation; put the blame on an attempt to eliminate him, most notably by a Muslim cleric, Fethullah Gulen, in exile in the United States; purged the law enforcement officers whom the courts later sent to jail; released Zarrab and closed the case. The Turks shrugged off the otherwise embarrassing evidence and within eight months, Erdogan won the municipal elections (March 2014) and the presidential election (August 2014).
Zarrab, then the darling of Erdogan and his government, defended himself by claiming that his business dealings helped Turkey cover its ballooning current account deficit. He got several pats on the shoulder from government bigwigs who said Zarrab was just a philanthropist businessman. In 2015 two cabinet ministers gave Zarrab an award for being a "champion exporter".
In March 2016 Zarrab was arrested upon entry into the United States on charges of evading Iran sanctions. Since then Erdogan has extensively lobbied the Trump administration for Zarrab's release. In the meantime, however, the prime suspect in the high-profile trial had become a star witness -- and a trouble for Erdogan.
This week, at a hearing on November 30, Reza Zarrab, the Iranian-Turkish gold trader at the center of a U.S. trial that reveals how Turkey helped Iran evade international sanctions, has told jurors in a New York federal court that Erdogan authorized a transaction in a scheme to help Iran evade U.S. sanctions -- it is the first time Erdogan has been named in the U.S. criminal case over Iran's violations of international sanctions and movement of billions of dollars. In its court filings, however, the U.S. government has not alleged that Erdogan cooperated in the scheme.
"A few billion ... euros" were withdrawn in this scheme "under disguise of gold trade," Zarrab said, adding that the Turkish economy minister at the time agreed to work on the basis of sharing the profits 50/50.
Zarrab said he had learned from Zafer Caglayan, the economy minister at the time, that Erdogan and then-treasury minister Ali Babacan had authorized two Turkish banks, Ziraat Bank and VakifBank, to move funds for Iran. Zarrab also testified that he had bribed Caglayan at the tune of 45 million-50 million euros.
A U.S. prosecutor told the jury on November 28 that corrupt Turkish officials had shut down the 2013 inquiry, but that the F.B.I.'s own investigation "tells the same story" as the Turkish police found at the time.
Nate Schenkkan, an analyst specializing in Turkey at the pro-democracy organization Freedom House, told CNN that this is the first time the public sees "the raw scale of the bribes and corruption" in Turkey.
Zarrab's testimony as a witness, as well as documents displayed at trial "would show that this conspiracy to launder money for Iran was not a rogue operation. It would show the Turkish government at its very highest level understood what was going on -- and approved of it," Schenkkan said.
All that is explosive stuff. But not for Erdogan. From the first day Zarrab appeared at the U.S. court, Erdogan started to spin the usual conspiracy theories to control damage at home already two years ahead of critical presidential and parliamentary elections. Turkish Deputy Prime Minister Bekir Bozdag claimed that the trial was a new attempt by Gulen to harm Turkey's government; that the U.S. judiciary was influenced by the Gulenists and that Zarrab's trial was a sham aimed at discrediting Erdogan. According to Erdogan's prime minister, Binali Yildirim, "this court case has stopped being judicial and become completely political, with the sole aim to corner Turkey and its economy."
Not surprisingly, media coverage of the case has been limited in Turkey, and one pro-government outlet branded the trial as a conspiracy by "enemies" of the country.
For Ankara, it was not just an exchange of unpleasant words in its newfound war with its NATO ally, the United States. Turkey's chief prosecutor on December 1 issued an arrest warrant for former CIA officer Graham Fuller, accusing the former vice-chair of the National Intelligence Council, of having links to Gulen. The warrant also accuses Fuller of "attempting to overthrow" Turkey's government.
Erdogan's hasty switch to his usual Saddamesque tactic is understandable. It worked well in the past. Why should it not work well now?
Although the Zarrab case will deeply complicate Turkey's place in the Trump administration's emerging coalition against Tehran, and further accelerate the erosion of Turkey's place in the Western bloc, it is unlikely irrevocably to damage Erdogan's nationalist and Islamist popularity at home.
A. Kadir Yildirim, a research scholar at Rice University's Baker Institute for Public Policy, wrote:
"The court case is unlikely to sway public opinion against Erdogan in Turkey. It is getting little coverage in Turkish media outlets. The poor state of press freedom in Turkey is a key factor, and concerns over negative coverage of the case will likely choke the Turkish media even further.

"In order to relieve domestic pressure, the Turkish government is likely to increase suppression of opposition groups. Former and current opposition figures already face prosecution and threats should they help publicize corruption allegations against Erdogan. The potential conviction of Turkish government officials plays to Erdogan's growing anti-Western rhetoric. It serves as further evidence, for Erdogan and his supporters, that the West will not tolerate promising, strong leaders who pursue independent foreign policies. This perception feeds popular narratives that Islamists in Turkey and elsewhere hold about Western or American policies in the region. It also resonates well with extremely high levels of popular anti-Americanism in Turkey. Erdogan has long proven skilled at turning Western pressure to his domestic political advantage, and will likely continue to do so now."
Zarrab, however, is not Erdogan's only headache in the U.S. On December 1, former national security adviser Mike Flynn revealed that the private consulting work he undertook while advising Donald Trump's presidential campaign was directed and supervised by Turkish government officials -- an allegation people involved in the project have for months denied. The revelation came as part of Flynn's agreement to plead guilty to lying to the F.B.I about his talks with the Russian ambassador to the U.S.
When Flynn was working on the presidential campaign last year his consulting firm embarked on a project aimed at discrediting Gulen whom Erdogan's government has been pressing Washington to extradite to face terrorism charges in Turkey. As part of that project, Flynn wrote an opinion piece that appeared in The Hill and that called for Gulen's extradition. In the fall of 2016, Flynn also met with top Turkish officials in New York to discuss the prospect of spiriting Gulen out of the U.S. to Turkey.
Erdogan may once again convince the Turkish voters that all of the embarrassing and explosive material that surfaced recently was part of yet another international Zionist conspiracy aiming to undermine his efforts to "make Turkey great again." He may once again win hearts and minds in an increasingly isolated nation, but the world is bigger than Turkey.
Burak Bekdil, one of Turkey's leading journalists, was recently fired from Turkey's leading newspaper after 29 years, for writing what was taking place in Turkey for Gatestone. He is a Fellow at the Middle East Forum.