There exists an organization Sweden that goes by the name "Young in Sweden" ("Ung i Sverige"), which Radio Sweden has described as "one of the most notable protest movements in the country right now." It is not just any group of young people -- its members are from Afghanistan. According to its website, they fled "violence and persecution" in their homeland, only to find that they were "not welcome after all" in Sweden.
The Young in Sweden website describes the group's members by first begging for pity -- explaining how tough it is to be a refugee and how desperately these young people long to make a lasting home in Sweden and contribute to the country's future. It portrays them, in the American parlance, as "Dreamers."
But in a way familiar to observers of the Islamic incursion into the West, the plea for sympathy abruptly gives way to something more aggressive. The group issues a series of what it explicitly calls "demands." First, it demands that Sweden stop returning to Afghanistan those Afghans whose asylum requests have been rejected. Second, it demands a meeting with Mikael Ribbenvik, Secretary General of the Swedish Migration Agency. Third, it demands that politicians pass laws granting amnesty and residence permits to Afghan refugee claimants.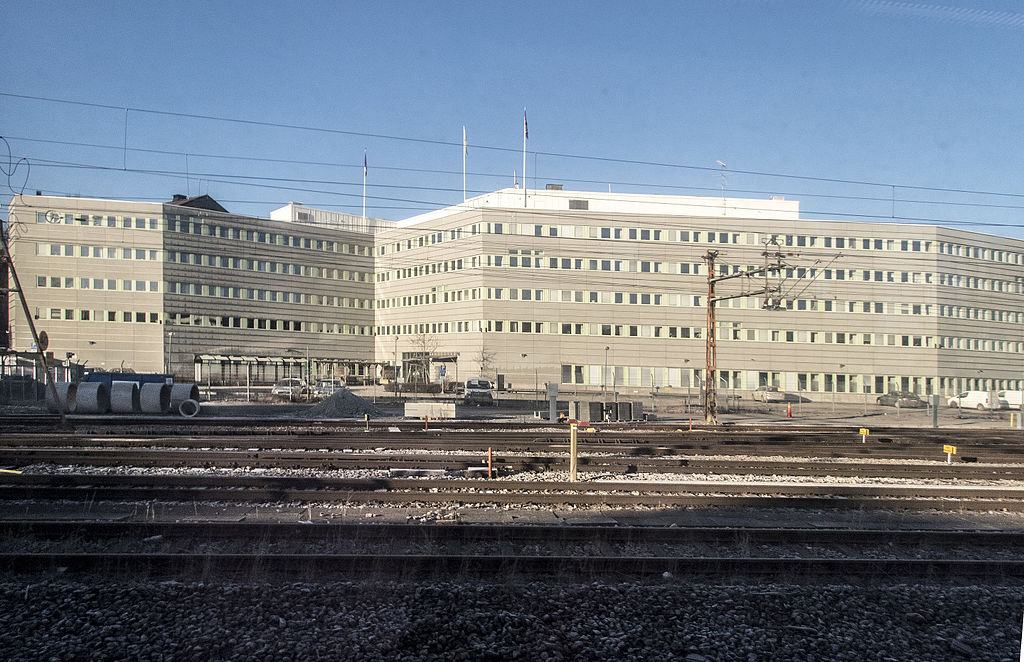 Pictured: The offices of the Swedish Migration Agency in Solna, Sweden. (Image source: I99pema/Wikimedia Commons)
To be sure, Young in Sweden does not just make demands. It holds illegal public protests, which have been marked by acts of vandalism and violence. It also arranges language courses. Swedish language courses for Afghans? No -- courses in Persian and Dari for native Swedes. The group's Facebook page describes these courses as an "integration project," explaining that as Afghans become part of Swedish society, Swedes need to "take responsibility to be a part of that society as well." Which is to say that if native-born Swedes wish to be full members of the new Swedish society, they must learn Persian and Dari.
The head of Young in Sweden is a young woman named Fatima Khawari, who lives with her mother and siblings in a block of government-owned flats that was built for retirees. In other words, they are yet another family of immigrants who have been given precedence in housing waiting-lists over Swedish pensioners. Khawari, born in Afghanistan and raised in Iran, was granted permanent Swedish residency at the Swedish Embassy in Tehran in December 2014, because her brother was already living in Sweden. Her family followed afterwards via what in the U.S. is quite properly called "chain migration".
There's one curious detail, though, in Khawari's personal history. Under Swedish law, only individuals under 18 years of age can be accorded residency on the grounds that they have siblings in Sweden. Khawari says that she was born in January 2000, which would have made her fourteen in December 2014. But many Swedes have observed that she seems considerably older. Was Khawari, in fact, over the legal age limit when she moved to Sweden? Journalist Egor Putilov came up with a brilliant way to find out: knowing that both Afghanistan and Iran use the Persian calendar, he asked her, during an interview last October, to state the year of her birth according to that calendar. She could not. "How can you forget your birthday?" he asked. "I can forget what I want!" she replied.
In October, at a demonstration against the return of rejected Afghan refugee-claimants to Afghanistan, a Swedish man dared to ask Khawari why she and her fellow refugees wanted to stay in Sweden instead of returning to their own country and helping to build it up. "I do not want to," Khawari replied with a laugh. When the man responded that she did not belong in Sweden while he did, Khawari retorted: "You belong nowhere." She added that while he was the face of hatred, she was the face of love, and had every bit as much right to be in Sweden as he did.
Unsurprisingly, the left-wing Swedish establishment has embraced Young in Sweden and Khawari. In October, the Left Party and its youth wing, the Young Left, awarded Young in Sweden their Anita D'Orazio Prize, which includes a cash sum of 10,000 kronor (approximately USD $1,500). On January 15, Khawari herself won the Martin Luther King Award from the Swedish Christian Council, an umbrella group that includes virtually all of the Christian denominations and Christian organizations in Sweden, including the Church of Sweden, the Syrian Orthodox Church, the Russian Orthodox Church, Catholic Pentecostalists, the Christian Peace Movement, and the Swedish Christian Council. Khawari accepted the prize, which includes 25,000 kronor (USD $3,100) in cash, at a ceremony held in a Stockholm church.
Only a few days before the latter prize was presented, it was reported that Muhammed Hussaini, an Afghan refugee who had participated in protests by Young in Sweden and who, last August, had tried to murder a Stockholm policeman at one such event, was an acquaintance of Khawari, and that she had, in fact, arranged for his legal representation. Asked about this ticklish detail, Karin Viborn, head of the Swedish Christian Council, described the murder attempt as an "accident." Viborn also defended Young in Sweden's illegal public protests as acts of civil disobedience ("if you're changing the world, you sometimes have to break rules"), and dismissed concerns that members of Young in Sweden had committed crimes and acts of violence that a Christian group should perhaps not be rewarding.
As for the Left Party's prize to Young in Sweden, Tomas Brandberg of the Samtiden website speculated in October that Young in Sweden, far from being, as it professes to be, a grassroots movement run by Afghan youth, is in fact a covert project of the Left Party. He noted that the group's website is professionally produced and contains references to issues about which one would not expect recent arrivals from Afghanistan to know or care.
Every young Afghan refugee costs Sweden's taxpayers a million kroner (USD $125,000) a year. When Putilov asked Khawari how she felt about all that money being diverted from healthcare and other services, causing people to die of cancer because of ever-lengthening waiting times for life-saving surgery, she cut off the interview, saying she had no further time to answer questions.
One last fact about Khawari: she has said that her goal is to become Prime Minister of Sweden. Given the way in which the leftist establishment has embraced her, it hardly seems a pipe dream.
Bruce Bawer is the author of the new novel The Alhambra (Swamp Fox Editions). His book While Europe Slept (2006) was a New York Times bestseller and National Book Critics Circle Award finalist.