In Turkey these days, there is every sign of collective hysteria in a once glorious nation that fell from grace, then longed for power and grandeur for nearly a century. Turks are dizzy with joy over their army's incursion into Afrin, a Kurdish enclave in neighboring Syria.
It is almost a sin not to join the celebrations: "We are witnessing the lynching of anyone who dares to speak against it. Opposing the operation has become a death wish," Nevsin Mengu, a prominent Turkish journalist, wrote in Sigma Turkey, an independent news outlet.
"Operation Olive Branch," the ironic code name the Turkish military has chosen for its incursion into northern Syria, has catered well to the Turkish psyche that craves shows of force of every possible flavor. Headlines in the national press since the launch of Operation Olive Branch speak for that psyche:
There is colorful fanfare reflecting the glory-deprived, conquest-hungry Turkish sentiment that blends neo-Ottoman nationalism with political Islam. Turkey's religious authority (Diyanet) called on all clerics in Turkey's more than 90,000 mosques to read the Quran's Al-Fath (Conquest) chapter in their Friday sermons and ask communities to pray for the Turkish troops during the military operation on Syrian soil. All that prayer was apparently not sufficient to boost morale: A replica Ottoman military band, known as mahtar -- the type of military ensemble in the Ottoman army that played martial tunes during military campaigns -- gave a concert to the Turkish soldiers at the Turkish-Syrian border for Operation Olive Branch.
According to Mengu:
"We are almost having a collective catharsis. Triumphant cries of bullies are echoing everywhere. Pro-government media is drunk with victory. Information is flowing in, whether... true or false, with random videos of those embedded in the war. So much so that, the media can get away with inserting scenes from the movie Rambo and claiming they are taken from Afrin. The government has long been using a discourse based on the failures of the Republic.... The policy is solidly built around discrediting the 'timid' approach of the past and is pursuing a much more aggressive approach by simply bullying whoever is around. The Afrin operation is nothing more than this policy in practice."
The Turkish military headquarters announced on January 23 that at least 260 terrorists had been killed in the first three days of Operation Olive Branch. But there is a long way to go: Turkey claims the Afrin region is home to more than 10,000 terrorists that are linked to the Kurdish People's Protection Units (YPG, in its Kurdish acronym), the main guerrilla force that helped the United States and its allies to defeat the radical jihadist Islamic State in northern Syria. In practice, ironically, NATO member Turkey's Operation Olive Branch targets the main ground force allies of its NATO ally, the U.S.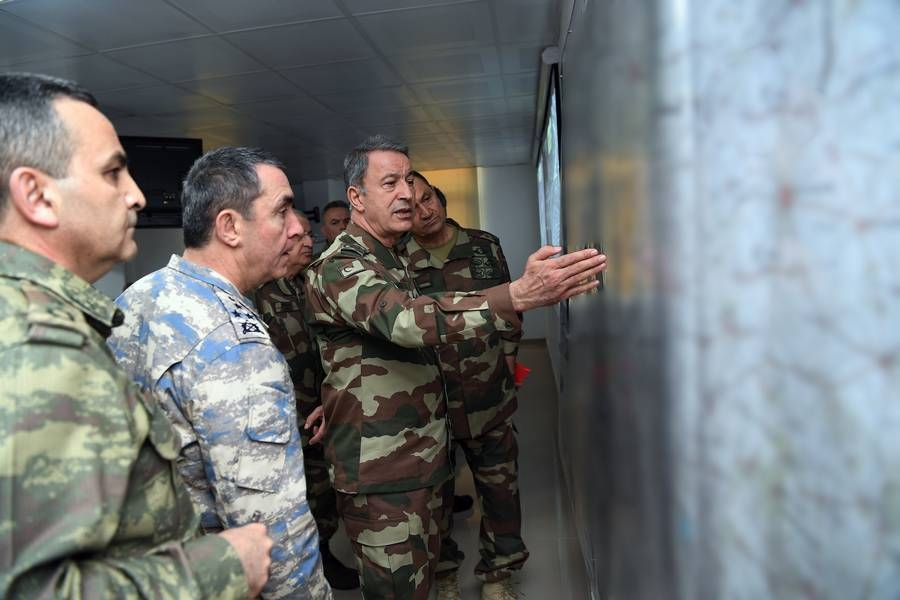 The Turkish military's General Staff meet to discuss Operation Olive Branch, on January 21, 2018. (Image source: Turkish Armed Forces)
For Turkey's security czars, the idea of an autonomous or independent Kurdish entity stretching from northern Iraq to Turkey's southern Hatay province bordering northwestern Syria is the top security challenge and an existential nightmare. Turkish President Recep Tayyip Erdogan has already threatened that Operation Olive Branch could expand into the two other Kurdish enclaves to Afrin's east, Menbij and Kobane, then further east toward the Syrian-Iraqi border.
The area Erdogan targets is effectively home to most of Syria's two million or so Kurds, who seek an autonomous entity that Turkey fears may further provoke separatist Kurdish sentiments among Turkey's 10 million to 15 million Kurds. No matter how gratifyingly the limited Turkish military incursion into a small Kurdish enclave makes Turks feel imperial again, a Kurd-free, Turkey-controlled northern Syria -- stretching from the Turkish border province of Hatay in the west to the Iraqi border in the east -- will be, militarily and politically, a mission impossible for Ankara.
Despite its deceptive domestic festive mood, Operation Olive Branch looks more like a Pyrrhic victory with no practical chance of becoming a long-term strategic triumph.
Burak Bekdil, one of Turkey's leading journalists, was recently fired from Turkey's leading newspaper after 29 years, for writing what was taking place in Turkey for Gatestone. He is a Fellow at the Middle East Forum.