On March 28, the European Union unveiled a plan to enhance NATO defense capabilities, particularly in view of increasing Russian aggression. The plan, which envisions the establishment of a European Defense Union by the year 2025, is aimed at easing current restrictions on the deployment of troops and the movement of military materiel across Europe, in the same way that the Schengen Area agreement has enabled passport-free travel between 26 states, most of which belong to the EU.
Explaining the necessity for a "military Schengen zone," EU foreign policy chief Federica Mogherini said:
"By facilitating military mobility within the EU, we can be more effective in preventing crises, more efficient in deploying our missions, and quicker in reacting when challenges arise."
The EU Commissioner for Transport, Violeta Bulc, emphasized another aspect of the proposed zone:
"This means a more efficient use of public money and a better-equipped transport network, ensuring quick and seamless mobility across the continent. This is a matter of collective security"
The principle of "collective security" -- or "collective defense" -- is enshrined in Article 5 of the NATO (Washington) Treaty, and it means that "an attack against one ally is considered as an attack against all allies." It was first invoked after the 9/11 attacks, and has been implemented on several occasions, including in response to the civil war in Syria and after Russia's invasion of Ukraine.
Currently, collective defense is impeded by regulations that make it extremely difficult for NATO to move troops and equipment swiftly and efficiently from one member-state to another.
This difficulty was behind the idea of creating the "military Schengen," which was raised by NATO leaders in 2015, and repeated last July by U.S. Army Europe commander Lt. General Frederick Benjamin Hodges during the U.S. Army-led Saber Guardian exercise in Romania.
Ahead of his retirement last September, Hodges referred to the need for an improved "speed of assembly," which he defined as "the movement of allied forces from all over Europe to the Black Sea region." Hodges asserted:
"More than anything, we need a military Schengen zone, something that would allow a military convoy to move across Europe as fast as a migrant is able to move across Europe."
Hodges called the process of meeting the transportation laws of individual countries and the movement of even non-military convoys across Europe "cumbersome," citing as an example the five-day notice period required for moving forces from Poland to Germany.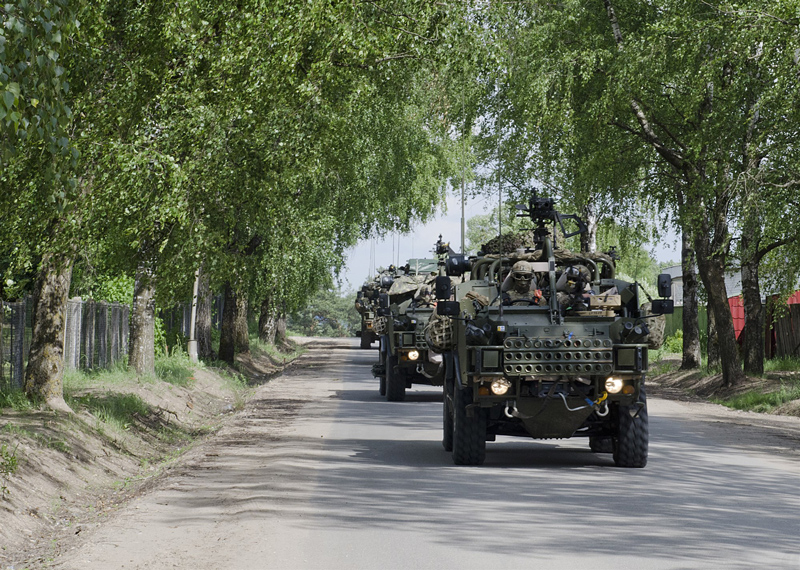 Pictured: Multinational NATO soldiers with the Enhanced Forward Presence Battle Group Poland arrive in Rukla, Lithuania on June 18, 2017, completing a two-day tactical road march across NATO borders, as part of the "Saber Strike 17" exercise. (Image source: U.S. Army/Sgt. Justin Geiger)
Though necessary, such a military Schengen zone, analysts say, would not be simple to implement. According to Karlijn Jans from The Hague Centre for Strategic Studies in the Netherlands, and Rachel Rizzo from the Center for a New American Security in Washington,
"First of all, not all NATO members are part of today's Schengen Agreement. Also, despite having practical motivation and goals in mind, a military Schengen zone could be difficult politically. In an ideal scenario, military personnel and equipment would receive the equivalent of the Schengen visa that private citizens receive when travelling to the EU -- but that might be tough to sell to the general public. Finally, separate agreements would have to be created with non-EU NATO members such as the United States, Turkey and Montenegro; Norway and Iceland have associate status in Schengen as part of the existing Schengen Acquis. A separate agreement would also have to be renegotiated with the United Kingdom [now that it has left] the EU."
Nevertheless, Jans and Rizzo argue,
"implementation may not be as difficult as people think, given what is already underway in parts of Europe... such as the European Air Transport Command, which was established by the Netherlands, France, Belgium and Germany in 2010 and has since added Spain, Italy and Luxembourg. This multinational command put significant parts of these countries' air transport- and air-to-air refueling fleets under unified operational control. A permanent multinational airlift training center also recently launched in Spain, marking a major step forward in European defense collaboration."
Testifying before the US Senate Armed Services Committee on March 8, the American commander of NATO forces in Europe, U.S. Army General Curtis Scaparrotti, was emphatic in his assessment of the growing threat from Moscow:
"Russia seeks to change the international order, fracture NATO, and undermine U.S. leadership in order to protect its regime, re-assert dominance over its neighbors, and achieve greater influence around the globe... Russia has demonstrated its willingness and capability to intervene in countries along its periphery and to project power... Our highest strategic priority as a Combatant Command is to deter Russia from engaging in further aggression and exercising malign influence over our allies and partners."
The establishment of greater military cooperation among NATO members, then, is as welcome as it is crucial.
Debalina Ghoshal, an independent consultant specializing in nuclear and missile issues, is based in India.