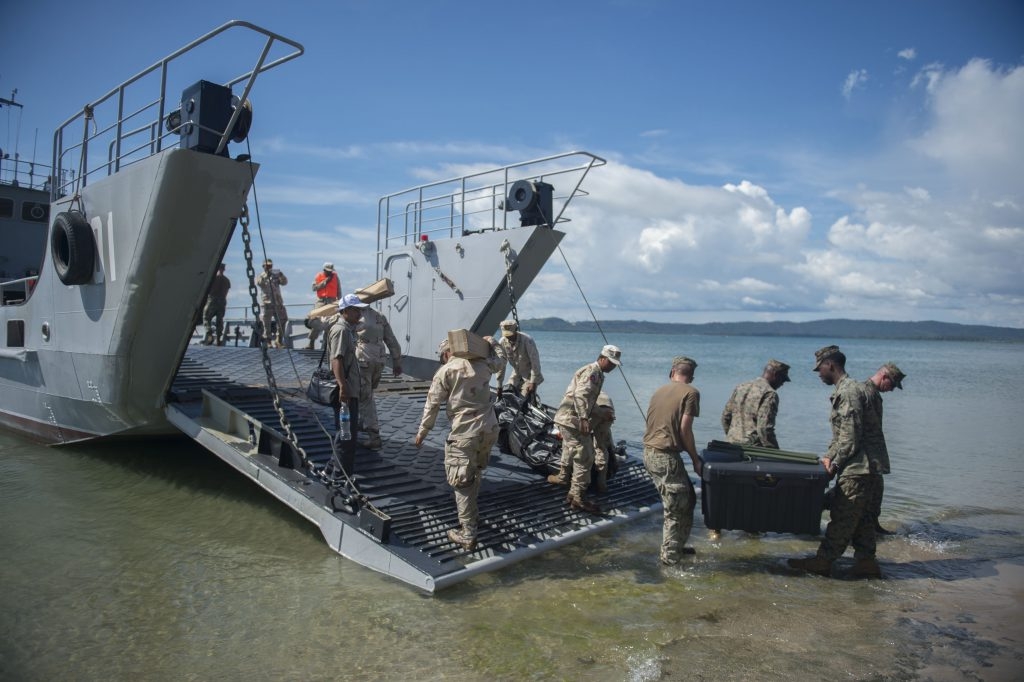 A recent Wall Street Journal report claims that China has signed a secret deal with Cambodia that gives the Chinese military access to Cambodia's Ream Naval Base. Washington has expressed worry over Cambodia's move away from democracy and American influence, and its descent into autocratic rule and towards China's orbit. Pictured: U.S. Marines and Royal Cambodian Navy sailors participate in the multinational "CARAT Cambodia 2016" exercise near Ream Naval Base, November 2, 2016. (U.S. Marine Corps photo by Chief Petty Officer Lowell Whitman)
China's efforts to establish regional hegemony were highlighted recently by a Wall Street Journal report claiming that Beijing signed a secret deal in the spring with Phnom Penh, giving the Chinese armed forces access to Cambodia's Ream Naval Base on the Gulf of Thailand, "not far from a large airport now being constructed by a Chinese company."
Although the report was vehemently denied by Cambodian Prime Minister Hun Sen, who called it "the worst-ever made up news against Cambodia," Washington has cause to take it seriously. The United States is aware of China's attempts to strengthen its strategic foothold in Southeast Asia in general and the South China Sea in particular. Washington also has expressed worry over Cambodia's move away from democracy and American influence, on the one hand, and its descent into autocratic rule and towards China's orbit on the other.
In spite of Article 1 of its Constitution, which states that "the Kingdom of Cambodia shall be independent, sovereign, peaceful, permanently neutral and non-aligned country," in January, U.S. Director of National Intelligence, Dan Coats -- who just resigned his post -- assessed that "Cambodia's slide toward autocracy... opens the way for a constitutional amendment that could lead to a Chinese military presence in the country."
Meanwhile, both Beijing and Phnom Penh claim that all investment by the Chinese-owned Union Development Group in the Koh Kong province and along the Cambodian coastline -- such as an international airport, luxury tourist resorts, casinos and golf courses, among others -- are part of a major project for civilian use alone. However, as Cambodia-based journalist Andrew Nachemson reported in March:
"... scepticism has grown louder recently, with the release of satellite images from the European Space Agency showing that the runway for the site's airport is far longer than is required for civilian aircraft...

"The satellite images suggest there was a flurry of construction on the runway after US Vice-President Mike Pence delivered a letter to Cambodian Prime Minister Hun Sen in November, expressing concern that the project had a military use."
In response to the Wall Street Journal report, the U.S. State Department released a statement reminding Cambodia that it had a "constitutional commitment to its people to pursue an independent foreign policy," and warning that:
"We are concerned that any steps by the Cambodian government to invite a foreign military presence in Cambodia would threaten the coherence and centrality of the Association of Southeast Asian Nations in coordinating regional developments, and disturb peace and stability in Southeast Asia."
As The Guardian reported in July:
"Over the past two years [Cambodian Prime Minister Hun Sen] has accepted more than $600m (£480m) in loans as part of China's controversial Belt and Road initiative. China has also committed almost $2bn to build roads and bridges across Cambodia, with further infrastructure and multimillion-dollar business deals in the works, and given another $150m in aid."
Sophal Ear, a "prominent Cambodian political scientist," told The Guardian:
"It appears that there are massive strings attached to these loans. If Cambodia had said no, do you think China would continue its massive investment in Cambodia?"
America's newly confirmed ambassador to Cambodia, W. Patrick Murphy, is facing particularly tough challenges as he enters his role. Alluding to Chinese encroachment on Washington-Phnom Penh relations, Murphy said that he intended to "advocate for reconciliation, adherence to the principles enshrined in the Cambodian Constitution and efforts to protect the country's sovereignty."
Murphy also pointed to the unfortunate "backsliding in governance, rule of law and corruption," and repeated the Trump administration's disappointment in the country's July 2018 "sham" general elections, in which Hun Sen's ruling party banned the main opposition party and imprisoned its leader.
On July 30, 2019, the U.S. Embassy in Phnom Penh marked the first anniversary of the election with a statement that said:
"... That vote was neither free nor fair, and it failed to represent the will of the Cambodian people.

The elections excluded the country's principle opposition party and further eroded the country's achievements in promoting political reconciliation and economic growth since the 1991 Paris Peace Accords..."
It does not seem likely, therefore, that Hun Sen will be shunning China's advances in favor of the principles of democracy and sovereignty spelled out in its constitution. Without a change of government in Phnom Penh, brought about by an election that truly reflects public sentiment, China could be given virtually free rein in Cambodia to further its political and military designs on Asia.
Debalina Ghoshal is an India-based non-resident fellow at the Council on International Policy in Canada. She is also an Asia Pacific Fellow with the East West Institute.