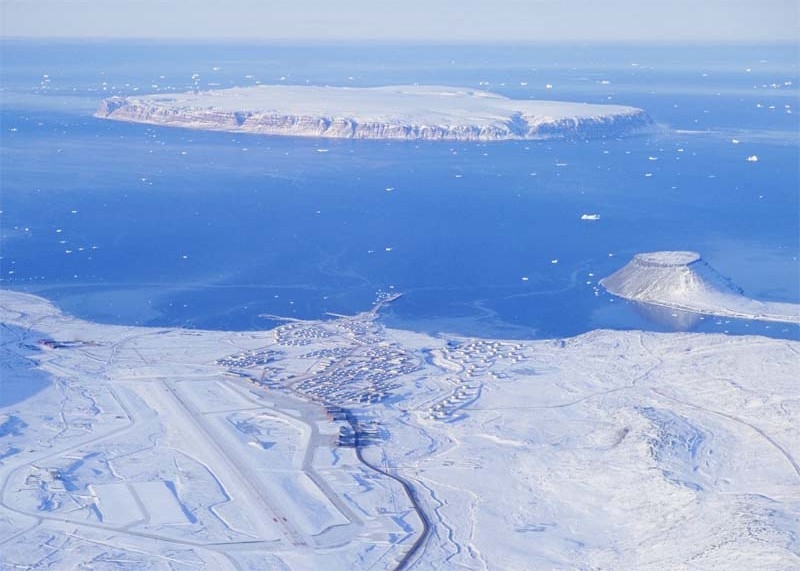 Pictured: Thule Air Base, the United States Air Force's northernmost base, north of the Arctic Circle in Greenland. (Image source: US Air Force/Wikimedia Commons)
China's aggressive behavior in the South China Sea by now is old news, but Beijing's recent moves in the Arctic have been attracting attention.
The Arctic -- where both the United States and Russia maintain a military presence -- is known for being rich in hydrocarbons. The Chinese, in their claims to such a valuable energy source, clearly do not wish to be left behind.
Just as Chinese President Xi Jinping has been pushing the Belt and Road Initiative, he also aims to develop a "Polar Silk Road" for shipping lanes, which he believes are opening up due to glacial melting caused by global warming. This belief appears to stem from the "open polar sea" theory, according to which the polar seas created by climate change ultimately could be exploited for commercial purposes.
China spelled out its "Arctic Policy" in January 2018 in an extensive document, which reads, in part:
"To understand the Arctic, China will improve the capacity and capability in scientific research on the Arctic, pursue a deeper understanding and knowledge of the Arctic science, and explore the natural laws behind its changes and development, so as to create favorable conditions for mankind to better protect, develop, and govern the Arctic.

"To protect the Arctic, China will actively respond to climate change in the Arctic, protect its unique natural environment and ecological system, promote its own climatic, environmental and ecological resilience, and respect its diverse social culture and the historical traditions of the indigenous peoples.

"To develop the Arctic, China will improve the capacity and capability in using applied Arctic technology, strengthen technological innovation, environmental protection, resource utilization, and development of shipping routes in the Arctic, and contribute to the economic and social development of the Arctic, improve the living conditions of the local people and strive for common development.

"To participate in the governance of the Arctic, China will participate in regulating and managing the affairs and activities relating to the Arctic on the basis of rules and mechanisms. Internationally, China is committed to the existing framework of international law including the UN Charter, UNCLOS, treaties on climate change and the environment, and relevant rules of the International Maritime Organization, and to addressing various traditional and non-traditional security threats through global, regional, multilateral and bilateral mechanisms, and to building and maintaining a just, reasonable and well-organized Arctic governance system. Domestically, China will regulate and manage Arctic-related affairs and activities within its jurisdiction in accordance with the law, steadily enhance its ability to understand, protect and develop the Arctic, and actively participate in international cooperation in Arctic affairs."
In spite of China's stated goals of "technological innovation" and "environmental protection," the United States is apprehensive about Beijing's military intentions. According to the Pentagon's newly released "Annual Report to Congress: Military and Security Developments Involving the People's Republic of China 2019":
"China has increased activities and engagement in the Arctic region since gaining observer status on the Arctic Council in 2013. China published an Arctic Strategy in January 2018 that promoted a 'Polar Silk Road,' self-declared China to be a 'Near-Arctic State,' and identified China's interests as access to natural resources and sea lines of communication (SLOCs), and promoting an image of a 'responsible major country' in Arctic affairs. The strategy highlights China's icebreaker vessels and research stations in Iceland and Norway as integral to its implementation. Arctic border countries have raised concerns about China's expanding capabilities and interest in the region. Civilian research could support a strengthened Chinese military presence in the Arctic Ocean, which could include deploying submarines to the region as a deterrent against nuclear attacks."
As China already has deployed anti-ship cruise missiles and surface-to-air missiles -- while planning to build and deploy floating nuclear reactors -- in the South China Sea, it is certainly plausible that Beijing has similar plans for the Arctic.
The administration in Washington, therefore, is -- and should be -- closely monitoring China's maritime activities in the Arctic. The Chinese government's assertion that the purpose of its Arctic Policy is to "create favorable conditions for mankind to better protect, develop, and govern the Arctic" is as false as President Xi's earlier description of the Belt and Road Initiative as a project for world "peace and cooperation, openness and inclusiveness, mutual learning and mutual benefit."
Both projects seem paths towards what appears to be China's aim at achieving global hegemony.
Debalina Ghoshal is an India-based non-resident fellow at the Council on International Policy in Canada. She is also an Asia Pacific Fellow with the East West Institute.