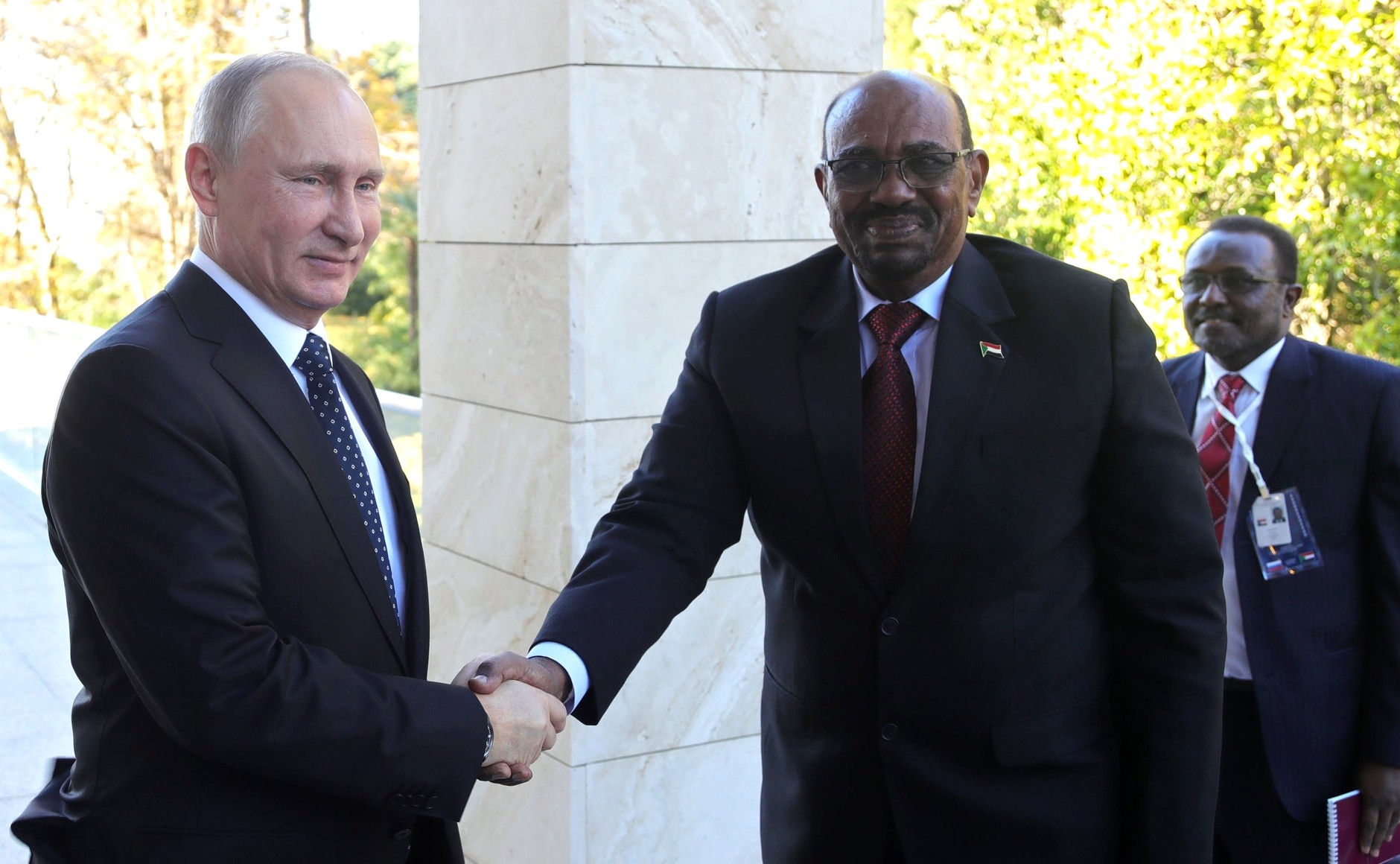 Given Russia's increasing diplomatic and military efforts to upgrade its presence in Africa, it came as no surprise when Russia backed Sudanese President Omar al-Bashir during the popular protests that sparked Bashir's removal him from power on April 11. Pictured: Russian President Vladimir Putin meets with Bashir in Sochi, Russia on November 23, 2017. (Inage source: kremlin.ru)
In January, three months before the April 11 military coup in Sudan that ousted dictator Omar al-Bashir after 30 years of iron-fisted rule, Moscow reportedly signed a "draft military agreement" with Sudan, "to facilitate entry of Russian and Sudanese warships to the ports of the two nations." According to Maj. Gen. Al-Hadi Adam Musa, head of Sudan's parliamentary subcommittee on Defense, Security and Public Order, "This deal will pave the way for more agreements and greater cooperation... possibly a Russian base on the Red Sea."
This draft agreement followed other defense discussions between Russian President Vladimir Putin and al-Bashir. According to a recent report in The Arab Weekly:
"Al-Bashir has been talking with Russian President Vladimir Putin about a possible Russian military presence in Sudan since the pair met in November 2017. During their meeting, al-Bashir offered to construct an airbase for Russia on the Red Sea coast and to re-equip the Sudanese Army with Russian weapons, including SU-30 fighter jets and surface-to-air missiles...

More extraordinarily, during an interview with RIA Novosti, al-Bashir requested that Putin protect him from 'US aggression,' which intended to divide Sudan into five countries."
These reports point to Russia's increasing diplomatic and military efforts to upgrade its presence in Africa.
It came as no surprise, then, when Russia backed al-Bashir during the popular protests to remove him from power. Moscow's support for anti-American regimes is nothing new, as is illustrated by its fight to keep Syrian President Bashar Assad in power, and its attempt to preserve the illegitimate rule of Venezuelan President Nicolás Maduro.
Russia's interest in setting up a naval base in Sudan may have been sparked by Djibouti's rejection of its request in 2016 to make permanent its temporary maritime presence in the country, where the Russian Navy was "using Djibouti as part of a UN anti-piracy effort."
To take advantage of its gold-mining contracts and gas-exploration agreements with Khartoum -- and the possible construction of a Russian oil refinery in Sudan -- Russia may feel the need for its own port in the Red Sea.
Russian may also be interested in playing mediator between Sudan and its estranged neighbors, Eritrea and Egypt, with which Moscow enjoys cordial relations. A naval base in Sudan would facilitate this process, especially as Russia also "is looking at establishing a logistics base in Eritrea" and has reached a "draft agreement with Egypt for Russian warplanes to use Egyptian military bases."
In addition, Russia offered in 2018 to act as a mediator in the civil war in Yemen. A strong military foothold in the Red Sea would enhance its ability to do so.
A key challenge for Russia at this point is the transitional government-in-formation in Sudan, which seems friendlier to Riyadh and Washington than to Moscow.
Nevertheless, in the immediate aftermath of Bashir's ouster, Russia announced that it recognized Sudan's interim Military Transitional Council (MTC) that replaced him. Since then, "Russia said it's in talks with Sudan's ruling military and the opposition in a bid to help defuse the standoff that's led to a violent crackdown on pro-democracy demonstrators" -- again inserting itself as a "mediator" in the internecine strife of a foreign country.
It is crucial for the West not only to keep a close watch on Moscow's moves in Sudan, but to prevent Russia from increasing its influence in the region.
Debalina Ghoshal is an India-based non-resident fellow at the Council on International Policy in Canada. She is also an Asia Pacific Fellow with the East West Institute.