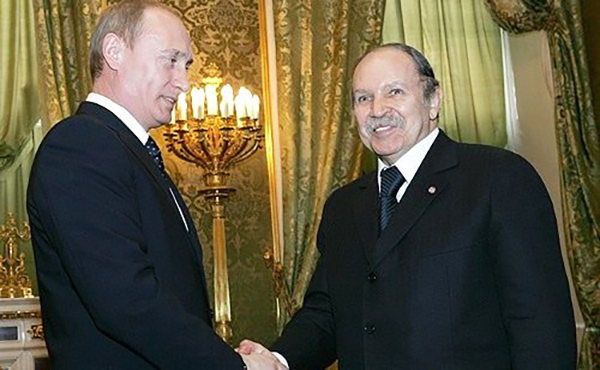 Moscow, which had enjoyed close relations with Algeria's recently overthrown President Abdelaziz Bouteflika, is observing the unfolding events in Algeria with caution. Pictured: Russian President Vladimir Putin and Algerian President Abdelaziz Bouteflika in Moscow, in 2008. (image source: kremlin.ru
The recent uprising in Algeria, which culminated early April in the end of Abdelaziz Bouteflika's 20-year reign, is being touted as the North African nation's belated "Arab Spring."
The outcome of the bloodless military coup, backed by the country's growing population of disenfranchised youth, remains to be seen. But the United States should be paying close attention to how Russia, with its increasing moves on Africa in general and Algeria in particular, now proceeds.
Moscow, which had enjoyed close relations with Bouteflika, is observing the unfolding events in Algeria with caution, hoping that the changing political landscape in Algiers will not affect the defense cooperation that has been going on for decades, and which sharply increased in 2006. That was the year when Russian President Vladimir Putin agreed to write off Algerian debt, on condition that Algiers purchase industrial goods, including military equipment, from Moscow.
Since then, Algeria has reportedly become Russia's largest arms importer in Africa. This extensive trade arrangement, which has included the sale of tactical ballistic missiles, technologically advanced fighter jets, rocket launchers, tanks, air-defense systems and submarines, was threatened last year, however, when U.S. President Donald Trump signed into law the Countering America's Adversaries Through Sanctions Act (CAATSA). CAATSA, which imposes sanctions on countries that purchase military equipment from Russia, was created to counter anti-American activities on the part of Iran, North Korea and Russia – the latter for annexing Crimea, supporting President Bashar Assad against the rebels in the Syrian civil war and for attempting to interfere in the 2016 U.S. presidential election.
To avoid CAATSA sanctions, Algeria – which relies on Russian arms purchases relies on Russian arms purchases for its national defense -- appealed last year to the U.S. for an exemption. Meanwhile, however, there are signs that Algiers is interested in improving its military relationship with the United States.
Algeria's reliance on Russian weapons, according to a recent analysis in the National Interest,
"... stems from a dark period in the country's history, back when Islamic extremists murdered roughly two hundred thousand citizens while on a mission to create an Islamic state; the bloodbath lasted throughout the bulk of the 1990s. A military-to-military relationship with Russia was critical for Algeria at that juncture."
Algeria's ambassador to the U.S., Madjid Bouguerra, explained:
"In the '90s when we were facing the terrorist aggression none of the Western Countries accept to deliver to Algeria military equipment to help us combat the terrorists. They all thought that, 'It's a civil war, and we don't have to interfere in that.' So, the only countries were China and Russia. So, we had to buy from them for our own sake, for the sake of our own national security."
The current regime change in Algeria may be providing the U.S. with the perfect opportunity to shift the balance of power in the region away from Russia. (Or it may not.)
Until now, due to the 1999 Leahy Law, the "State Department and Defense Department are barred from providing military assistance to countries with a history of human rights violations." Algeria has an extremely poor record in this realm.
Today, however -- only if this unacceptable situation changes significantly -- the United States might follow it closely and act accordingly.
Debalina Ghoshal is an India-based non-resident fellow at the Council on International Policy in Canada. She is also an Asia Pacific Fellow with the East West Institute.