Last month, Turkish President Recep Tayyip Erdoğan slammed French President Emmanuel Macron for his recent offer to mediate between Turkey and the Kurdish-led Syrian Democratic Forces (SDF), saying he hopes Paris will not ask Ankara to help when terrorists fleeing Iraq and Syria arrive in France:
"With this attitude, France has no right to complain about any terrorist organization, any terrorist, any terrorist attack. Those who sleep with terrorists, welcome them in their palaces, will understand sooner or later the mistake that they made."
On April 7, hours after a man ploughed his van into pedestrians in Münster, Germany, Erdogan threatened France again, referring to the incident: :
"France, [you are] being a stooge... providing support to the terrorism, you are hosting terrorists at the Elysée Palace... You are seeing what is happening in Germany, right? The same will happen in France. The West will not be able to free itself from terror. The West will sink as it feeds these terrorists."
The Turkish government's enabling violence in Syria and Iraq has apparently turned Turkey into a center for ISIS and other Islamist terrorists. Many of the jihadi terrorists who participated in deadly attacks in Manchester, Paris, Brussels, Berlin, Stockholm and St. Petersburg in recent years had connections to Turkey. Some were caught there; others either traveled there to cross into Syria to join ISIS, or had lived there a while. Turkey has been routinely used by Islamists as a route into areas of Syria and Iraq to join ISIS. (See appendix for a list of such terrorists)
In November of 2016, Erdogan targeted Europe again:
"You have never treated humanity honestly. You have never looked at people in the right way. You did not go and take the babies when they hit shores on the Mediterranean... We are the ones feeding 3 million, 3.5 million Syrian refugees in this country. You have not kept your promises. When 50,000 refugees headed to Kapıkule [at the Turkey-Bulgaria border], you shrieked: 'What will we do if Turkey opens it border gates?' Look at me! If you go too far, we will open those border gates. Just know this."
For Europe, the result of ignoring these threats could be deadly.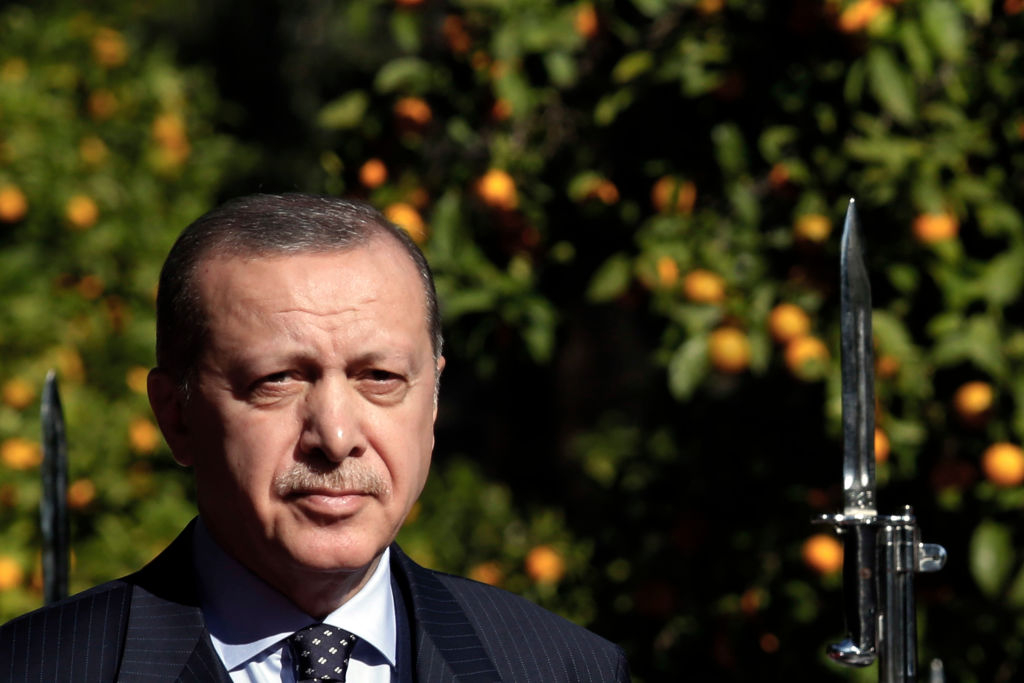 Turkish President Recep Tayyip Erdoğan. (Photo by Milos Bicanski/Getty Images)
This is the sad state of affairs of the European Union today: Erdogan continues threatening the continent with terrorists -- some born in Europe, and some hiding among the "refugees" whom Europe is trying to help.
Many of the terrorists born in Europe had declared their jihadi intentions before their attacks. Some were arrested and then released; others were not even arrested or deported after Turkey sent them to European countries. In these cases, European officials made huge mistakes that cost the lives of hundreds of innocent people.
The EU's current immigration system is gravely endangering the lives and liberties of EU citizens as well as the genuine refugees there.
Meanwhile, the rich Arab nations -- including Qatar, United Arab Emirates, Saudi Arabia, Kuwait, Oman and Bahrain -- do nothing to help their Muslim brethren. These states are wealthy, as well as geographically and culturally close to the stricken war zones, but they have not offered any financial help or resettlement possibilities, and have not taken in any refugees.
Given the cultural, linguistic and religious background of the refugees, many of them could integrate smoothly with their fellow Muslims in those Arab states.
Dr. Abbas Kadhim wrote on Twitter:
"We know that Iran is pro-Assad, but why hasn't any 'kind-hearted' anti-Assad Arab state (e.g. Saudi) taken any Syrian refugees? Shouldn't countries that spent billions on arming militants (including terrorists) in the name of 'liberating' Syrians take refugees in? The only Syrian refugees that got attention in the Gulf states are the vulnerable underage girls they bought in the name of marriage."
Professor Phyllis Chesler had another idea:
"Why not bring Christians and Yazidis from the Muslim world here first? Why not bring Muslim dissidents, ex-Muslims, and Muslim homosexuals here second? Finally, why not bring Muslim girls and women who are already in flight from honor-based violence, including from honor killing, here next -- before we extend visas, green cards and asylum to Muslim boys and men?"
Immigration is not only about movement of people. It needs to be understood that radical or pious Muslims bring a certain culture with them. Muslim migrants who refuse to integrate into the West try to impose their own belief systems on their host countries. Many try, for example, to establish parallel sharia law systems, the rules of which aim to oppress or even kill women, non-Muslims, and homosexuals.
Just recently, Germany was shocked by newly revealed footage from the mosque of the Turkish-Islamic Union DITIB Association in Herford. Pictures and videos showed four- to 7-year-old children parading in military uniforms with toy weapons and pretending to die as martyrs under the Turkish flag. Is this what passes for "cultural enrichment through immigration" now?
One serious problem seems to be the ignorance of many European officials about the teachings and traditions of Islam -- including terrorism and violence. One European official who does understand is Hungarian Secretary of State Zoltán Kovács. Western European nations, he said, are paying a heavy price by pretending that Islam does not matter. "We've been living with and close to Islam for centuries in the past and we know about it. So, that's why it does matter who has come in and in what manner people are coming," Kovács told CBN News.
Last year, Turkish journalist Burak Bekdil wrote about his observations about illegal Muslim migrants in Greece: Many of the "'poor" illegal migrants on the Greek islands want to go to Germany, where they have heard from friends and relatives that they will be the best paid for being refugees. The notion that poor souls are fleeing war, although many may still be, is becoming less and less convincing by the day.
"It is ironic that millions of Muslims are trying, through dangerous means, to reach the borders of a civilization they have historically blamed for all the world's evils, including those of their own countries. The 'romantic' West does not question why millions of West-hating Muslims are heading in their direction. Or is it 'Islamophobic' to point out that there is no war in Greece, Serbia, Hungary, or Austria?"
Now that ISIS has been defeated in Syria and Iraq, where are its former fighters now? And how many have already crossed the border to Europe? Of the new refugee and migrant arrivals in Greece, how many are jihadis planning to attack Europeans or "moderates" who could get "radicalized" later on? Is it even possible to know?
What is clear is that, as Erdogan keeps threatening France with more terror attacks, European officials need to be extra cautious about who are crossing their borders.
Uzay Bulut is a Turkish journalist born and raised in Turkey. She is presently based in Washington D.C.
Appendix
Some of the terrorists with connections to Turkey include:
The Manchester Arena Bombing
On May 22, 2017, a suicide bomber blew himself up outside the Manchester Arena, where the American singer Ariana Grande had just performed a concert. Twenty-three people were killed in the attack, including the terrorist, and more than 500 were wounded. German intelligence services later announced that the perpetrator, Salman Ramadan Abedi – a British Sunni Muslim of Libyan origin – had returned from the Middle East to Britain, via Turkey and Germany, four days before the attack.
The Stockholm Attack
On April 7, 2017, a terrorist drove a hijacked truck into pedestrians in Stockholm, killing five people and seriously wounding 14 others. The perpetrator, an Uzbek citizen named Rakhmat Akilov, had been caught two years earlier trying to cross the Turkish border to join ISIS in Syria and was deported to Sweden, where he had resided as a refugee.
The Saint Petersburg Metro Bombing
On April 3, April 2017, a Kyrgyz-born Russian citizen, Akbarzhon Jalilov, blew himself up on the St. Petersburg Metro, killing six people and wounding at least 45. According to a Reuters report, two people who knew him said that he traveled to Turkey in late 2015, soon after developing an interest in Islam. He was deported to Russia about a year later over "migration violations." Russian investigators revealed that Jalilov had received money from an "international terrorist group" in Turkey.
The Berlin Christmas Market Attack
On December 19, 2016, a truck-ramming attack on a Christmas market in Berlin – which left leaving 12 people dead and 56 others wounded – was perpetrated by Anis Amri, a Tunisian asylum-seeker, who was killed four days later in a shootout with police in Italy. In addition, a German of Jordanian origin identified as W.D. and suspected of giving Amri the order to commit the attack, was apprehended in Izmir in March 2107.
According to Turkish media reports, W.D. made his way illegally to Turkey for the purpose of crossing into Greece after the attack. Meanwhile, European authorities found that four out of five names on Amri's phone – some of whom were suspected of planning the attack – were located in Turkey.
Another suspect, of Syrian origin, was subsequently caught during a raid on the hotel at which he was staying in Izmir. Identified as M.A.K., the suspect had arrived in İzmir with the purpose of entering Greece, and was planning to stage attacks in Europe. Two additional suspects were apprehended in Istanbul. Three others – German citizens of Lebanese origin -- were apprehended at Istanbul's Atatürk Airport.
The Normandy Church Attack
On July 26, 2016, two 19-year-old ISIS terrorists, Adel Kermiche and Abdel Malik Petitjean, attacked Christians attending mass at a Catholic church in Normandy, France. After taking six people hostage, they slit the throat of one of them, 85-year-old priest Jacques Hamel. Kermiche, who had twice attempted to join ISIS in Syria, was released from custody, and in spite of his electronic police monitor, had managed to participate in the attack.
One of the occasions on which he tried to join ISIS in Syria was in May 2015, when he flew first to Istanbul. He was apprehended, however, and deported back to France.
The Brussels Bombings
On March 22, 2016, Islamist terrorists committed three coordinated suicide bombings in Belgium's capital city -- two at the Brussels Airport and one at the Maalbeek metro station -- killing 32 people and wounding more than 300. It turned out that one of the perpetrators, Ibrahim El Bakraoui, had been arrested less than a year earlier in Gaziantep in southern Turkey, close to the Syrian border, and deported to Holland before being sent back to Belgium. Erdoğan accused Belgian authorities of failing to confirm the suspect's links to terrorism, "despite our warnings that he was a foreign fighter."
Nine days before the Brussels bombings, when a car bomb in Ankara killed at least 37 people and wounded another 125, Erdoğan lashed out at Europe for supporting the Kurds in Syria and Iraq, after responsibility for the attack was claimed by the Kurdistan Freedom Hawks (TAK). "The bombs exploding in Turkey might not mean anything to you," Erdoğan said. "But when these bombs explode in your own cities, you will understand how we feel. But it will be too late."
The Paris Attacks
On November 13, 2015, three jihadists blew themselves up outside the Stade de France in Saint-Denis during a soccer match; other terrorists – one of whom later blew himself up -- shot at diners at cafes and restaurants; and others committed mass shootings at an Eagles of Death concert at the Bataclan Theater. The multiple attacks, which were claimed by ISIS, left 130 people dead and another 413 wounded.
One of the perpetrators, Brahim Abdeslam, had traveled to Turkey earlier that year, with the intention of going on to Syria, but Turkish authorities deported him back to Brussels, where he was questioned by police and released.
Another, Omar Ismail Mostefai, is believed to have traveled to Turkey at the end of 2013, from where he went to Syria. A senior Turkish government official claimed that Turkey had contacted France about Mostefai in December 2014 and June 2015, but only received a request for additional information about him after the Paris attacks.
A third, Ahmad Al Mohammad, reportedly posed as a refugee to gain entry into Europe through Greece a month before the attacks. Greek police said that Al Mohammad had arrived on a small vessel from Turkey.
A fourth, Samy Amimour, reportedly joined ISIS in Syria via Turkey.
A day after the attacks, Turkish authorities arrested Ahmet Dahmani, a Belgian man of Moroccan origin whom they suspected of having scouted out the venues for the deadly assaults in Paris. He was arrested at a luxury hotel in Antalya, after traveling from Amsterdam. Two other suspects, both Syrian, were also detained in Turkey.
As he did ahead of the Brussels bombings, three days before the Paris attacks, Erdoğan lambasted Europe for what he perceived to be its lack of opposition to terrorist groups. "If a principled stance is not taken in the face of terrorism, this fire will spread to the entire world sooner or later," he said. "The countries that think they are safe and prosperous within their own borders will not be able to avoid the fire of terrorism to the hilt."
The Hyper Cacher Supermarket Siege
On January 9, 2015, a Malian-French terrorist, Amedy Coulibaly, laid siege to a kosher supermarket in Paris, killing four Jewish shoppers and taking several others hostage. It emerged that Coulibaly, who had pledged allegiance to ISIS, had killed a police officer in Montrouge the previous day.
A week earlier, on January 2, Coulibaly's common-law wife, Hayat Boumeddiene, took a flight from Madrid to Istanbul, and crossed the Turkish border into Syria on January 8, a day after the Charlie Hebdo attack. She has since disappeared and is still wanted in France.