For decades, prominent Islamist figures would rarely criticize Turkish President Recep Tayyip Erdogan and when they did, it would be directed at his policies, rather than his personality. That trust seems beginning to change.
On March 26, for instance, Temel Karamollaoglu, the head of the tiny but increasingly influential Saadet (Felicity) party, railed against Erdogan and the members of the public "under his spell." Karamollaoglu's repeated reference to Erdogan as having performed "magic" on the Turkish people is significant. Accusing the leader of the ruling Islamist party of violating Islam, which bans sorcery and witchcraft, goes against the grain of the prevailing culture of unconditional loyalty and obedience. In fact, the 76-year-old Karamollaoglu has been a devoted follower of the political Islamic ideology of dawa (religious outreach) and a former supporter of both Erdogan and his Justice and Development (AKP) Party. Today, outspoken in his opposition, he says that his movement is the only one "that can stop the polarization in Turkey because we can sit down and speak with everyone, accepting our differences. Ours can be a platform of social democrats, nationalists, Kurdish voters and those who previously supported the AKP but are now disillusioned."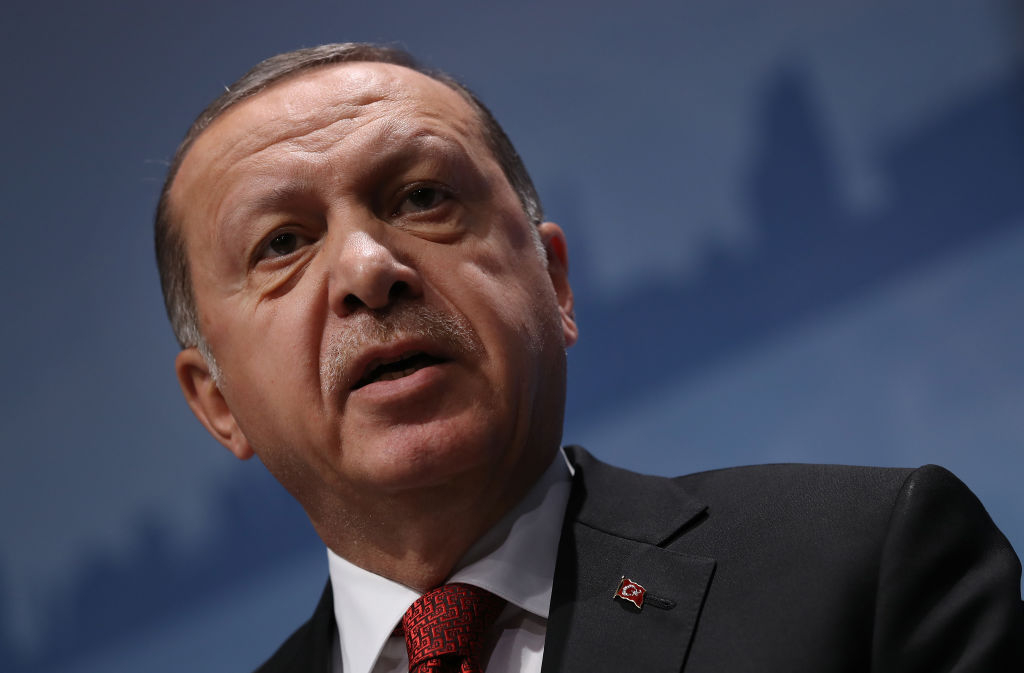 Turkish President Recep Tayyip Erdogan. (Photo by Sean Gallup/Getty Images)
The question is whether he can reach Erdogan's dedicated voter base, most of who are ideologically and religiously conservative. There is reason to believe that he might. Turkish Islamists are no longer politically uniform -- especially women and young people, whose waning support for the AKP was apparent during the April 2017 presidential referendum. To attract both sectors, Erdogan promised to lower the age at which a person can run for parliament and to grant lavish subsidies to housewives. These vows, however, appear to be insufficient to keep the people under his "spell."
In the education system, for instance. Erdogan has long promised his supporters that he would cultivate a "pious generation", and invested heavily in religious Imam Hatip schools. His younger son, Bilal, even referred to the students attending these schools as "Erdogan's generation." Yet, it turns out that the children enrolled in these institutions have been failing miserably on all standard academic tests.
Research conducted in March by 50 teachers from the Imam Hatip schools revealed that students are moving away from Islam in favor of a more general deism. The report generated a heated debate. While some secular groups doubt its findings, many feel vindicated by them.
The greatest debate going on, however, is taking place within the conservative sector of Turkish society, highlighting a schism among Islamists. Children from AKP-loyal families, as well as intellectuals and activists, are apparently questioning the touted morals of their elders. In a recent op-ed, hijabi-feminist Berrin Sonmez attacked what she called the "hypocritical piety" of Erdogan and the AKP elites. Sonmez and others have been criticizing Erdogan for his one-man rule, claiming that it runs counter to Islamic values and culture.
On March 22, when Turks celebrated the candle vigil night of mirac kandili, pro-government journalist Nevzat Cicek shared photos on social media of a major mosque in Istanbul that was completely empty. In his tweet, he referred to previous crowded ceremonies and asked: "Have the people moved from religion this much?"
As of 2017, there were 90,000 mosques in Turkey, led by government-employed imams. These mosques have experienced a notable decrease in attendance, particularly among young and middle-aged men. Some of those who continue to frequent the mosques are doing so less for religious reasons than for networking and job-seeking. In addition, more and more mosques have begun requesting hefty contributions from their congregants, while imams are coaxed by the state to collect donations after each sermon. One young imam who publicly complained about this practice -- he said that mosques "no longer serve people, but rather serve as a source of income for certain people" -- was promptly removed from his position.
Another cause of upset on the part of many religious Muslims is the content of the Diyanet-prepared Friday sermons, which frequently advocates violent jihad.
Does this mean that a majority of the Turkish public is really abandoning religion in general and Islam in particular? The alternatives are hardly widespread trends, particularly among young people from religious families. What is clearly on the rise, however, is great disappointment in the Erdogan government's version of Islam, especially when accompanied by corrupt politics and a deteriorating justice system. Religious orders not associated with the Diyanet are beginning to attract more practitioners. While Diyanet and government officials make headlines for their lavish spending and luxurious lifestyles, outside religious orders are presenting a more righteous way of life.
As Diyanet mosques function as pseudo-AKP headquarters across Turkey and abroad, the alternative religious orders pose a significant threat to Erdogan's standing and power. It is no wonder, then, that he recently lashed out at them and asked the Diyanet to "update" Islam. Coming under fire from Islamist scholars not at all keen on "updating Islam," Erdogan and his advisers immediately backpedaled. Instead, they are now figuring out how not to lose young people to deism and atheism, and to cause them to rally around Erdogan's version of Islam.
This is most likely why Metin Kulunk, a lawmaker from AKP and a staunch Erdogan advocate, told the press that "deism is the biggest potential threat against our country, unless we take precautions."
It is safe to assume that Erdogan will engage in similar fearmongering as he begins to prepare for the next general election in November 2019.
By the time Turks go to the polls next year -- if elections are not held earlier -- he will certainly possess the best possible platform for his propaganda. Currently, a pro-AKP group is in the process of purchasing the Dogan Media Company, which controls many of Turkey's key newspapers, networks and Internet sites.
Will devout Muslims, who still believe in Islam but have lost their faith in Erdogan and the AKP, manage to break his "spell"?
Pinar Tremblay is a columnist for Al-Monitor's Turkey Pulse and Turkish news outlet T24.