On May 14, as United States officials ceremoniously relocated the American Embassy in Israel from Tel Aviv to Jerusalem, tens of thousands of Palestinians in Gaza -- many of them members of Hamas and Iran-linked Islamic Jihad, along with other residents paid to participate -- engaged in violent demonstrations along the Gaza-Israel border fence. Dubbed the "Great March of Return," these protests were launched on March 30 and timed to crescendo six weeks later, on the day of the U.S. Embassy move, which coincided with the 70th anniversary of the establishment of the state of Israel.
For weeks, rioters stormed the border, firing weapons and hurling Molotov cocktails and rocks at the Israeli soldiers who guard the area to prevent terrorist incursions into southern Israel.
The weeks of continuous rioting -- planned by Hamas as part of its admitted campaign to destroy Israel through terrorism and delegitimization -- has left dozens of Palestinians dead and hundreds wounded. The numbers were widely reported in the liberal media in Israel and abroad, and were accompanied by condemnations of Israel for its "excessive use of force" against "peaceful protesters."
Although Hamas official Salah Bardawil announced that of the 62 people "martyred," 50 were members of Hamas -- while Islamic Jihad claimed another three -- many journalists, opinion writers, international organizations and so-called human rights groups with a fixed idea about the Palestinian-Israeli conflict in general and the current unrest in Gaza in particular did not let such information permeate their articles or declarations. Those who did include the statistic downplayed the fact that Hamas was paying impoverished Gaza residents to descend on the border of a neighboring country with the purpose not only of killing or kidnapping its residents, but also to get killed or wounded by sniper fire. In so doing, Hamas would be able to accuse its neighbor of the very war crimes Hamas itself has been committing.
To this end, Hamas even sent buses to transport Gaza residents to the border they were ordered to breach, and jailed bus drivers who refused to comply. Yet there still seems to be an avoidance on the part of much of the media of seeing that the plight of the Palestinians killed and wounded in the riots is caused by Hamas itself.
As the Committee for Accuracy in Middle East Reporting in America (CAMERA) has documented extensively, leftist fellow travelers in the media have been accepting and propagating Hamas propaganda that the "March of Return" was a plea for Palestinian human rights. They also bought into the terrorist organization's claim that the U.S. Embassy move was the catalyst for its latest assault, which has come to include a renewed wave of rocket and mortar fire from Gaza into Israel (launched by Islamic Jihad with the full support of Hamas); attempts to infiltrate the border to kill Israelis; and mass arson, through the use of helium balloons and flaming kites (some painted with swastikas) that have succeeded so far in burning down more than 6,000 acres of Israeli farmland and nature reserves, in a country roughly the size of New Jersey.
Tellingly absent from most reportage from liberal news outlets on this "kite jihad" has been outrage on the part of environmentalists who are normally so eloquent. This blanket inaccuracy may be why U.S. Ambassador to Israel David Friedman went on the offensive against the false coverage of the riots. During a "Press and Policy" breakfast in Jerusalem on June 4, hosted by the American news agency The Media Line, Friedman said:
"It would seem to me that in a journalistic environment where nine out of ten articles that are written about the Gaza conflict are critical of Israel, you'd think that some journalists would take the time and go and meet with experts and try to understand what could have been done differently or better before they criticize. And I just haven't seen it."
Friedman went even further, telling reporters:
"...keep your mouths shut until you figure it out. Because otherwise, all you're doing is creating impressions that have no basis in fact. They fit a narrative. They fit an opinion. They fit an agenda. But it's not reporting, because it's not based on hard, factual analysis."
Three stories that were highlighted in the media as evidence of Israeli brutality in the face of the "peaceful" demonstrations in Gaza illustrate what Friedman was talking about.
One of these incidents occurred on April 6, when 30-year-old Palestinian photojournalist Yaser Murtaja was shot in the stomach during the second weekend of the protests, and died of his wounds the next morning. Details of Murtaja's death circulated widely, with photos of his "Press" jacket prominently displayed. The Washington Post portrayed him as a "young journalist [who] shot drone images and video for Ain Media, a small Gaza-based news agency he started five years ago," and published his last Facebook post, which read, "I wish that the day would come to take this shot when I'm in the air and not on the ground... I'm 30 years old. I live in Gaza City. I've never traveled!"
The IDF promptly launched an investigation, which revealed that Israeli soldiers had not targeted Murtaja; but he had, in fact, been a long-time Hamas activist, who -- according to reports -- had attempted in 2015 to use a drone to help the terrorist organization gather intelligence across the border with Israel. So much for his having been a bona fide member of the media merely trying objectively to cover the conflict.
As soon as the truth about Murtaja was exposed, the story of his death was no longer of interest to Western journalists, certainly not those who identified with him as an actual reporter. In any event, within a few weeks, another death upstaged that of Murtaja, giving the media an even greater opportunity to paint Israel, not Hamas, as the true victimizer of the Palestinians in Gaza.
On May 15, Layla Ghandour -- an 8-month-old girl described in the New York Times as having "sparkling green eyes" -- died in her grandmother's arms in a Gaza hospital, allegedly from "tear-gas inhalation," after being taken by her teenage uncle to the border fence to join her mother at the site of the protests. The infant instantly became a "symbol of Gaza." Reports of her death and funeral -- at which her tiny body, wrapped in a Palestinian flag, was paraded around Gaza City -- spread far and wide on the internet. One such report quoted the baby's aunt saying: "They [the Israelis] did not have mercy on a girl; they threw gas bombs at her; they killed her with tear gas... What is she guilty of to die like this?"
Two days later, however, the spokesman of the Hamas-run health ministry in Gaza -- who initially claimed in a post on Facebook that baby Layla had died of tear-gas inhalation -- acknowledged that the cause of her death had yet to be determined. When a doctor in Gaza announced that a congenital heart defect was likely the culprit, the Gaza health ministry removed her name from the list of those killed in clashes with Israel, pending an autopsy. It has failed, so far, to release the findings of her autopsy.
The question is: Why did the baby's family take her to a violent riot in the first place?
Most likely, her tragic end is part of what the eminent lawyer Alan Dershowitz has called Hamas's "dead baby strategy":
"Hamas' goal is to have Israel kill as many Gazans as possible so that the headlines always begin, and often end, with the body count. Hamas deliberately sends women and children to the front line, while their own fighters hide behind these human shields."
This brings us to the third Gaza story that went viral not only before all the facts had emerged, but afterwards, as well: the death of Razan al-Najjar, a 21-year-old female Palestinian paramedic referred to by Hamas as an "angel of mercy."
Here again, the IDF announced that it had not targeted the young woman -- who was in the field clad in a white paramedics' coat -- and immediately opened an investigation into the circumstances of her death. This probe revealed that al-Najjar had boasted about her mission to serve as a "human shield" for wounded Palestinians. In other words, as an IDF video shared on social media pointed out, "This medic was incited by Hamas to give up her life for their goals."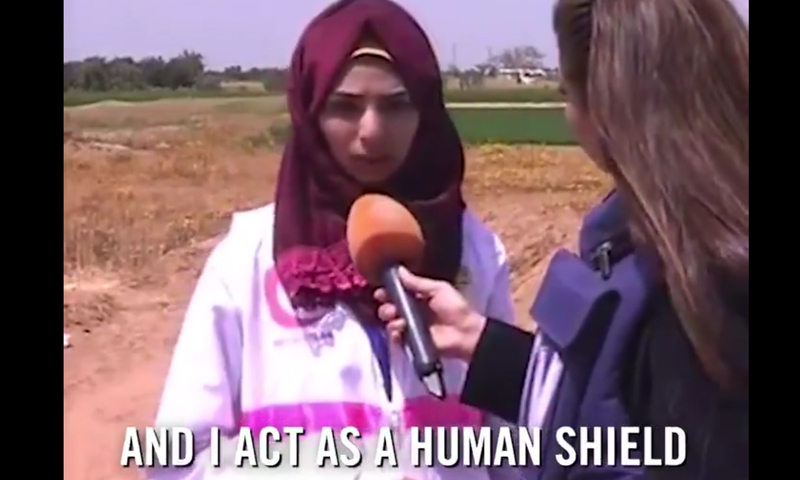 Razan al-Najjar, a 21-year-old Palestinian paramedic who was killed during a violent riot along the Gaza-Israel border, declared during a television interview at the scene of the riot that she was there to "act as a human shield" for the rioters. (Image source: IDF video screenshot)
What these goals are was spelled out clearly in April by Hamas political leader Yahya Sinwar. "We will take down the border [with Israel] and we will tear their hearts from their bodies," he said.
On May 13, the eve of the six-week "March of Return," a different senior Hamas official, Mahmoud Al-Zahar, told Al Jazeera: "[W]hen we talk about 'peaceful resistance,' we are deceiving the public. This is a peaceful resistance bolstered by a military force and by security agencies, and enjoying tremendous popular support."
Much of the media appears to be allowing itself to be deceived by a terrorist organization that uses the people over whom it rules as disposable cannon fodder.
As Dershowitz writes, "Many in the media are complicit in these [Palestinian] deaths, because their one-sided reporting encourages Hamas to send innocent women and children to the front line."
At this point, members of the media actually seem willing to be duped, which makes them accessories after the fact to the terrorist mission of a jihadist group.
Ruthie Blum is a journalist and author of "To Hell in a Handbasket: Carter, Obama, and the 'Arab Spring.'"