Austrian Chancellor Sebastian Kurz recently announced that the government was shutting down a Turkish nationalist mosque in Vienna and dissolving a group called the Arab Religious Community that runs six mosques, according to the Associated Press. "Parallel societies, political Islam and tendencies toward radicalization have no place in our country," Kurz told reporters.
"The move comes after images appeared on Twitter in April of children in a Turkish-backed mosque playing dead and reenacting the World War I battle of Gallipoli (in which an allied invasion of Ottoman Turkey was defeated). Their "corpses" were then covered in Turkish flags. The mosques association called the event 'highly regrettable,'" according to the CBN News.
These decisions by the Austrian government also follow its 2015 "Islam Law", which bans foreign funding of religious groups and introduces a duty for Muslim organizations to have "a positive fundamental view towards [Austrian] state and society".
The 2015 "Islam Law" of Austria, which Erdogan was protesting, states that "The freedom of religion is secured in the Austrian Constitution – individually, collectively and cooperatively". This freedom should not be allowed to be exploited by those who incite hate or violence for any group. European governments should be alert and take all measures available to monitor mosques -- their sermons and activities -- and bring to account the imams who attempt to indoctrinate Muslims in teachings that imperil the safety and liberty of others.
Turkish President Recep Tayyip Erdogan has warned the Austrian government that "These measures taken by the Austrian chancellor are, I fear, leading the world towards a war between the cross and the crescent," he said, referring to Christianity and Islam. "You do this and we sit idle? It means we will take some steps too." He added that the "western world should get their act together."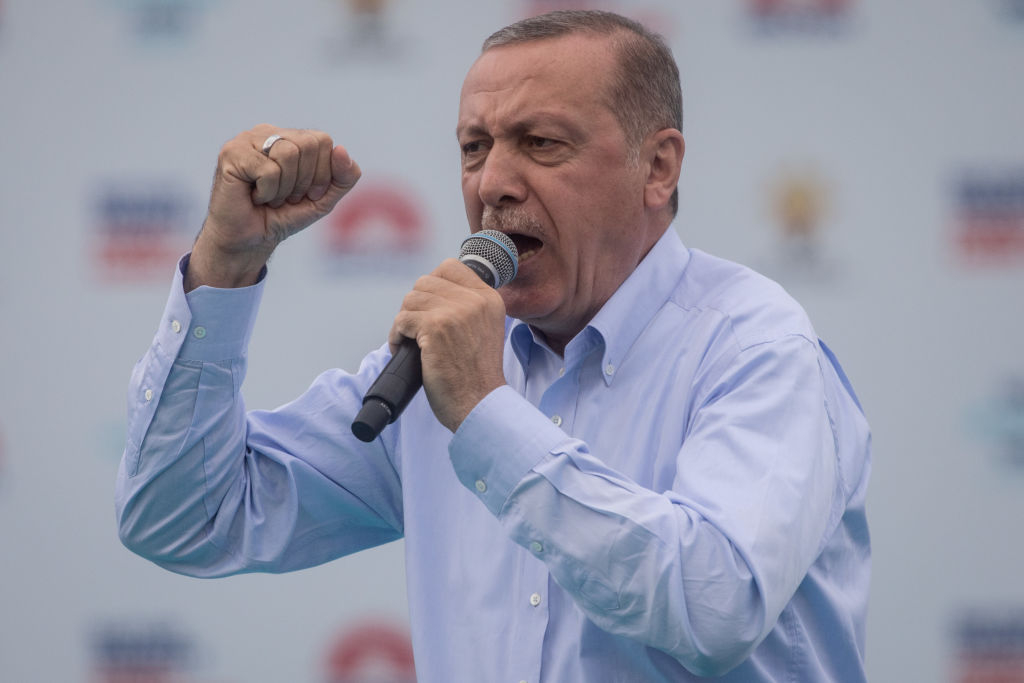 Turkey's President Recep Tayyip Erdogan has warned the Austrian government that "...measures taken by the Austrian chancellor are, I fear, leading the world towards a war between the cross and the crescent." (Photo by Chris McGrath/Getty Images)
Austria is not the first European government taking precautions against Islamic radicalization. In 2016, the Washington Post reported:
After three major terrorist attacks in the last year and a half, public outrage has forced the French government to respond...

...Prime Minister Manuel Valls called for an outright ban on the foreign funding of mosques in France "for a period to be determined." Days later, Interior Minister Bernard Cazeneuve announced that, in fact, more concrete measures had already been taken: Since December 2015, he said, 20 Salafist mosques were shut down altogether.

"There is no place in France for those who call for and incite hatred in prayer halls or in mosques," Cazeneuve said.
Children reenacting the WW1 and playing dead at a place of worship might be considered out of ordinary for the 21st century Austria and other EU countries, yet the public use of "child soldiers" in military costumes and with "toy guns" is extremely widespread in Turkey.
At a private kindergarten in the city of Kırıkkale, for example, children between the ages of 3 and 6 were also made to put on military costumes and take up "toy arms" to commemorate the 97th anniversary of the battle of Gallipoli in 2012. According to news reports, "the martyred students were covered with Turkish flags."
Such commemorations that normalize and even glorify killing are officially organized in Turkey. Events celebrating "the liberation from enemy forces" of every city and town across Turkey are held annually. The "enemies" are Western powers such as Britain, France, Russia and Greece as well as the Christian peoples of Turkey, who are portrayed as "criminal traitors", including Armenians, Anatolian Greeks and others. In many of these events, stage plays are performed by locals including children who "wipe out the enemy from the homeland and sacrifice their own lives" during and after the WW1.
In 2011, for instance, during the ceremony of the liberation of the city of Bayburt, children in military costumes and with guns were put on stage. The "martyred" ones were – as usual - covered in Turkish flags.
There are countless examples.[1]
The celebrations are not just about the glorification of guns and killing for national or religious purposes. The events are also marked by historic revisionism in which the victims of the 1914-1923 Christian genocide are blamed for their own extermination.
"The Ottoman campaign against Christian minorities of the Empire between 1914 and 1923 constituted a genocide against Armenians, Assyrians, and Pontian and Anatolian Greeks," by contrast, the International Association of Genocide Scholars (IAGS) announced in 2007.
Turkish historiography asserts that Armenians, Assyrians, and Greeks were "dealt with" by Turks for their "criminal and treacherous" activities such as their political cooperation with other countries and the desire of these groups to establish an independent state of their own.

On January 5, 2018, for instance, celebrated as the day the city of Adana was "liberated from enemies", the city's mayor, Hüseyin Sözlü, held Armenians responsible for their own annihilation. "January 5 is the name of our honorable stance against French invaders who took their power from colonialism and against their local cooperators, Armenians, who they deceived with the promise of establishing a state of their own," he said, adding that Turks "drowned the enemy" because the enemy "wanted to exterminate and wipe Turks out from history".
The formal celebrations for the March 12 "liberation of Erzurum from the enemy invasion" were for years done by bayonetting "Armenian gang members" in public.
Some personnel at the municipality, however, declared they did not want to play the bayoneted Armenians - not because it is inhumane to do so but because they did not want to be Armenian even in a play:
"We definitely do not want to be Armenian. We don't want to play the role of an Armenian even if they give us 1 billion Liras. We don't want the people in the neighborhood to talk about us all the time. They should make the ceremony without bayonetting Armenians."
Armenian gang members often are played by municipal workers in the town.: "I have played the Armenian soldier Ohannes for 30 years. Today, I will commit a massacre. I will show what Armenians did in this country and let future generations know about it. Today, I will take the lives of Mahmut and Şevket Efendi whose bread I have eaten for years," said one retired municipal worker in 2015.
Some municipal workers, however, have expressed their unwillingness even to play the role of Armenians:
"We get negative reactions from everyone because we play the role of Armenians in these ceremonies. We are sometimes mocked. They call us 'Armenian servants'. We don't want to do this, but we do because our mayor orders us to."
In 2016, the mayor, Enver Başaran, told an audience: "In your presence, I remember once again with mercy and gratitude our glorious ancestors who extirpated the Armenians whose history is filled with blood and treason from these lands."
President Recep Tayyip Erdogan has also publicly promoted child martyrdom. At a party congress, he spotted a weeping six-year-old girl in a military uniform. He brought her onto the stage to tell her that if she died as a martyr, her coffin would be covered with the Turkish flag she held in her pocket. "You are ready for anything, aren't you?" Erdogan asked. The terrified child, through her sobs, hardly managed to say "yes."
There are many factors that drive the hysteria in Turkey extolling deaths and killings and attempts to brainwash children and turn them into "voluntary martyrs": Systematic racism, ultra-nationalism, Islamic jihad and belief in martyrdom as well as the denial of the Christian genocide combined with pride in having waged it.
Sadly, Turkish schoolchildren have for decades been indoctrinated in these anti-humanitarian values. Why should the Austrian and other European governments be expected to allow Turkey to export the same destructive values to Europe as well?
Uzay Bulut, a journalist from Turkey, is a Distinguished Senior Fellow at Gatestone Institute. She is currently based in Washington D.C.
---
[1] A few more include the 2008 celebrations for the "liberation from enemies" of the town of Pasinler in which "the majority of the children watching the theater play had guns in their hands."
In another event, on the 90th anniversary of "liberation of Rize from enemy forces" on March 3, 2008, an official ceremony was organized in which a stage play was performed in which two thirteen-year-old girls were made to shoot guns at "enemy forces."
For years, public celebrations in the city of Rize were carried out by locals using blank cartridge pistols and rifles, but even these caused some injuries. So, in 2009, upon the instruction of the governor of the city, toy guns were used instead. "Was Rize saved with toy guns?" some locals asked. Halil Bakırcı, the mayor of the city, was not happy with the decision either. "The festival of liberation of Rize cannot be celebrated without guns," he said.