Nothing could have better explained the Turks' joy over their president's election victory on June 24 than a cartoon that depicts a cheering crowd with three lines in speech balloons: "It was a near thing," one says. "We would almost become free." And the last one says: "Down with freedoms!"
Turkey's Islamist strongman, President Recep Tayyip Erdoğan, won 52.5% of the national vote in presidential elections on June 24. That marks a slight rise from 51.8% he won in presidential elections of August 2014. More than 25 million Turks voted for Erdoğan's presidency. His closest rival, social democrat Muharrem Ince, an energetic former schoolteacher, won less than 16 million votes, or nearly 31% of the national vote.
The opposition candidate admitted that the election was fair. There have been no reports of fraud from international observers, at least so far.
Despite the defeat, Ince was one of the many winners of Election 2018. For the first time since 1977 a social democrat politician won more than 30% of the vote in Turkey. Ince's party, the Republican People's Party (CHP) won only 22.6% of the vote in the parliamentary race.
Despite Erdoğan's clear victory, his ruling Justice and Development Party (AKP) performed worse than expected: It won 42.4% of the vote in parliamentary elections, down eight percentage points from the 49.5% it won in the previous parliamentary race in November 2015.
That decline deprived the AKP of winning parliamentary majority, with 295 seats in Turkey's 300-member house. Instead, AKP's right-wing partners, the National Movement Party (MHP) unexpectedly won 49 seats, bringing the total number of seats controlled by the governing bloc up to 344, a comfortable majority.
The AKP-MHP alliance marks the official birth of Turkey's new ruling ideology: A bloc of Islamists and nationalists that traditionally represent Turkey's lowest educated rural population. Erdoğan may not be too happy having to share power with a party that was last in a coalition alliance in 2002 but with his AKP lacking a parliamentary majority he will have to keep the nationalists in partnership. He may also have to give them high-profile seats like vice-president and/or ministerial positions.
After election results on June 24 Turkey will be further dragged into authoritarian politics with the blend of Islamism and nationalism emerging as the new state ideology. Deep polarization in the Turkish society will probably get deeper. There are already signs. In a victory speech in the evening hours of June 24 Erdoğan's foreign minister, Mevlüt Çavuşoğlu, said that the losers of the election were the "terrorists". In this politically-divisive, pathetic logic, 47.5% of Turks are terrorists: that makes about 38.5 million people.
The national joy over the re-election of a man known best to the rest of the world for his authoritarian, sometimes despotic rule, is not surprising in a country where average schooling is a mere 6.5 years. As recently as April 2017, the Turks had already given up the remaining pieces of their democracy when they voted in favor of constitutional amendments that made Erdoğan head of the state, head of government and head of the ruling party all at the same time. The amendments gave the president almost unchecked powers and the authority to rule by decree.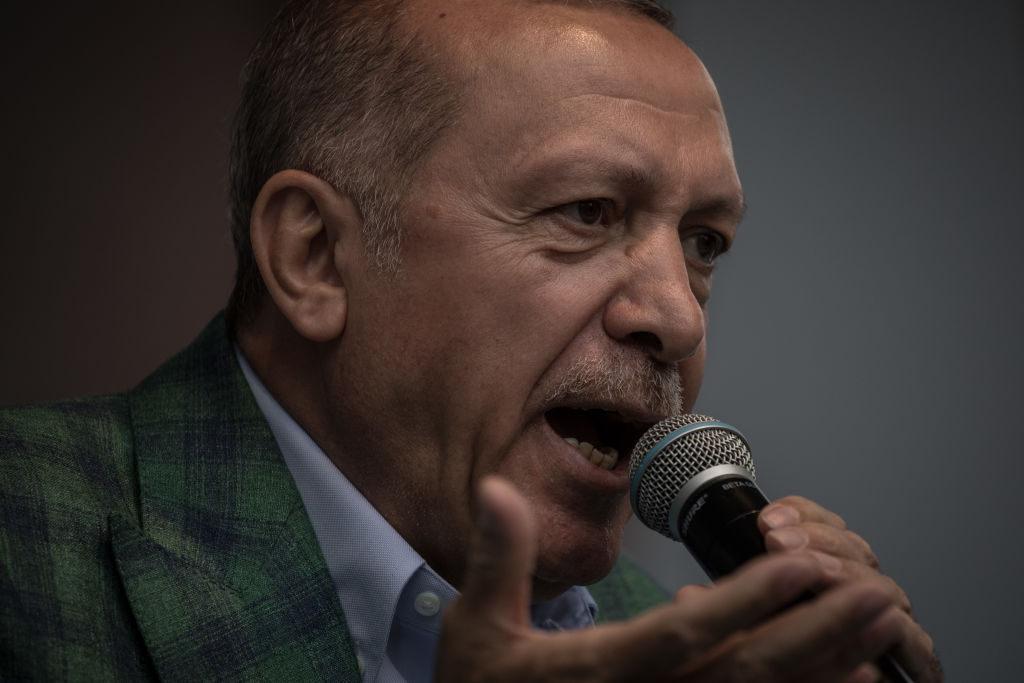 Pictured: Turkey's President Recep Tayyip Erdoğan speaks at a campaign rally on June 23, 2018 in Istanbul, Turkey. (Photo by Chris McGrath/Getty Images)
In its "Freedom in the World 2018" report, Freedom House categorizes Turkey as a "not free" country due to "due to a deeply flawed constitutional referendum that centralized power in the presidency, the mass replacement of elected mayors with government appointees, arbitrary prosecutions of rights activists and other perceived enemies of the state, and continued purges of state employees, all of which have left citizens hesitant to express their views on sensitive topics". Turkey also tops Freedom house's list of countries where democracy has been on decline for the past decade. Ironically, even civil war-torn Syria is at the bottom of the list (meaning its democracy has declined the least among the countries surveyed).
Erdoğan's Turkey was galloping toward dictatorship even before the Turks gave him the powers he wanted in the April 2017 referendum. Millions of anti-Erdoğan Turks are now terrified of the prospect of further torment under an Islamist-nationalist coalition show run by a president with effectively no checks and balances. Ince, the opposition candidate against Erdoğan has vowed to fight back. Let us hope he does not have to fight back from where many Erdoğan opponents have been locked up.
Burak Bekdil, one of Turkey's leading journalists, was recently fired from Turkey's leading newspaper after 29 years, for writing what was taking place in Turkey for Gatestone. He is a Fellow at the Middle East Forum.