Andrew Brunson, the American pastor detained in Turkey for two years on false terrorism and espionage charges, was released from prison on July 25, only to be put under house arrest until the resumption of his trial in October. The court ordered him to wear an electronic ankle-bracelet at all times and banned him from traveling outside Turkey.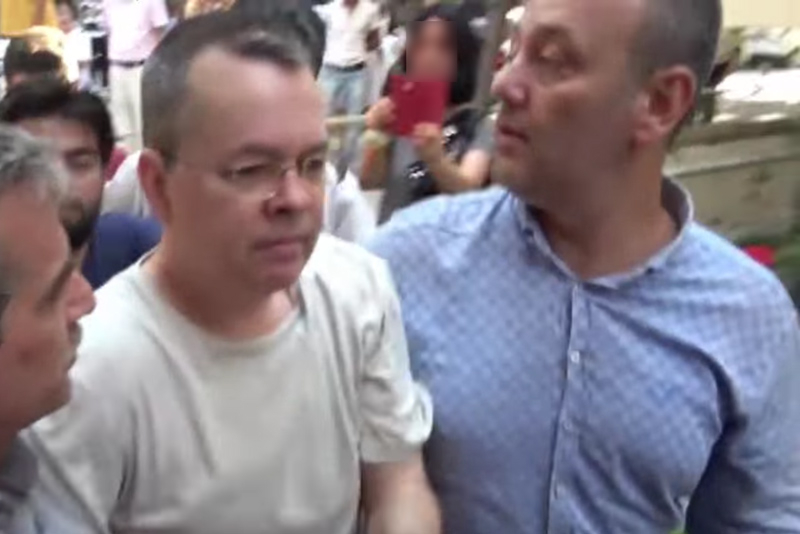 Pastor Andrew Brunson (center) is transported from jail to house arrest in Izmir, Turkey, on July 25, 2018. (Image source: Ruptly video screenshot)
Moreover, according to the Washington Post's Carol D. Leonnig:
"President Trump thought he had a deal with Turkish President Erdogan to free Andrew Brunson, the American pastor imprisoned in Turkey for the last two years on what the administration considered bogus terrorism charges.

"As part of the deal, on July 14, Trump asked Israeli Prime Minister Netanyahu to release Ebru Ozkan, 27, a Turkish woman who was detained in Israel on charges of acting as a smuggler for Hamas. The day after Trump and Netanyahu spoke, Ozkan was deported from Israel.

"Several U.S. officials insisted there had been no misunderstanding of the terms of the deal, but the Turks, transferring Brunson to house arrest, failed to send the pastor home."
Brunson, detained in October 2016, is accused, with no evidence, of working for two groups that Turkey lists as terrorist organizations. One is a movement led by the US-based Muslim cleric Fethullah Gülen, referred to by the Turkish government as the Fethullahist Terrorist Organization (FETO), and whom President Recep Tayyip Erdogan accuses of organizing the failed military coup attempt in July 2016. The other is the Kurdistan Workers' Party (PKK). If convicted, Brunson faces up to 35 years behind bars.
Erdogan has made it clear that his intention is to make the US administration extradite Gülen in exchange for Brunson's release. In September 2017, Erdogan said:
"America wants us to return a priest... You also have a priest. You should give him to us too. Then we will try and return the one here."
Brunson's 62-page indictment states, among other allegations:
"The suspect... under the guise of being an evangelical church pastor... acted as an agent of unconventional warfare, per the doctrine of intelligence and psychological warfare and... acted within a group of personnel, most of whom had received special training and had military and intelligence backgrounds."
Brunson's release to house arrest came a week after US President Donald Trump posted a message on Twitter calling Brunson's detention "a total disgrace" and urging Turkish President Recep Tayyip Erdogan to "do something to free this wonderful Christian husband & father."
On July 26, the White House threatened to impose sanctions on Turkey if it fails immediately to return Brunson to the United States. Turkish Foreign Minister Mevlut Cavusoglu responded angrily on Twitter: "Noone dictates Turkey. We will never tolerate threats from anybody. Rule of law is for everyone; no exception."
Members of the pro-government media in Turkey have been demonizing Brunson since his arrest two years ago. In May 2017, for instance, the newspaper Takvim referred to him as an "imposter-spy," adding:
"Brunson worked as a military officer in the American army and supported both the FETO and the PKK... Meanwhile, he quickly rose in the ranks of the CIA... There have been claims that if the [coup] had been successful, Brunson would have been appointed head of the CIA."
During a July 26, 2018 panel discussion on CNN Turk, Nedim Şener -- a columnist for the newspaper Posta -- accused Brunson of "aim[ing] to Christianize Kurds," and claimed that "Brunson's computer contains the names of CIA agents." Şener added, "Brunson denies all of these things, but this is an attitude of FETO that we are familiar with."
In a July 27 article entitled "Arrest the Priest Again," the pro-Erdogan newspaper Yeni Safak wrote:
"That Priest Brunson, who has been tried for committing crimes on behalf of FETO and the PKK, was released yesterday and put under house arrest has received negative reactions from the public and the exorbitant threats coming from the US have been the last straw. The best response to Trump's words, 'We will impose large sanctions on Turkey,' will be to put the priest in jail again, just as he deserves."
In a July 27 column in the news outlet Aydinlik, author Ceyhun Bozkurt at first claimed that many missionaries in Turkey had a secret agenda to cause chaos in and Christianize the country. He wrote, in part:
"Missionaries continued their plans against Turkey in the 2000s, as well. In 2006, they carried out their activities by partitioning Turkey into 11 regions....

"Since 1800s, the unconventional warfare methods of missionaries who entered the Anatolian region have been effective in starting Turkish-Armenian conflicts, Bulgarian rebellions and Kurdish nationalistic movements. The missionaries who worked for their head organization, the American BOARD, provoked Armenians and Bulgarians and forced Kurds to rebel by Christianizing them through organizations they established, such as schools and hospitals... For about 200 years, we have faced too many Brunsons who were much more than pastors, and we will continue facing them."
He then, however, appears to call for respect for the rule of law:
"What is important is to engage in a political struggle against them in a correct and lawful way."
Then there is Ahmet Hakan, a Brunson critic and a well-known columnist. In a piece for the newspaper Hurriyet on July 27, Hakan stated that Turkey "should not bow down to the threats from the US... After this rampage, Brunson should not be told: 'You are free, you can go.'"
It appears that Brunson, as both an American and a Christian, has become a perfect scapegoat for the Turkish government and its media outlets. If Ankara were a genuine ally of the West, Brunson -- who has lived and worked peacefully at a small Protestant church in Izmir for 23 years -- would not have been arrested in the first place, let alone robbed of his freedom and prevented from returning to the US.
Let us hope that the Trump administration's threats of sanctions will be effective in securing Brunson's release.
Uzay Bulut, a journalist from Turkey, is a Distinguished Senior Fellow at Gatestone Institute. She is currently based in Washington D.C.