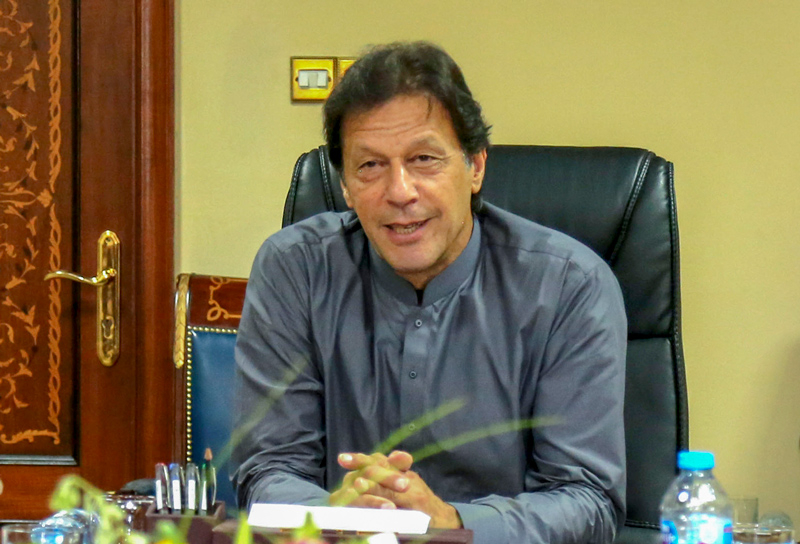 Pakistan's Prime Minister Imran Khan. (Image source: US State Department)
Radical Islamists took to the streets of Pakistan on September 1, to protest Prime Minister Imran Khan's appointment of former Princeton University scholar Atif Mian, a minority Muslim of the Ahmadiyya faith, to the Economic Advisory Council (EAC). Demanding that Mian be removed from the EAC, a key forum that advises the prime minister on economic issues, demonstrators threatened to lock down Pakistan's major cities, including Islamabad, its capital.
Mian's appointment was opposed by Pakistan's right wing political parties including "Tehreek-i-Labbaik Pakistan (TLP)", which strongly objected to his Ahmadi faith.
In addition, a well-orchestrated social-media smear campaign is being waged against Mian -- the only Pakistani on the International Monetary Fund's 2014 list of the world's "25 brightest young economists" -- for the sole reason that he adheres to the Ahmadiyya faith.
Then, in a move that raised eyebrows both in Pakistan and abroad, the government succumbed to the pressure of Islamists by showing the door to Mian: he was asked to step down from membership of the EAC.
He tendered his resignation on Friday following a request by the government.
Federal Minister of Information Fawad Chaudhary confirmed the development to Gatestone Institute by telephone.
"The government requested Atif Mian, internationally acclaimed economist, to resign from the EAC because it wants to avoid a confrontation," Chaudhary said.
This was not the first incidence of a well-qualified Ahmadi Muslim being targeted by extremist Islamists in Pakistan. In fact, discrimination against prominent members of this minority group is widespread.
Take the case of Mohammad Abdus Salam, a Pakistani Ahmadi Muslim who in 1979 shared the Nobel Prize in Physics with Sheldon Glashow and Steven Weinberg "for their contributions to the theory of the unified weak and electromagnetic interaction between elementary particles." Salam was the first Pakistani to receive a Nobel Prize in science, and the second person from an Islamic country, after Egyptian President Anwar Sadat, ever to have been awarded a Nobel Prize in any field.
Soon after the Pakistani Parliament declared Ahmadis to be "non-Muslims" in 1974, Salam left Pakistan for London in protest. He died peacefully in Oxford on November 21, 1996, and was buried in Bahishti Maqbara, an Ahmadi cemetery in Rabwah, Pakistan. In 2014, his grave was desecrated and the word "Muslim" removed from the headstone, "on the orders of the government." This shameful erasure illustrates the way minorities in Pakistan cannot escape humiliation, even after death.
The history of persecution of Ahmadis in Pakistan is long and bloody. Since being declared non-Muslim in 1974, the small community of Ahmadis has been under constant threat by the hardline members of the Muslim majority. The following are just few examples of countless hate crimes that Ahmadis have had to suffer:
The Pakistani government's succumbing to pressure from radical Muslims, and its cancellation of the appointment of an Ahmadi to a key advisory position, is a step backwards and further highlights the plight of minority groups. Ahmadis are still widely viewed in Pakistan as "non-Muslims" at best, and infidels at worst. Let us hope that the leadership's abandonment of Atif Mian is the last such incident.
Kaswar Klasra is a journalist based in Islamabad, Pakistan.