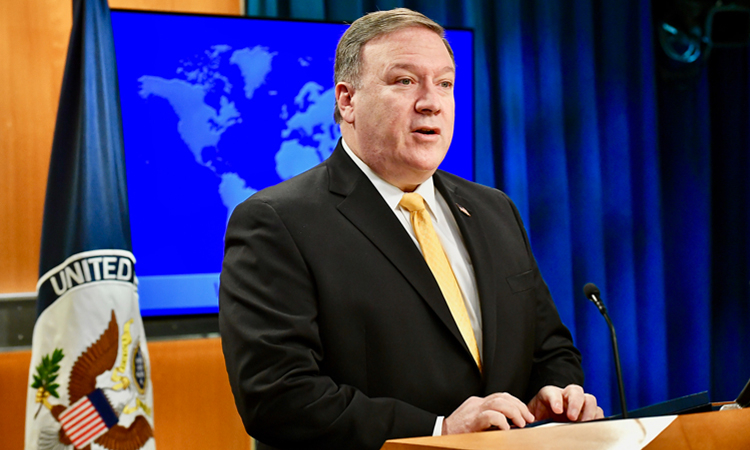 U.S. Secretary of State Mike Pompeo presents a report on international religious freedom, May 29, 2018. (Image source: U.S. State Department)
Pakistan was among the nations recently designated by U.S. Secretary of State Mike Pompeo as "Countries of Particular Concern under the International Religious Freedom Act of 1998 for having engaged in or tolerated 'systematic, ongoing, [and] egregious violations of religious freedom.'"
Islamabad promptly issued an angry response, which reads, in part:
"Pakistan rejects the US State Department's unilateral and politically motivated pronouncement... Besides the clear biases reflected from these designations, there are serious questions on the credentials and impartiality of the self-proclaimed jury involved in this unwarranted exercise.

"Around 4 percent of our total population comprises citizens belonging to Christian, Hindu, Budhists [sic] and Sikh faiths. Ensuring equal treatment of minorities and their enjoyment of human rights without any discrimination is the cardinal principle of the Constitution of Pakistan..."

"As a party to seven out of the nine core human rights treaties, Pakistan has been submitting compliance reports on its obligations with regard to fundamental freedoms. The government of Pakistan has devised well-establishment legal and administrative mechanisms to safeguard the rights of its citizens. Pakistan does not need counsel by any individual country on how to protect the rights of its minorities."
However, according to the latest report, by the United States Commission on International Freedom (USCIRF):
"In 2017, religious minorities in Pakistan, including Hindus, Christians, Sikhs, Ahmadis, and Shi'a Muslims, continued to face attacks and discrimination from extremist groups and society at large. The government of Pakistan failed to protect these groups adequately, and it perpetrated systematic, ongoing, egregious religious freedom violations.

"Various media outlets promoted intolerance against religious minorities. Abusive enforcement of the country's strict blasphemy laws resulted in the suppression of rights for non-Muslims, Shi'a Muslims, and Ahmadis.

"Forced conversions of non-Muslims continued despite the passage of the Hindu Marriage Act, which grants greater rights in family law for Hindu citizens.

"The entry of fundamentalist, and often extremist, religious parties into the political arena in advance of July 2018 national elections further threatens religious minorities' already precarious status in the country. In May 2017, a USCIRF delegation visited Islamabad and met with Pakistani government officials, U.S. Embassy officials, representatives of civil society, and religious minority community leaders. Based on these violations, in 2018 USCIRF again finds that Pakistan should be designated as a 'country of particular concern,' or CPC, under the International Religious Freedom Act (IRFA), as it has found since 2002.

"Despite USCIRF's longstanding recommendation, the State Department has never so designated Pakistan. In December 2017, the State Department named Pakistan as the first, and only, country on its 'Special Watch List,' a new category created by December 2016 amendments to IRFA."
In addition, the watchdog organization Open Doors lists Pakistan as among the world's worst persecutors of Christians. According to its 2018 report:
"Much of the Christian persecution in Pakistan comes from radical Islamic groups that flourish and expand under the favor of political parties, the army and the government... For the time being, these radical Islamic groups run thousands of madrassas, Islamic education centers where youth are taught and encouraged to persecute religious minorities like Christians...

"While long-standing historic churches have relative freedom in worship and religious activities, they are heavily monitored and regularly targeted for bomb attacks. Churches that are engaged in outreach and youth work face the worst of the persecution, although all Christians suffer from institutionalized discrimination. Occupations deemed as 'dirty' and 'shameful' are reserved for Christians, and many believers are victims of bonded labor. Pakistan's notorious blasphemy laws target religious minorities but affect Christians the most...

"In small townships and villages, Christian parents are forced to send their children to the local madrassa for Islamic education, where children are pressured to convert to Islam at an early age.

"Each year, an estimated 700 girls and women are abducted in Pakistan. Some have been abducted, sexually abused, forcefully married to Muslims, and made to convert to Islam.

"Christians continue to be killed for accusations of blasphemy, as well as for their low status in society. In June 2017, a Christian sewage worker died in a hospital because three Muslim doctors refused to touch him, thereby making themselves unclean, during their Ramadan fast."
Rather than expressing indignation at being deemed by the U.S. State Department a "country of particular concern" for its treatment of religious minorities, Pakistan should stop engaging in denial and persecution.
Kaswar Klasra is a journalist based in Islamabad, Pakistan.