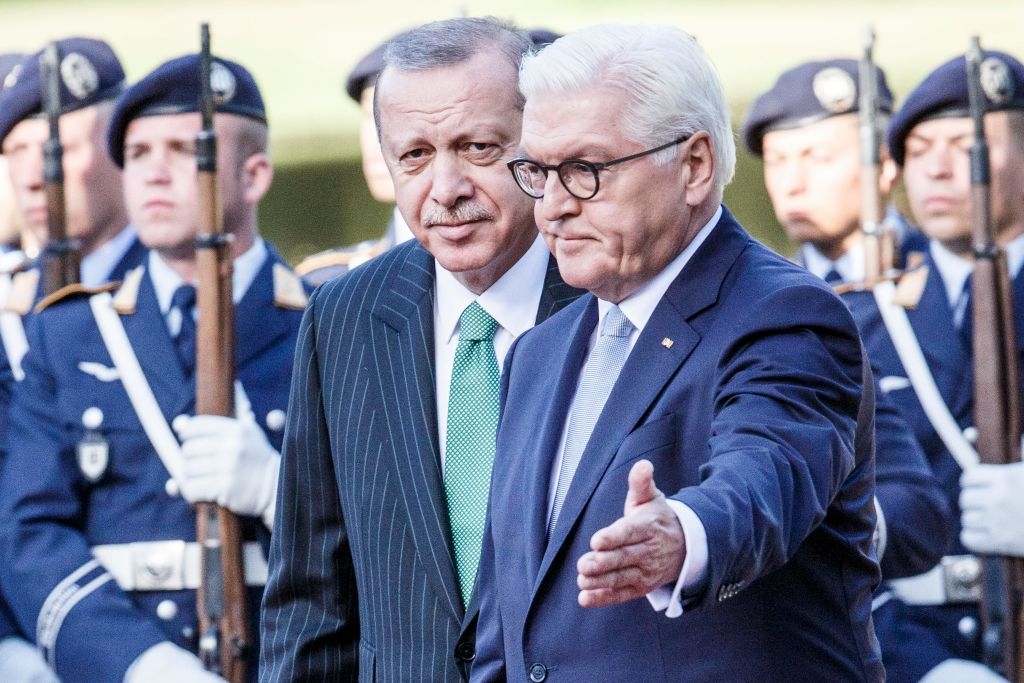 The continuous decline of democratic values and civil liberties in Turkey will remain a problem between Ankara and most Western capitals, including Berlin. During the recent state visit to Germany of Turkish President Recep Tayyip Erdoğan (left), Germany's President Frank-Walter Steinmeier (right) publicly criticized Turkey's holding of German citizens, among others, as political prisoners. (Photo by Carsten Koall/Getty Images)
Turkey's President does it all the time. In 2009, then-prime minister, Recep Tayyip Erdoğan accused China of genocide for the deaths of hundreds of Uighur Turks. Less than a decade later, with his newfound "Eurasianism," Erdoğan's Turkey and President Xi Jinping's China are discussing more trade -- and in their local currencies, rebuffing the dollar .
In 2015, the Turkish Air Force shot down a Russian Air Force fighter jet along Turkey's troubled border with Syria. Russia responded strongly in 2016 by imposing punishing sanctions on Turkey. At the time, Erdoğan was courting Washington. In fear of further -- and even military -- punishments from Moscow, Erdoğan described Turkey's relations with Washington as a "strategic partnership."
A Turkish apology for the downed Russian plane eventually ended sanctions in 2016 and Erdoğan, once again, rediscovered his anti-Western, pro-Eurasian self. This time, Erdoğan described Turkey's relations with Russia as a strategic partnership. This strategic partnership will probably survive until Erdoğan will have to turn to his NATO partners after potential -- and possibly serious -- divergences with Russia over the future of Syria.
As of now, Turkey sees the United States as an ungrateful ally and Russia is Turkey's new love affair. Earlier this year, the Trump administration imposed tariffs on Turkish steel and aluminum at a time when Turkey's national currency had lost 40% of its value since the start of the year. The nominal NATO allies had found themselves in a multitude of geostrategic and other disputes, including Turkey's arrest of an America pastor on bogus terrorism and espionage charges (he is now under house arrest in Turkey).
For Erdoğan, it is still "Russia time." In August, Russia joined Turkey in shunning the dollar as the two countries formally opened talks for trade in their local currencies. In September, Erdoğan said that the reign of the dollar as global trade currency should come to an end.
Enter Germany. As recently as 2017, Erdoğan urged Germans of Turkish origin (of which there are about three million) not to vote for Chancellor Angela Merkel, and branded her governing coalition "enemies of Turkey." Erdoğan also accused Merkel's Germany of resorting to "Nazi practices". The piecemeal menu of Turkish-German disputes is in no way smaller than the Turkish-U.S. list; they just differ in their nature. Among these differences are Turkey's widening democratic deficit, Erdoğan's arbitrary one-man rule and the activities in Germany of a Turkish government-sponsored Muslim organization often accused of radicalization and anti-Semitism at some of its mosques. A German government decision earlier this year to suspend arms deliveries and technologies to Turkey only soured relations further.
In short, relations between two NATO allies could hardly have been worse. What would the Turkish sultan do with such a hostile, Christian country, which he often accuses of racism? Quickly put together an official visit and fly to Germany, a country with "Nazi practices" and an "enemy" of Turkey, of course.
"We want to completely leave behind all the problems and to create a warm environment between Turkey and Germany just like it used to be," Erdoğan said ahead of his September 2018 state visit. Why such restraint and pragmatic behavior from a man better known for his temper and crowd-pleasing nationalist, anti-Western, Islamist rhetoric?
The Turkish economy is teetering; Erdoğan needs a steady flow of Western currencies (which he hates) into the economy before serial bankruptcies further cripple Turkish finances and risk his government ahead of local elections next March. He also needs German diplomacy to fix the turbulence in Turkey's relations with the U.S.
But Erdoğan is Erdoğan, and the political trajectory on which he wants Turkey to remain is too Islamist, too undemocratic and too harmful to Western interests. On his visit to Germany last month, he inaugurated a new Turkish mosque in Cologne. In Berlin, he accused the German government of harboring "hundreds, thousands of terrorists".
The continuous decline of democratic values and civil liberties in Turkey will remain a problem between Ankara and most Western capitals, including Berlin. Erdogan's German host, President Frank-Walter Steinmeier, said:
"As we discussed this morning in detail, I am, as president of this country, concerned about German citizens who are imprisoned in Turkey for political reasons, and I am also concerned about Turkish journalists, trade unionists, lawyers, intellectuals and politicians who remain behind bars ... today, a worryingly large number of people from Turkey are seeking refuge here in Germany from the growing pressure on civil society."
Turkey's relations with Germany will remain largely transactional. Germany needs Turkey to stick to a refugee deal it reached with the European Union in 2016. It also needs Turkish cooperation in halting the flow of Islamic jihadists currently stationed in Syria but who may always use Turkish territory to reach the EU shores. There are thousands of German companies in Turkey, and Germany is Turkey's biggest trading partner. Turkey needs German technology, investment and money. None of that, however, eliminates the conspicuous incompatibility between the democratic cultures of the two countries.
Burak Bekdil, one of Turkey's leading journalists, was recently fired from the country's most noted newspaper after 29 years, for writing in Gatestone what is taking place in Turkey. He is a Fellow at the Middle East Forum.