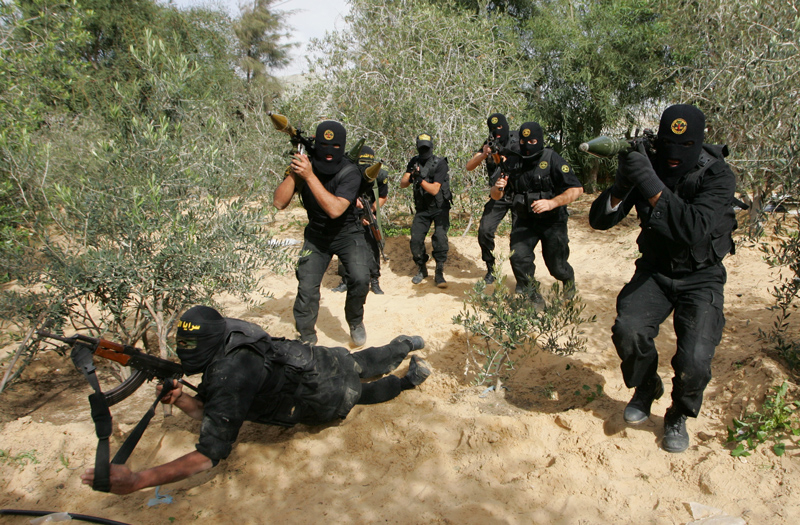 Gaza's second-largest terrorist group after Hamas is the Iranian-funded Palestinian Islamic Jihad (PIJ), which has thousands of supporters and militiamen. Pictured: Masked members of PIJ training in the Gaza Strip. (Photo by Abid Katib/Getty Images)
If anyone was hoping that removing Hamas from power in the Gaza Strip would improve the situation there and boost the chances of peace between Palestinians and Israel, they are in for a big disappointment. Hamas, which violently seized control over the Gaza Strip in the summer of 2007, is not the only terrorist group in the coastal enclave, home to some two million Palestinians.
In addition to Hamas, these are several other Palestinian terrorist groups in the Gaza Strip.
The second-largest group after Hamas is Palestinian Islamic Jihad (PIJ), which has thousands of supporters and militiamen. If and when Hamas is ever removed from power, PIJ has the strongest chance of stepping in to fill the vacuum.
You remove Hamas from power, you will most likely end up having to deal with PIJ - not a more moderate group. While Hamas could only be considered "good," in some alternate reality, its replacement would not be any better. Islamist fundamentalism is enshrined in the hearts and minds of tens of thousands of Palestinians in the Gaza Strip.
The two Islamist groups -- Hamas and PIJ -- are like two peas in a pod. The two do not recognize Israel's right to exist and continue to call for an armed struggle to "liberate all Palestine," from the Mediterranean Sea to the Jordan River.
Like Hamas, the Iranian-funded PIJ also has an armed wing, called Saraya Al-Quds (Jerusalem Brigades). Founded in 1981 by PIJ leaders Fathi Shaqaqi and Abed Al-Aziz Awda in the Gaza Strip, the Jerusalem Brigades is responsible for hundreds of terrorist attacks against Israel, including suicide bombings. In recent years, the group has also been launching rockets and mortars at Israel.
Although it considers itself an independent group, PIJ often operates in coordination with Hamas. The two groups even have a joint "operations command" to coordinate their attacks on Israel. Sometimes, they carry out joint attacks.
The Jerusalem Brigades likes to take to the streets in shows of force aimed at the other Palestinian terrorist groups in particular and the Palestinian public in the Gaza Strip in general. Generally, Hamas does not tolerate competition from other armed groups in the Gaza Strip, but when it comes to PIJ and its military wing, it is a different story altogether. When PIJ displays its power and weapons on the streets of Gaza, Hamas shuts up about it.
Hamas evidently knows that PIJ, a large and influential group, is dangerous to mess with. Hamas also seems aware that meddling with PIJ means getting into trouble with PIJ's paymasters in Iran. Like PIJ, Hamas is also dependent on Iran's political, financial and military backing. Iran considers PIJ its main ally and puppet in the Gaza Strip. Through PIJ, Iran inserts its tentacles into the internal affairs of the Palestinians, much to the dismay of President Mahmoud Abbas and his Western-backed Palestinian Authority.
Relations between Iran and Hamas have not been stable in recent years, largely due to Hamas's refusal to support the Iranian-backed regime of Syrian dictator Bashar Assad. Lately, however, reports have surfaced in some Arab media outlets that Iran and Hamas have agreed to lay aside their differences.
In the past few years, a number of Hamas delegations have visited Tehran as part of the group's effort to patch up its relationship with Iran. The last visit took place in October 2017, when a Hamas delegation comprising Ezzat Al-Risheq, Sami Abu Zuhri, Khaled Qaddoumi, Mohammed Nasr and Zaher Jabarin, visited Tehran to brief Iranian leaders on the latest developments surrounding efforts to end the crisis between Hamas and Abbas's Fatah faction.
Despite the apparent rapprochement, Iran has strong reservations about trusting Hamas. Its skepticism appears based on Iran's fear that Hamas is ready to reach a reconciliation agreement with Fatah and a truce accord with Israel. Such an alliance, in the eyes of Iran, would constitute a betrayal on the part of Hamas. Any agreement with Fatah would mean that Hamas is prepared to join forces with Abbas and, even worse, engage in future peace talks with Israel. Any truce agreement with Israel would mean that Hamas is prepared to lay down its weapons and abandon the armed struggle against the "Zionist enemy." This "surrender" would be anathema to the mullahs in Tehran, who have a declared goal of eliminating Israel.
As far as Iran is concerned, the PIJ is its real ally in the Palestinian arena. And as far as Iran is concerned, PIJ will always be seen as a natural replacement for Hamas in the Gaza Strip if Hamas ever does forge a deal with Fatah or Israel.
The PIJ, meanwhile, is doing its utmost to prove its trustworthiness to its masters in Tehran. Last week, PIJ's military wing again dispatched its heavily-armed fighters to the streets of the Gaza Strip in a show of force directed towards Hamas, Iran and the rest of the world.
Abu Hamzeh, a spokesman for the Jerusalem Brigades, proudly declared during the paramilitary march that his group "will never compromise or bargain on one inch of the land of Palestine -- all Palestine." He added: "Our weapons are the symbol of our pride and power of our people. We will resist all conspiracies and foil all schemes aimed at liquidating our cause."
So, what does all this mean for Gaza?
First, that the situation there is unlikely to witness any positive changes. Even if Hamas were to be removed from power, the Palestinians would continue to suffer under other radical groups such as the PIJ.
Second, that even if Hamas were to wake up tomorrow morning and have an about-face, striking a genuine truce with Israel, there will always be other terrorist groups that are prepared to breach the agreement any time they wish.
Third, that the Gaza Strip will continue to be swarmed by several heavily-armed groups that will continue to launch terror attacks on Israel and impose a reign of terror and intimidation on the Palestinian population.
Fourth, that neither Abbas nor any other third party would ever be able to set foot in the Gaza Strip, impose law and order and confiscate the weapons of the terrorist groups.
These are crucial factors that need to be taken into account by any international party that seeks a solution to the catastrophe called Gaza. Alternatively, one might to wish to continue to inhabit some alternate reality in which all be would be well if Israel would only ease restrictions on the Gaza Strip.
Khaled Abu Toameh, an award-winning journalist, is based in Jerusalem.