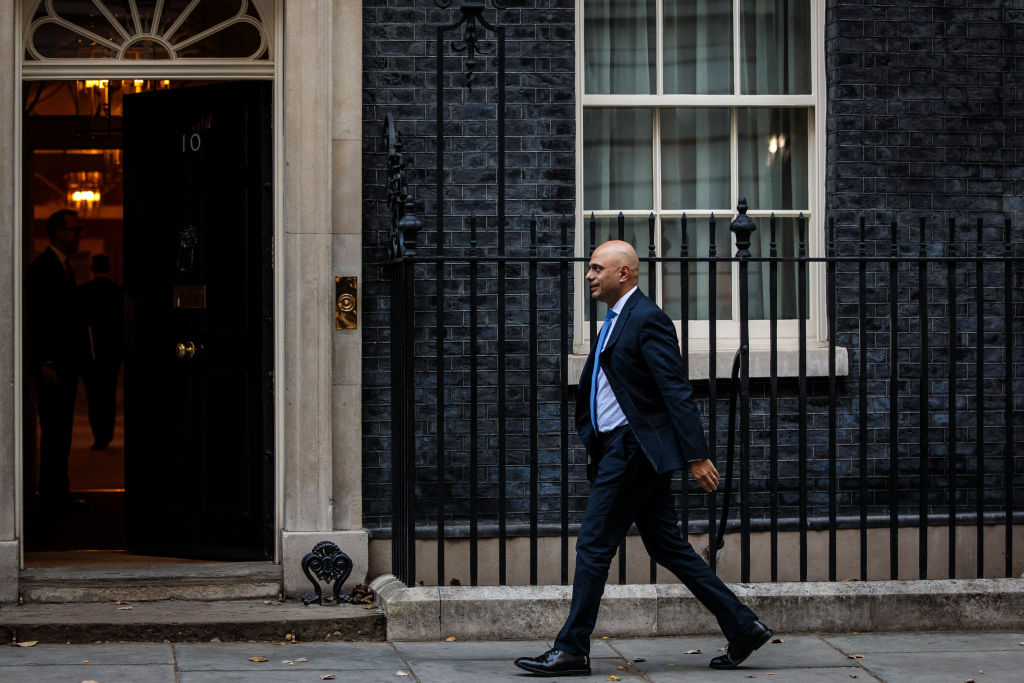 A leaked letter showed that Britain's Home Secretary Sajid Javid agreed to hand evidence on two British jihadis to American authorities for a federal prosecution, but without assurances that the death penalty would not be used. (Photo by Jack Taylor/Getty Images)
October 1. So-called "cutters" are being flown into Britain to perform female genital mutilation (FGM) on young girls, according to The Independent. "The practicing community talk together, saying, 'My girl needs to be cut,' and pay the cutters to come into the UK and cut the girls here," said Hoda Ali, an FGM activist who works in West London. She added: "The reality is we need to open our eyes. We don't need to think just about faraway countries because right now we have girls who are in their late teens or even early twenties who were cut in this country. They are British girls who were born here and they were cut here."
October 2. Women and girls who are coerced into marriage by their families will be allowed to give evidence in secret so they can object to their foreign spouses' visas without fear of repercussions, according to legal changes announced by Home Secretary Sajid Javid. The changes come two months after The Times revealed that the Home Office was issuing visas to known abusers in forced marriage cases.
October 3. Zakaria Mohammed, a 21-year-old drug dealer from Aston, Birmingham, was sentenced to 14 years in prison after admitting to charges of modern slavery. Mohammed groomed his victims — a 14-year-old girl and two runaway 15-year-old boys — before making them sell class-A drugs from squalid flats a hundred miles from their homes. The teens, who were transported from Birmingham to Lincoln to work as "expendable workhorses" in drug dens, were found by police in a drug-infested apartment in Lincoln. The Telegraph reported it was the first time in British legal history that a drug-dealer has been convicted for breaching the Modern Slavery Act by trafficking children.
October 4. Rahman Ullah, a 38-year-old father of two from Croydon, was sentenced to 14 months in prison for beating his estranged wife and live-streaming the battering to relatives in Pakistan. Ullah, wielding a kitchen knife, made stabbing motions at his wife and boasted to his relatives: "I'm going to kill her today." Ullah initially told police that his wife was the aggressor.
October 5. Ten baby girls, all of whom were less than a year old, underwent female genital mutilation in Birmingham between April and June 2018, according to the Birmingham Mail, citing official statistics. The data also revealed that 15 children aged between one and four were reported as FGM victims. In total, there were 140 new cases of FGM in the city in those three months. Most victims were between five and nine.
October 6. A report for the Equality and Human Rights Commission (EHRC) found that one-third (33%) of Britons surveyed believed that efforts to provide equal opportunities to Muslim immigrants had gone "too far." The report, the first of an annual "barometer" testing public opinion, also found that 22% of Britons had negative views of Muslims.
October 7. The outgoing head of Karma Nirvana, a charity that supports victims of honor-based abuse, launched a scathing attack on the government's failure to tackle forced marriage. She said she feels "let down by the lack of leadership" and warned that more children will suffer as a result. Jasvinder Sanghera, who announced she was stepping down as head of Karma Nirvana after 25 years, said that working with the government to address the issue had at times been like "pushing a rock up a hill." She added:
"The government has not done enough to raise awareness and mainstream the issue so there remains a huge problem with professionals viewing forced marriage as a cultural issue rather than a crime. Many aren't even aware there is a law."
October 8. A leaked letter showed that Home Secretary Sajid Javid agreed to hand evidence on two British jihadis to American authorities for a federal prosecution, but without assurances that the death penalty would not be used. El Shafee Elsheikh and Alexanda Kotey, allegedly members of a jihadi cell dubbed "The ISIS Beatles" and who beheaded a series of hostages in Syria, have been the subject of a legal dispute between Britain and the US since being captured in January 2018. Edward Fitzgerald QC, a lawyer for Elsheikh's mother, argued at the Administrative Court in London that Javid wrongly exposed the suspects to the risk of an "inhuman" punishment." Lawyers for Javid countered that there is no prohibition on providing legal assistance to another country where it may result in proceedings leading to the death penalty. "This group [the ISIS Beatles] is associated with some of the gravest offenses perpetrated against civilians in Syria during the conflict," James Eadie QC told the court. "These beheadings are notorious globally, all but one having been filmed and posted on the internet."
October 9. Teachers should look out for girls who have difficulty walking, sitting and standing, or who request to be excused from physical education lessons, according to a new guide on spotting signs of female genital mutilation (FGM). Schools should also be aware of girls who have a prolonged absence from school, noticeable behavioral changes after these absences, or girls speaking about being on holiday to their country of origin or another country where the practice is prevalent. The indicators were published by Islington Council and the Manor Gardens Welfare Trust as part of a risk assessment tool to help teachers to identify and evaluate the damage done by FGM. The 12-page workbook takes teachers through the signs that a child may be at risk, that FGM may have already taken place, and what educators should do if such a situation arises.
October 10. The British Army launched an investigation after an anti-Islamization activist known as Tommy Robinson posted a photo of himself with a group of young soldiers. The photo appeared to have been taken at a highway rest stop, and Robinson had described the group as "young recruits." Robinson wrote on Facebook, "A moment like this makes it all worthwhile. Today I met real British heroes." An Army spokeswoman said, "Far-right ideology is completely at odds with the values and ethos of the armed forces. The armed forces have robust measures in place to ensure those exhibiting extremist views are neither tolerated nor permitted to serve." Robinson said that he had met the soldiers by chance and they should not be "left hung out to dry" for having their photo taken with him.
October 11. The retailer Marks & Spencer sparked a row after including hijabs — head coverings worn by some Muslim women — in its school uniform section. The company's social media pages were flooded with angry messages and dozens of disgruntled customers said they would not use the store until the black headscarves removed from the stock. The founder of the Quilliam Foundation, Maajid Nawaz, said that M&S had reverted to "medievalism" by including a child-size hijab in the school-wear category.
October 13. A 29-year-old Somali, whose deportation from Britain was halted after airline passengers staged a mutiny and demanded his release, was exposed as a convicted gang rapist being deported because of his crime. Officials escorting Yaqub Ahmed on a flight from Heathrow to Turkey on October 9 were forced to abandon his deportation when around a dozen holidaymakers who felt sorry for him angrily intervened shortly before take-off. At one stage a traveler complained, "They're separating him from his family," while others chanted "take him off the plane." It later emerged that Ahmed and three other youths had gang-raped a 16-year-old in London's Leicester Square in August 2007. Ahmed served only half of a 9-year sentence. When a video of the protest was published by MailOnline, hundreds of readers expressed their outrage. One wrote, "The police should have been called and all the passengers who were interfering should have been arrested and removed from the plane." Another reader wrote, "Now it will cost a lot more to fly the man back on a private charter! Well done silly interfering, self-seeking, do-gooding idiots!"
October 14. Belal Ahmed, 24, and Mizad Miah, 24, both from Tower Hamlets, were sentenced to a combined 24 years in prison for spiking a 21-year-old woman's drink with MDMA (ecstasy), raping her after she became unconscious, and then dumping her at the side of the road in her underwear. Both men were arrested at Gatwick Airport in November 2017 when they returned to Britain after vacationing together in Morocco.
October 15. The Ministry of Justice blocked plans for an academic study into why prisoners convert to Islam and how it can lead to radicalization, according to The Times. Supporters of the three-year project said they were dismayed by the decision and believe the prison service did not want outsiders studying such a sensitive topic. "The corporate culture of the service is defensive, and they will have been concerned about what this proposed project will discover," a source said. The number of Muslim prisoners in jails in England and Wales has more than doubled in recent years, rising from 5,500 in 2002 to 12,894 this year, according to The Times, citing official data.
October 17. Lancashire County Council decisively voted to stop supplying halal (permitted according to Sharia law) meat from unstunned animals to area schools as of 2019. The decision — 49 to 23 with nine abstentions — will affect 12,000 Muslim pupils in the 27 schools in Blackburn, Nelson, Burnley, Rawtenstall, Hyndburn and Preston. The Chief Executive of the Lancashire Council of Mosques, Abdul Hamid Qureshi, said he was considering calling for Muslim pupils to boycott school meals.
October 18. A Tesco worker sued the supermarket chain for harassment and racial discrimination after a colleague "broke wind in his face." Atif Masood, 42, a customer assistant at a branch in Thornton Heath, demanded £20,000 (€23,000; $26,000) — claiming that passing wind amounts to "bullying." In legal papers submitted to a London employment tribunal, Masood claimed there was "too much racism" in the Thornton Heath store, and felt he was discriminated against by colleagues because he was a Pakistani Muslim.
October 19. The Islamist firebrand preacher Anjem Choudary, described as Britain's "most dangerous extremist," was released from prison after serving only half of the five-and-a-half-year sentence he received in 2016 for pledging allegiance to the Islamic State. Prison authorities could not prevent his release: under British sentencing guidelines, prisoners — even those who are still a risk to the public — automatically become eligible for release under license (parole) after serving half their terms.
October 20. Sheikh Faiz-ul-Aqtab Siddiqi, a 51-year-old Muslim cleric who runs Britain's largest network of Sharia courts, was questioned over allegations that he had raped children. West Midlands Police are investigating claims that Siddiqi raped two Dutch women in the 1980s and 1990s. The women claim they were sexually abused from the ages of 11 and 12 until they turned 16. They were sent to Britain by their parents to be educated by Sheikh Siddiqi's father, a respected Muslim scholar. Siddiqi is the head of the Muslim Arbitration Tribunal, an Islamic legal service in England that operates a string of controversial Sharia law courts which critics say discriminate against women. He has denied the claims, which first appeared in the Dutch newspaper De Telegraaf, saying they are part of a campaign to discredit his family.
October 23. Nearly 2,000 young people in Britain, the vast majority of them girls, were wed before the age of 18 between 2010 and 2015, according to Thomson Reuters Foundation, citing official data. Child marriage — defined internationally as marriage under 18 — remains legal in Britain. In England, Wales and Northern Ireland, teenagers can wed at 16 with parental consent. In Scotland, they do not need consent, according to Thomson Reuters. British parliamentarian Pauline Latham, who introduced a bill to raise the marriage age to 18, said it was "crazy" that Britain still allowed child marriage when it was spending £39 million (€44 million; $51 million) over five years to support efforts to end it in developing countries.
October 24. An Islamic school teaching that only Muslims and animals were saved on Noah's Ark was the first to be successfully prosecuted for operating illegally. The Al-Istiqamah Learning Centre in West London marketed itself as a study center where home-educated children could attend part-time classes, but government inspectors found that almost 60 children of compulsory school age were regularly attending the center during school hours. The case was referred to the Crown Prosecution Service after the center failed to respond to a government warning notice. The Chief Inspector of Schools, Amanda Spielman, said that the verdict sent an important message to other unregistered schools, some of which she said deny children a proper education and leave them at risk of radicalization. Photographs posted on the school's website identified Noah as a prophet of Allah.
October 25. A Muslim family complained about the use of pork gelatin in three vaccines used by the National Health Service, according to the BBC. Porcine gelatin is derived from pigs and used in vaccines against flu, shingles, measles, mumps and rubella. A spokesperson for Public Health England said the gelatin is used as a stabilizer and developing an alternative "may never happen." A parent who contacted the BBC said he was "offended" by the use of porcine gelatin in a nasal flu vaccine. He said that his wife was told about the ingredient by a doctor when she took their children to be vaccinated. She refused the vaccine because of their religion. The Muslim Council of Britain said the vaccines are not permitted in Islam unless lives are at risk and there are no alternatives. "There should be more work towards an alternative," said Dr. Shuja Shafi, the chairman of the council's research and documentation committee. "We should be trying to find a long-term solution. The needs of the people must be met."
October 26. The diocese of Oxford defended a decision by the University of Oxford to invite an imam to deliver the University Sermon at the end of a eucharist on October 21. A spokesman for the diocese said that inviting Imam Monawar Hussain to preach at the university church of St. Mary the Virgin, Oxford, was "a good piece of interfaith engagement." The spokesman said that the diocese had received a dozen complaints about the invitation but added, "If we had had 100 complaints we would have stood by the university's decision." A blog post by Adrian Hilton on his Archbishop Cranmer site noted that as a Muslim, Hussain would not believe in Jesus's death on a cross or in his resurrection. "By inviting an imam to preach not just a sermon, but a eucharistic sermon, it is hard to understand how this glorifies the crucified Son of God," he wrote. The Bishop of Buckingham, Alan Wilson, rejected the objections: "Hussain's work has been fundamental in deepening our understanding of Islam and combating the threat of terrorism in this country. He is promoting a charitable and wise interpretation of Islam."
October 27. Forty-three percent of Britons believe that Western liberal society can never be compatible with Islam, according to a ComRes "Islamophobia" poll. Two-fifths (43%) of the population would be concerned if a mosque was built in their neighborhood or if a family member married a Muslim. One in five (22%) would be concerned if a Muslim family moved next door and 3 in 10 (30%) would object to their child visiting a mosque.
October 28. As many as 80 jihadi brides and their children, who were detained in Syria since the fall of the Islamic State, are expected imminently to return to Britain, according to The Times, which also reported that the British Home Office has started issuing them British passports.
October 29. Seven men were found guilty of grooming and raping young girls, including one who was sexually abused by "at least 100 Asian men" before the age of 16, and another who was gang-raped in a forest and threatened with being abandoned there. Sheffield Crown Court heard how the men — Mohammed Imran Ali Akhtar, 37, Asif Ali, 33, Tanweer Ali, 37, Salah Ahmed El-Hakam, 39, Nabeel Kurshid, 35, Iqlak Yousaf, 34, and a seventh man, who was not named for legal reasons — targeted and exploited the girls before subjecting them to acts of a "degrading and violent nature." The girls were abused over a seven-year period in Rotherham. The case was the first major prosecution arising out of Operation Stovewood, the National Crime Agency's inquiry into historical child sexual exploitation in the South Yorkshire town which has identified more than 1,500 victims. The inquiry will cost British taxpayers more than £90 million (€102 million; $117 million) by 2024, the date to which current planning extends, although few people think it will be completed by then.
October 30. Mohammed Ghani, a 65-year-old former imam in West Yorkshire who sexually assaulted a young child over a period of seven years, had his sentence increased. In August, Leeds Crown Court sentenced Ghani to two years in prison, but his sentence was increased after it was referred to the Court of Appeal by the Solicitor General, Robert Buckland QC MP, under the Unduly Lenient Sentence scheme. The Court of Appeal increased Ghani's sentence to five years in prison. Speaking after the hearing, the Solicitor General said: "Ghani abused his position of authority and subjected a vulnerable child to a campaign of sexual assaults. I hope that the Court of Appeal's decision today brings the victim and their family some comfort."
October 31. Anjem Choudary was ordered to attend Britain's first compulsory deradicalization program, according to The Times. Choudary, who was released from prison on October 19, halfway through his sentence for supporting the Islamic State, was ordered to attend the Desistance and Disengagement Program (DDP) as part of his probation. The course, which requires him to receive mentoring and theological "advice," is the government's latest attempt to combat the heightened jihadist threat. Convicted jihadis are being freed from prison at a rate of one a week. More than 40% of those found guilty of terrorism offenses in the past decade, according to The Times, will be eligible for release by the end of 2018.

Soeren Kern is a Senior Fellow at the New York-based Gatestone Institute.