Controversy over the responsibility Twitter has in policing its users has been at the forefront of our national discourse. There is also a role for individuals to play in propagating fair and accurate stories on this platform. On Twitter, information seems to spread at lightning speed and "news" stories have a way of taking on a life of their own. Twitter undoubtably has some virtue -- I myself am a frequent user. It is a forum where otherwise disparate people can communicate quickly and information can be democratized. However, Twitter all too frequently can be used to deceive and mislead.
On Twitter, I am often the target of misleading news stories based on out of context or truncated quotes as well as outright lies. My recent commentary on Michael Flynn's lying to the FBI is a perfect example of just that. On December 17, I was interviewed by Bill Hemmer and was asked about the repercussions of Flynn lying to the FBI. I first responded by stating:
"I hope the judge understands when he has the case tomorrow; Flynn did not commit a crime by lying because the lie has to be material to the investigation, and if the FBI already knew the answer to the question and only asked the question to give him an opportunity to lie, his answer, even if false, was not material to the investigation."
My point was clearly laid out. A few minutes later, Hemmer brought the topic back to Flynn. I then, once again, clearly stated my aforementioned argument around materiality:
"The lie has to be material to the investigation, and if the FBI already knew the answer to the question and only asked him the question in order to give them an opportunity to lie, his answer, even if false, was not material to the investigation. Which answers the question [Hemmer interrupts]... Lying to the FBI is not a crime [Hemmer interrupts]..."
I was interrupted and unable to finish my point which was "lying to the FBI is not a crime if the lie is not material."
Despite repeatedly and clearly laying out my argument around materiality, Twitter users and news outlets like the Huffington Post seized on my saying "lying to the FBI is not a crime." This quote was out of context and incomplete. It is obvious from the video that I was interrupted before I could finish my statement. Furthermore, I clearly laid out the full argument at multiple other points in the interview. The story subsequently took on a life of its own. The speed and ease at which people are able to access Twitter comments allowed for a dishonest representation of views to spread quickly and ubiquitously.
Alan Dershowitz just said Michael Flynn "did not commit a crime by lying" and "lying to the FBI is not a crime" pic.twitter.com/ipnmTqMnvo

— jordan (@JordanUhl) December 17, 2018
---
.@AlanDersh'owitz #Flynn defense in layman's terms:

'Little Johnny stole cookies from the jar but he's not guilty because his mommy knew he had done it when he lied to her about it.

Shame on her for springing this morality test on poor Little Johnny!'https://t.co/lh69oJpXsH

— Justin Wedes (@justinwedes) December 17, 2018
---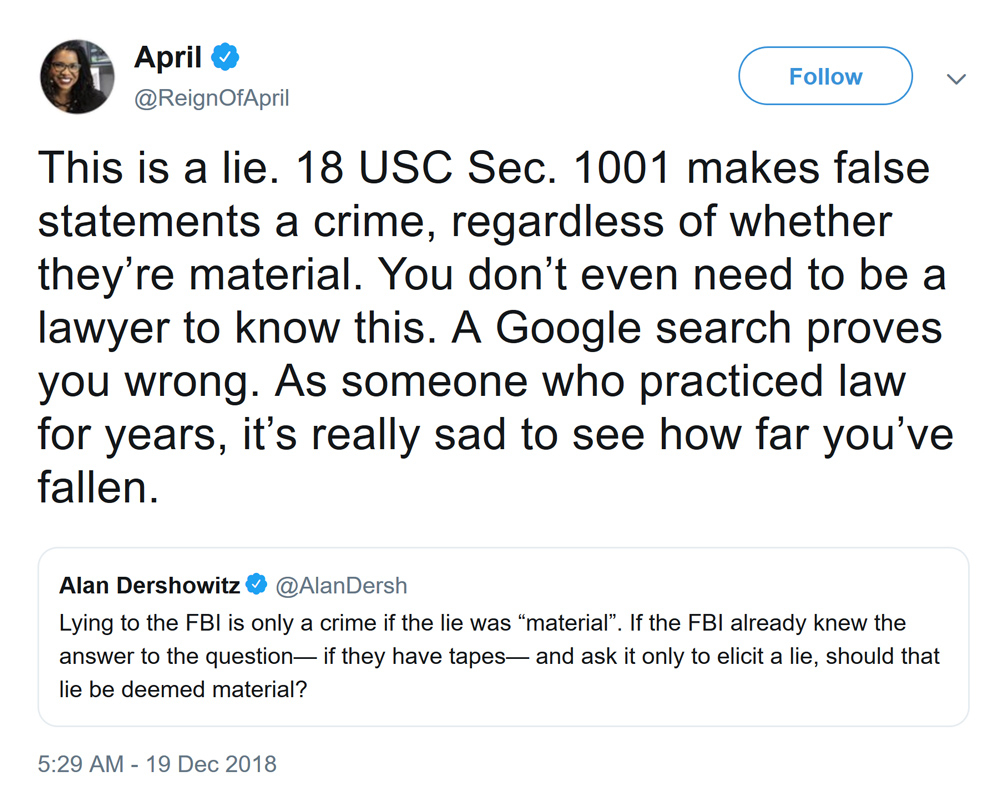 ---
1001 explicitly requires that the lie must be material. The statute (a2) reads "...makes any materially false, fictitious, or fraudulent statement or representation;"

So it's you who are lying. Please apologize. https://t.co/vNbabgRQ2m

— Alan Dershowitz (@AlanDersh) December 19, 2018
---
So the position on the right is lying to the FBI is only bad if you get caught. Got it. https://t.co/4IxqayYG8g

— Mr. Mark Potts (@mrmarkpotts) December 17, 2018
Herein lies the problem with Twitter. Information moves fast and, in order to keep up, users are quick to repeat falsehoods and neglect to look deeper into the issue. If those attacking me on Twitter had taken a moment to watch the video clip -- to go to the source -- my true position would have been clear. Furthermore, they could have taken a moment to read one of the recent articles I wrote fully laying out my position, such as my two articles in The Hill titled "Did Michael Flynn lie? Or did the FBI act improperly?" and "Should law enforcement conduct morality tests on Americans?" Instead, people were happy to quickly retweet or quote inaccurate attacks on me without looking for a more truthful picture.
To further aggravate these problems, Twitter is too often an echo chamber of confirmation bias. Users follow and are followed by like-minded individuals. When misinformation spreads, there is no one to point out the inaccuracies. By the time I was made aware of this misleading "news" and able to put out corrections, the story had already propagated and taken on a life of its own. Ironically in the aforementioned The Hill article, I note that "The first casualty of hyper partisanship is nuance. So when nuance is condemned as being insufficiently partisan, truth quickly becomes the next casualty." In the case of Twitter, the speed, ease, and partisan nature of the platform allow to users to neither see nor seek nuance.
As long as Twitter continues to be a place where people receive their news and believe what they read, its users must commit to more responsible practices. If Twitter users wish to spread stories as pseudo-reporters, they must also fact-check what they publish. If they do not, they become complicit in the spreading of disinformation.
Alan M. Dershowitz is the Felix Frankfurter Professor of Law Emeritus at Harvard Law School and author of The Case Against Impeaching Trump, Skyhorse Publishing, July 2018.