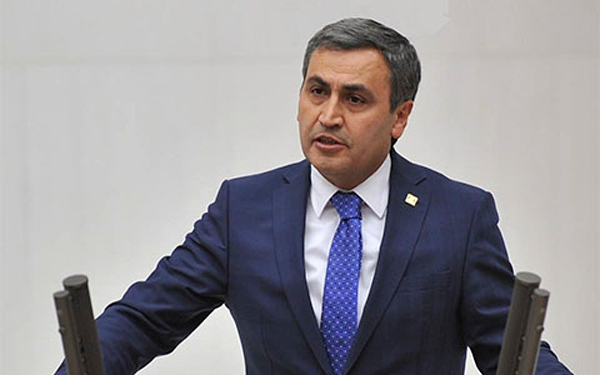 In 2016, Necati Yılmaz, an MP from the opposition Republican People's Party (CHP), submitted a written parliamentary motion to then-Turkish Prime Minister Binali Yıldırım, questioning the activities and international connections of "SADAT International Defense Consultancy," which is headed by Turkish President Recep Tayyip Erdogan's chief military advisor, Adnan Tanriverdi. Pictured: Necati Yılmaz. (Image source: Wikimedia Commons)
Istanbul recently hosted the second "International Islamic Union Congress," sponsored mainly by the Strategic Research Center for Defenders of Justice (ASSAM), which is headed by Turkish President Recep Tayyip Erdogan's chief military advisor, Adnan Tanriverdi, a retired lieutenant general and an Islamist .
At the conference, Tanriverdi delivered a speech detailing the inner workings of the "Islamic Confederal State" that ASSAM aims to establish with 61 Muslim countries. In his address, Tanriverdi said that a "rapid deployment force" should be created. Judging by an article Tanriverdi penned in 2009, the purpose of this joint Islamic force is to defeat Israel, which "should be made to get engaged [in war] and the length of the war should be extended."
"If Israel has to call all of its reserve soldiers to duty," he explained, "there will be no one left at home or in their businesses. It cannot continue like that for a long time."
Tanriverdi also suggested how this could be accomplished:
"The Defense Ministers of Islamic Countries should be invited to an urgent meeting, at which possibilities for 'defense cooperation' should be examined; Turkey, Iran, Syria, the Iraqi Resistance Organization and Palestine should be the core of this cooperation."
Within this context, he said, a "'rapid Deployment Force of Islam,' which will consist of an amphibious brigade, an armored brigade and an aero-landing brigade, should be encouraged."
He went on:
"A peace force of Islamic countries should be deployed in Gaza... International efforts should continue, and the use of military force in Islamic countries should be encouraged. A joint military operation by our ground, naval and air forces should be carried out in the international waters of the Eastern Mediterranean. Aid convoys from Turkey, accompanied by Turkish warplanes, should land at the Gaza port. The resistance movements in Gaza should be supported with anti-tank and low-altitude anti-aircraft weapons.

"An aid fund should be formed by Islamic countries; the monthly budget of the legitimate Palestinian government should be paid from this fund and every adult individual in [the Palestinian territories] should be paid a monthly salary... Egypt should be pressured to open the Rafah border crossing. Syria should be encouraged to enhance its military presence on the Israeli border."
Tanriverdi also claimed that:
"Turkish states, throughout history, prevented 21 crusades through which the West targeted Islam. Turkey did not get involved in the invasions following World War II, the establishment of the State of Israel and the US invasion of Iraq, which we could call the 22nd, 23rd and 24th crusades. It is Turkey's duty to rectify this. Avoiding this responsibility would be contrary to our historic mission, our commitment to the civilization to which we belong and to Turkey's survival."
Tanriverdi's views are the impetus for the founding in 2012 of his company, "SADAT International Defense Consultancy." On its official website, Tanriverdi writes:
"The Turkish Armed Forces give services of training, consultancy and equipment to 22 friendly Turkish and Muslim countries. But it is impossible for them to respond to all the needs of 60 Islamic countries in the defense sector.

"In order to give services in needed fields, to prevent dependence on crusader-minded colonialist countries, to help form an environment of defense industry and defense cooperation among Islamic countries, and to serve the Islamic alliance, SADAT was formed by 23 founding shareholders and with the support of 64 army officers and non-commissioned officers who have successfully served the Turkish armed forces and who are respectful of the religious sensitivities of Islamic countries."
Four years after SADAT's establishment, Necati Yılmaz, an MP from the opposition Republican People's Party (CHP), submitted a written parliamentary motion to then-Turkish Prime Minister Binali Yıldırım, questioning SADAT's activities and international connections. The motion read, in part:
"SADAT states on its official website that that it tries to 'help establish a military force in the Islamic world that will be self-sufficient.' With what countries does SADAT have connections? Is there any other country to which SADAT gives military and intelligence training? Does it have camps in other countries?

"Is it true that Sadat has connections with al-Nusra, al-Qaeda and ISIS? Is it true that Sadat has trained ISIS militants?"
Yıldırım did not answer the motion during his tenure, but allegations about SADAT's providing military training to jihadist organizations abroad and to some pro-Erdogan groups in "secret military camps" in Turkey have not subsided. Tanriverdi and other SADAT officials have repeatedly denied the accusations, going as far as to sue some newspapers that published pieces repeating them.
In an interview last January with the pro-government newspaper, Habertürk, Tanriverdi called claims about SADAT "slanderous" and "imaginary." Replaying SADAT's "founding objective," he insisted that it "engages with the state organs of friendly nations and provides them with services of corporate consultancy, training and equipment in line with their laws in their own countries."
He continued:
"With very pure and decent feelings, we just want to transfer the experiences of our armed forces to Islamic countries. That is all. We also want the Islamic countries to get united."
He failed, however, to remind readers that SADAT's objective is to unite against the West and Israel. He also omitted comments from his 2009 article entitled "Palestine too should have an army", such as:
"The states whose peoples are Muslim should either protect Palestine with their own armed forces or form a modern armed force for Palestine to deal with Israel."
Although Tanriverdi's dream of an "army of Islam" to fight Israel has yet to be realized, his company, SADAT, seems to be aiding Palestinian-Arab jihadist organizations targeting Israel. In February 2018, for instance, Israel's internal security service, the Shin Bet, said that Hamas was funneling terror funds to the West Bank and Gaza through Turkey. The Shin Bet statement also accused Turkey of aiding Hamas' military build-up via SADAT. Kamil Tekeli, a Turkish law professor who was arrested in Israel in mid-January, told his interrogators that SADAT sends money and arms to Hamas. Tekeli, after being interrogated, was deported back to Turkey, according to the Israeli media. The Turkish Foreign Ministry, however, rejected the Shin Bet's accusations.
Tanriverdi's statements and his company nevertheless appear to reflect Erdogan's worldview.
"We as Turkey and myself -- as long as I am in charge -- can never have a positive view of Israel," Erdogan said in 2014. "The obvious reality is that Israel is the country that threatens peace in the world and in the Middle East."
More recently, on December 15, Erdogan repeated one of many hostile claims he has made over the years -- comparing Israel to the Nazis.
Erdogan and his chief military advisor are obviously engaging in projection. It is Turkey that has ethnically cleansed itself of Greeks, Assyrians and Armenians, that refuses to recognize the religious rights of the Alevi minority and that is now targeting Syrian Kurds. It is the Turkish government's continued aggression against various peoples in Israel, Syria, Iraq, Cyprus and other countries that is a threat to world peace, not Israel. It is Turkey, not Israel, whose destabilizing foreign policy needs to change.
Uzay Bulut, a Turkish journalist, is a Distinguished Senior Fellow at Gatestone Institute and is currently based in Washington D.C.