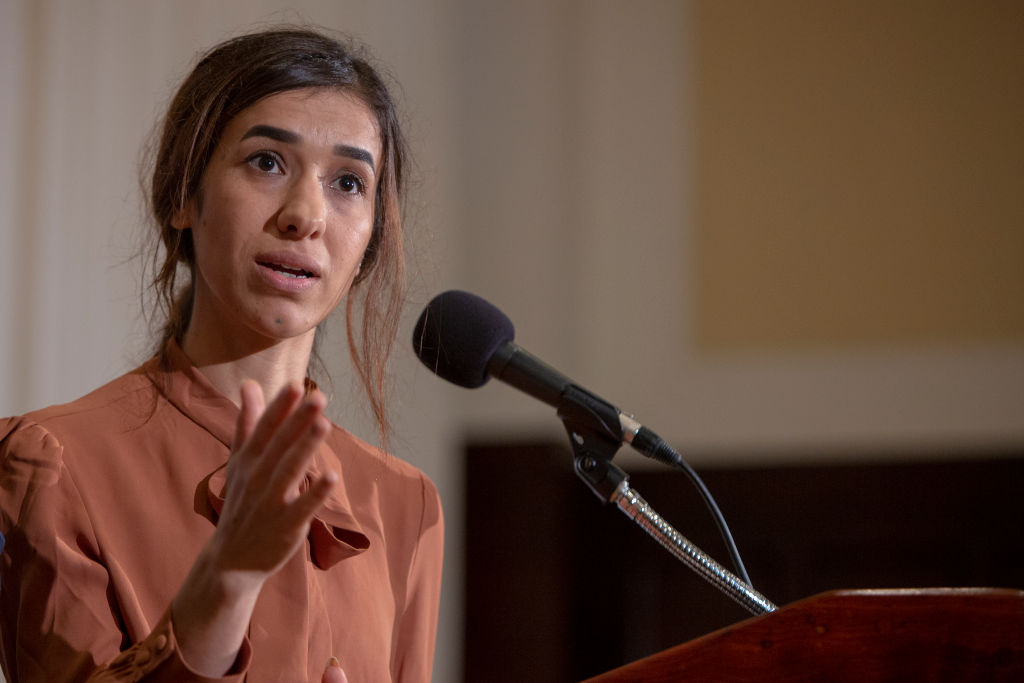 The Iraqi government and the UN recently began exhuming a mass grave in Sinjar, in the presence of Nobel Peace Prize laureate Nadia Murad, whose slain relatives are believed to have been buried in the area. Pictured: Nadia Murad speaks at the National Press Club on October 8, 2018 in Washington, DC. (Photo by Tasos Katopodis/Getty Images)
A group of Yazidis who held a demonstration outside the White House on March 15 called on the Trump administration to locate or rescue the estimated 3,000 women and children captured, held or killed by ISIS terrorists.
The protestors pointed to the recent incident in which ISIS fighters, fleeing one of their last strongholds in eastern Syria, beheaded of 50 Yazidi women who had been as sex slaves by the ISIS terrorists.
Most participants at the rally were survivors of ISIS's 2014 genocidal attacks on Yazidis, a persecuted non-Muslim minority indigenous to Iraq, Syria and Turkey.
According to a 2017 study published in the weekly journal, PLOS Medicine, in a matter of days in August 2014,
"An estimated 3,100 Yazidis were killed [in Iraq], with nearly half of them executed — either shot, beheaded, or burned alive — while the rest died on Mount Sinjar from starvation, dehydration, or injuries during the ISIS siege. The estimated number kidnapped is 6,800. Escapees recounted the abuses they had suffered, including forced religious conversion, torture, and sex slavery. Over one-third of those reported kidnapped were still missing at the time of the survey. All Yazidis were targeted regardless of age and sex, but children were disproportionately affected. They were as likely as adults to be executed but constituted 93.0% of those who died on Mount Sinjar. Moreover, children only accounted for 18.8% of those who managed to escape captivity."
Such horror stories should be headline news across the world, but sadly, they have been ignored. By contrast, much coverage has been given to Shamima Begum, a British-born woman who left the UK in 2015 to join ISIS in Syria, and intended to return home this past February. Begum's case has sparked widespread debate about the status and handling of jihadists from the West who are seeking to resume residence and retain citizenship in their countries of origin or naturalization.
Some pundits have painted Begum as a victim of "grooming" and "brainwashing" by the ISIS terrorists whom she joined. In an interview with Sky News in February, however, Begum said that she had been fully aware of the beheadings and other atrocities committed by ISIS before going to Syria. "I knew about those things and I was okay with it," she said. "Because, you know, I started becoming religious just before I left. From what I heard, Islamically, that is all allowed."
When asked whether she had questioned any of that, Begum replied, "No, not at all."
The Free Yezidi Foundation, which advocates for justice for victims and survivors of the ISIS genocide, expressed anger and frustration over the sympathetic attention that Begum, who willingly joined ISIS, has been receiving from certain politicians in Britain.
Addressing British MP Diane Abbott, who said that making Begum "stateless" is "callous and inhumane," the Foundation tweeted:
"Did you know that some of our girls, as young as SIX YEARS OLD, were literally sold on slave markets in #ISIS territory? When the men went out to fight, it was #ISISBride who would lock them in the house.

"Furthermore, it was #ISISbride who would shower, clothe, put on makeup to the #Yazidi #Yezidi women & girls to prepare them to be gangraped or sold. Many male and female perps were #British, perhaps we can instead draw attention to the inhumane & callous genocide they committed?...

"... it is an abomination that the welfare of this woman and her baby receive such enormous attention, while the THOUSANDS of women who were abducted and forced into slavery by her organisation (with participation of ISIS women) does not."
One of the participants of the rally in Washington, Salim Shingaly, a Yazidi activist from Iraq, told Gatestone:
"While we were hoping to reunite with Yazidi children and women kidnapped by ISIS terrorists, we recently learned of the 50 of them who were beheaded. Meanwhile, those people who raped and killed our women are free to go back to their countries and live normal lives. This makes us feel that we have no value as human beings in the eyes of others; we are about to lose our faith in humanity."
Shingaly added,
"It should be obvious to Western governments to see that ISIS terrorists would be a huge risk to the countries that are letting them back in."
Dawood Saleh, a survivor of the Yazidi genocide and author of Walking Alone, told Gatestone:
"I feel so sorry for the thousands of Yazidi women and children who are suffering at the hands of ISIS, while some media outlets in the West are trying to trivialize the actions of those who raped, tortured and killed our people. Those outlets are not giving enough of a voice to Yazidi survivors.

"My family has lost their home and ended up in a refugee camp where they have been living for almost five years now, as a result of the actions of ISIS monsters. ISIS has destroyed our villages and temples, and forced us to scatter all over the world. By ignoring our plight, while giving positive coverage to ISIS 'brides' or returnees to the West, some Western media outlets and politicians are destroying any ray of hope that we who have survived genocide may harbor."
Adil Suliman, a Yazidi activist at the protest, told Gatestone:
"Yazidis in Iraq are still scared that all the ISIS atrocities will happen again, because Yazidis there still live among Muslims, and Muslims do not see us as human beings."
Haji Ali Hameka, another Yazidi activist and interpreter, expressed dismay at a recent case of a Yazidi genocide survivor who was horrified to encounter her ISIS captor and rapist in Canada.
"It is very disappointing to hear that Western governments are enabling criminals who have raped and beheaded innocent people to return with impunity," Hameka told Gatestone. He stressed:
"A criminal is a criminal, whether he or she is Western or Middle Eastern. The rule of law must prevail everywhere. I don't think there is an ISIS fighter who has not raped or killed. Punishment for their actions should be severe. How can Canada allow these terrorists to roam free?"
Nawaf Ashur Yousif Haskan, a Yazidi scholar from Iraq, repeated the same sentiment to Gatestone:
"We strongly oppose the West bringing any of these ISIS fighters and their brides back. Instead, they should be jailed and prosecuted in Iraq by an international court for what they have done in Syria and Iraq. Each one of them has been espousing a dangerous ideology. We tell the West: If you do not want to see what happened to Yazidi women happen to the women in the West, then don't let these perpetrators back."
On the day of the Washington rally, the Iraqi government and the UN began exhuming a mass grave in Sinjar, in the presence of Nobel Peace Prize laureate Nadia Murad, whose slain relatives are believed to have been buried in the area. Murad's official website said that this was the first exhumation of a mass grave containing the remains of Yazidis killed by their ISIS captors.
What additional evidence does the West need to consider the victims of ISIS terrorists more worthy of coverage and sympathy than the "returning" terrorists and their willing brides?
Uzay Bulut, a journalist from Turkey, is a Distinguished Senior Fellow at Gatestone Institute. She is currently based in Washington D.C.