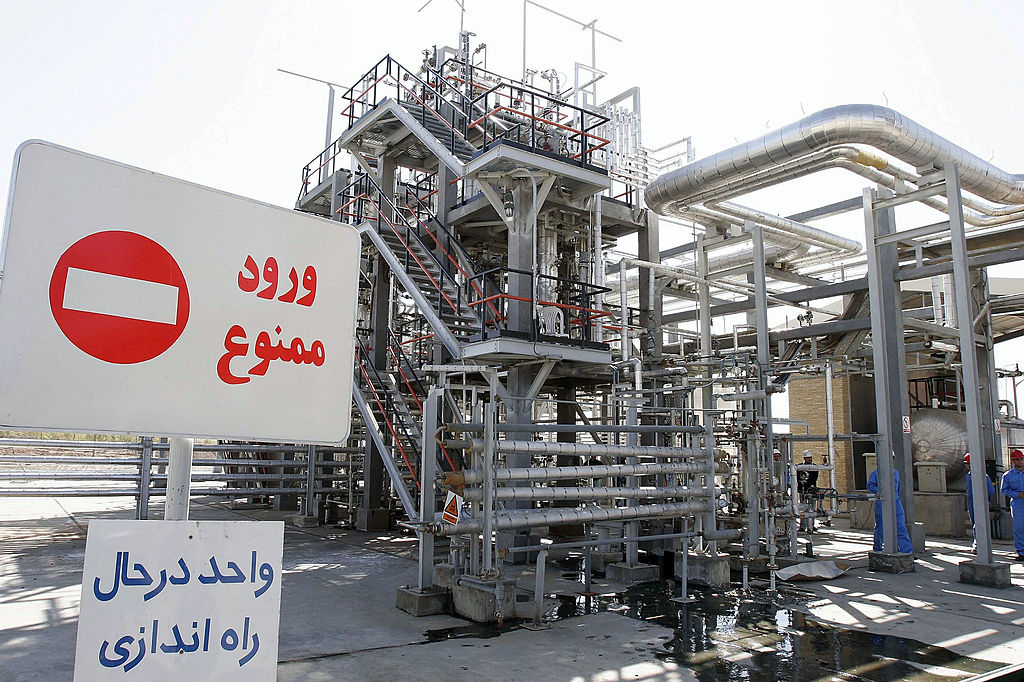 The National Council of Resistance of Iran -- which revealed Iran's clandestine and undeclared uranium enrichment facility at Natanz and a heavy water facility at Arak in 2002 -- has recently confirmed that Iran is continuing to pursue its nuclear ambitions. Pictured: The heavy water production facility at Arak, south of Tehran. (Photo by Majid Saeedi/Getty Images)
Advocates of Iran's nuclear deal are conspicuously ignoring the Iranian government's nuclear activities, even though they jeopardize global security as much as Israel's security. Advocates of Iran are also rushing to criticize the Trump administration in the United States for tightening its sanctions in response to Iran's illegal defiance.
In a recent interview with Iran's state-owned Channel 2 in the Persian language, Ali Akbar Salehi, the head of the Atomic Energy Organization of Iran, made it clear that the flimsy "nuclear deal" initiated by then US President Barack Obama has done nothing to stop Iran from making advances in its nuclear program.
Salehi boasted:
"If we have to go back and withdraw from the nuclear deal, we certainly do not go back to where we were before ... We will be standing in a much, much higher position."
The latest reports on Iran's nuclear progress also indicate that Iran is on the threshold of modernizing its mechanism for producing highly enriched uranium, which can be utilized to build a nuclear weapon.
The Iranian government is bragging that it is exploring new uranium enrichment programs and the production of centrifuges. As Salehi said recently:
"Thank God, the tests on the IR4 and IR2M (centrifuges) have been completed. They were tested for over 12 years. Today we have all the data, and we can easily manufacture them on an industrial scale."
Several intelligence reports warning of Iran's clandestine nuclear activities have been distributed throughout the international community. Germany's domestic intelligence agency, the Federal Office for the Protection of the Constitution, revealed in its annual report that the Iranian government has pursued a "clandestine" path to obtain illicit nuclear technology and equipment from German companies "at what is, even by international standards, a quantitatively high level."
The intelligence report also stated that "it is safe to expect that Iran will continue its intensive procurement activities in Germany using clandestine methods to achieve its objectives."
Further illustrating this disregard for the regulations Iranian officials are supposed to be following, on several occasions after the "nuclear deal" was in place, Iran held onto more heavy water, used to produce nuclear weapons, than it was allowed to have.
Those who promote the idea of taking a gentler stance on Iran and its nuclear program argue that Iran is not pursuing any illicit nuclear activities because the International Atomic Energy Agency (IAEA) has verified that.
The IAEA, however, was not allowed to inspect or monitor Iran's military sites where nuclear activities were most likely being carried out. Among the many concessions that the Obama administration gave the Iranian government, one was accepting the Iranian leaders' demand that these military sites would be out of the IAEA's reach.
Due to this surrender, various high-profile Iranian sites such as the Parchin military complex, located southeast of Tehran, were free to engage in nuclear activities without the risk of inspection.
The IAEA itself had previously stated that the Parchin military complex was the location where Iran carried out the explosive tests required to set off a nuclear charge.
In addition, Israel's international intelligence agency, the Mossad, obtained files and photographs from inside Iran relating to the country's nuclear program.
The files pointed to Iran's efforts to build a nuclear bomb, and the set of photographs taken at the Parchin military site "appears to show a giant metal chamber built to conduct high-explosive experiments."
Moreover, the National Council of Resistance of Iran (NCRI) -- which revealed Iran's clandestine and undeclared uranium enrichment facility at Natanz and a heavy water facility at Arak in 2002 -- has recently confirmed that Iran is continuing to pursue its nuclear ambitions. Its report states:
"... the 'nerve center' of the Iranian regime's nuclear weapons project, responsible for designing a nuclear bomb, has been continuing its work... following the establishment of the Joint Comprehensive Plan of Action (JCPOA) in 2015, not only has the unit remained in place and active, it is now clear that in some fields its activities have even expanded.
Iran's breakout time -- the amount of time needed to produce enough weapons-grade uranium for one nuclear bomb -- is believed to be less than a year.
When will the international community take seriously the latest intelligence reports and Iran's efforts to build a nuclear bomb? When will the United Nations' nuclear watchdog, the IAEA, inspect Iran's military sites?
Once the authoritarian, anti-Semitic and anti-American government of Iran possess a nuclear bomb, no amount of actions will be able reverse the catastrophe.
Iran is clearly continuing to demonstrate its interest in, and active pursuit of, nuclear weapons. Act now.
Dr. Majid Rafizadeh, is a business strategist and advisor, Harvard-educated scholar, political scientist, board member of Harvard International Review, and president of the International American Council on the Middle East. He has authored several books on Islam and US Foreign Policy. He can be reached at Dr.Rafizadeh@Post.Harvard.Edu