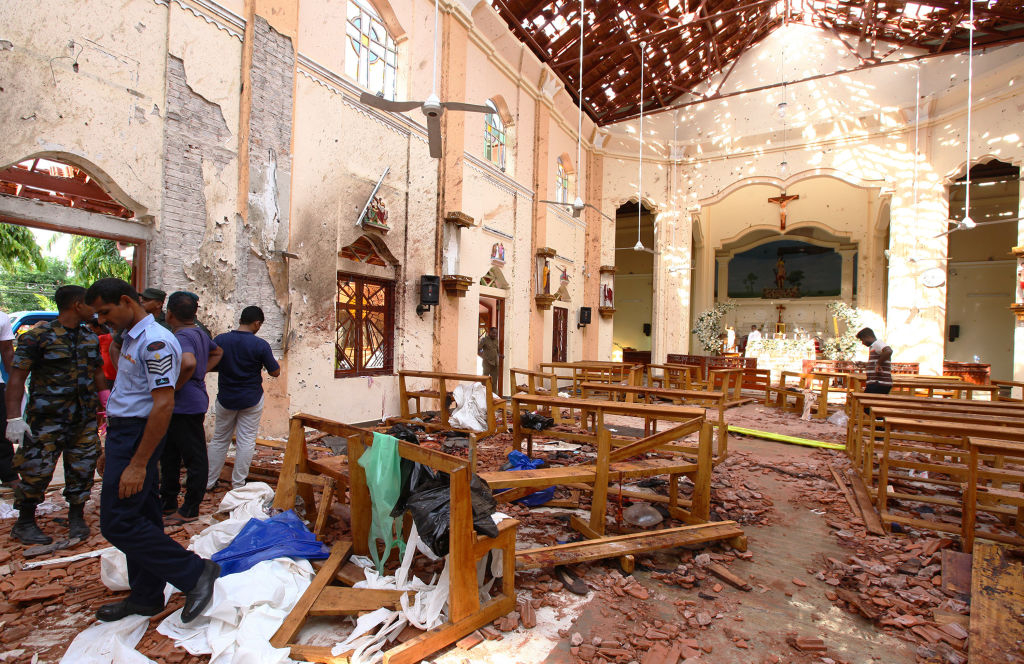 Pictured: St. Sebastian's Church in Negombo, Sri Lanka, after it was bombed during Mass on Easter Sunday -- one of three churches and four hotels bombed on April 21 in a coordinated attack, in which Islamic terrorists murdered 359 people. (Photo by Stringer/Getty Images)
On Easter Sunday, April 21, Islamic terrorists launched a bombing campaign on Christians in Sri Lanka; the current death toll is 359, with hundreds more people wounded.
Eight separate explosions took place, at least two of which were suicide bombings: three targeted churches celebrating Easter Sunday Mass; four targeted hotels frequented by Western tourists in connection with Easter holiday; and one blast in a house, which killed three police officers during a security operation.
At least 39 foreigners -- including citizens of the United States, Britain, Australia, Japan, Denmark and Portugal -- were among the slain.
Most fatalities occurred in the three church-bombings. The worst took place in St. Sebastian's, a Catholic church in Negombo; there at least 150 Christian worshippers were murdered. At St. Anthony's Shrine, another Catholic church in Colombo, the nation's capital, at least 52 were murdered; and at the evangelical Zion Church, at least 38 were murdered.
The Sri Lankan government said a local Islamic extremist group, the National Thowheed Jamaath, was responsible for the carnage; 21 people affiliated with the group were subsequently arrested. Although "[a]ll are locals," said a government official during a news conference, "there was an international network without which these attacks could not have succeeded," an apparent reference to the Islamic State (ISIS) and other international jihadi organizations. One India, a news site, provides more context:
"The problem of the Islamic State has been rampant in Sri Lanka since 2016.

"That year the Parliament was told that 32 Muslims from elite families had joined the ISIS.

"The following year, scores of Sri Lankan ISIS terrorists had returned from Syria, following which there was a spike in Jihadi activity.

"It may also be recalled that a postgraduate student from Sri Lanka, Mohammad Nizamdeen was charged with ISIS affiliated terror related offence in Australia. He was accused of being part of a plot to assassinate an Australian politician. Incidentally he is the nephew of MP Faiszer Musthapha, a cabinet minister in the Sri Lankan government..."
According to Sri Lanka's 2012 census, Christians account for 7.4% of the country's population, whereas Muslims account for 9.7%. The majority (70%) are Buddhists, and 12.6% are Hindus.
Negombo, where the worst church attack occurred, "is fondly called the 'little Rome,' with shrines and ancient churches," according to a local. "[S]ince the churches in these areas date back to 19th century, people flock in huge numbers to attend the Mass on Easter and Christmas" -- making it an ideal target for terrorists looking for maximum casualties.
"I don't have words to express my pain," said another Christian man, who survived the bombing at St. Sebastian's Church in Negombo:
"We lost so many people.... The smell of flesh is all around me.... We are a peace-loving community in this small city, we had never hurt anyone, but we don't know from where this amount of hate is coming. This city has become a grave with blood and bodies lying around.... Since the past three years, we don't know why, but we see an extremist's mindset developing among the Muslims. I know many good Muslims, but there are also a lot who hate us, and they have never been so before. It is in these three years that we see a difference."
"People were in pieces," recalled Ms. Silviya, 26, concerning the bombing of St. Anthony's Shrine in Colombo. "Blood was everywhere. I closed my son's eyes, took him out, passed him off to a relative and ran back inside to look for my family."
Hotels celebrating Easter and offering special breakfasts were especially targeted. India's daily The Hindu describes one of the hotel attacks:
The suicide bomber waited patiently in a queue for the Easter Sunday breakfast buffet at Sri Lanka's Cinnamon Grand hotel before setting off explosives strapped to his back. Carrying a plate, the man, who had registered at the hotel the night before as Mohamed Azzam Mohamed, was just about to be served when he set off his devastating strike in the packed restaurant, a manager at the Sri Lankan hotel said.

"There was utter chaos," said the manager, who spoke to AFP on condition of anonymity as he is not allowed to speak for the company.

"The Taprobane restaurant at the hotel was having one of its busiest days of the year for the Easter holiday weekend.

"It was 8:30 am and it was busy. It was families," the manager told AFP.

"He came up to the top of the queue and set off the blast," he added.
Minutes before a bomb ripped through another hotel, the Shangri-La, a young girl posted a family photo on Facebook, depicting seven smiling people sitting around a table. "Easter breakfast with family," she wrote in the post.
The suicide bomber at the Shangri-La is believed to have been popular Muslim cleric Zahran Hashim. He is on record preaching hostility for non-Muslims; and he extols the doctrine of al-wala' w'al-bara' -- which calls on Muslims to befriend and be loyal to fellow Muslims, while being "hostile to the infidel -- even if he is liberal and kind to you."
Although Cardinal Archbishop of Colombo, Malcolm Ranjith, said that "we never expected such a thing to happen and especially on Easter Sunday," Islamic terror attacks targeting Christians during Easter Sunday are not uncommon.
In 2017, in Egypt, Islamic terrorists bombed two Coptic Christian churches during Palm Sunday mass, which inaugurates Easter week, murdering 50 people and wounding 120. On Easter Sunday 2016 in Pakistan, an Islamic suicide bomber detonated near the children's rides of a public park where Christians were known to be congregated and celebrating; over 70 people -- mostly women and children -- were murdered and nearly 400 wounded. On Easter Sunday 2012 in Nigeria, Islamic terrorists bombed a church, murdering at least 50 worshippers.
The Easter Sunday terror attack in Sri Lanka -- which in its death toll eclipses all previous Muslim attacks on Christians during Easter -- is a reminder that if the Islamic State is on the retreat in the Middle East, the hate-filled ideology to which it and like-minded Muslims adhere continues to spread, finding new recruits and new victims around the globe.
Raymond Ibrahim, author of the new book, Sword and Scimitar, Fourteen Centuries of War between Islam and the West, is a Distinguished Senior Fellow at the Gatestone Institute and a Judith Rosen Friedman Fellow at the Middle East Forum.