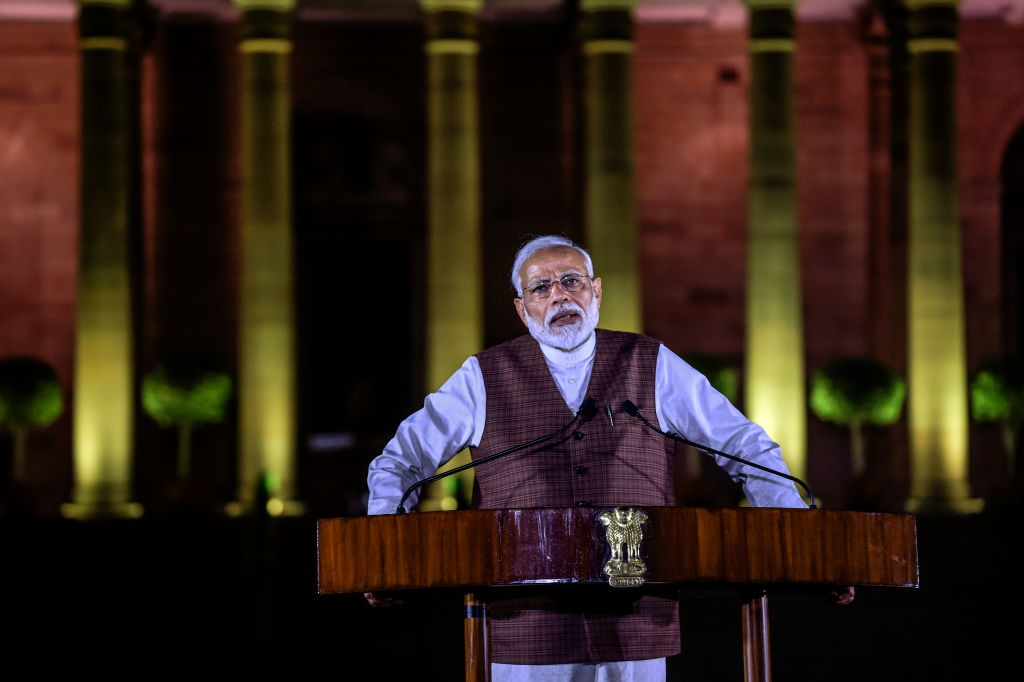 Indian Prime Minister Narendra Modi addresses the media in New Delhi on May 25, 2019, following his landslide re-election on May 23. (Photo by Atul Loke/Getty Images)
Indian Prime Minister Narendra Modi's landslide re-election on May 23 presents an opportunity to correct societal ills that in past years have been neglected. In particular, Modi, who was sworn in on May 30, might focus on addressing the concerns of the country's minorities.
Modi has long been talking of "sabkasaath, sabkavikas" ("everyone's support, everyone's development"). Upon his re-election, he added to the motto,"sabkavishwas" ("everyone's trust").
"This is our mantra," Modi said in an address in the central hall of Parliament to MPs of his Bharatiya Janata Party(BJP). "I will work for all citizens of India."
Modi's statement is in keeping with the Constitution of India, which states that no citizen is denied "equality before the law or the equal protection of the laws within the territory of India" (Article 14); prohibits discrimination on the basis of religion (Articles 15 and 16); grants everyone freedom of speech and expression (Articles 19 and 21); gives every individual the right to practice religion (Articles 25 to 28); and grants minorities the right to conserve their own culture and language, and run their own educational institutions (Articles 29 and 30).
Successive governments in New Delhi have been committed to those clauses. As a result, the six religious minorities recognized officially as such – Sikhs, Muslims, Christians, Zoroastrians (Parsis), Buddhists and Jains – have, for the most part, enjoyed equal opportunities.
There are in India several other religious minorities, such as Jews, Ahmadi Muslims and Bahais. Although not officially recognized as minorities, they have had more or less equal opportunities for their development, and have done well. One of the most trusted and successful business houses in India today belongs to the Tatas of the Parsi community. Independent India's first Field Marshal, General Sam Hormusji Framji Jamshedji Manekshaw, also belonged to the Parsi community. Lt. General J. F. R. Jacob, an iconic figure in independent India, was a Jew. As chief of the staff in India's Eastern Command in 1971, he planned the Bangladesh War of Independence in 1971.
Successive Indian governments have also been committed to the economic development of the country's minorities. Modi's BJP-led government has been no exception.
When Modi assumed office in 2014, he launched a campaign to provide basic amenities to ensure educational empowerment of minorities, particularly girls, in 308 districts across the country, and has boasted that minority representation in public-sector jobs rose from about 4.9% in 2014 to 9.8% in 2018.
Nevertheless, the United States Commission on International Religious Freedom (USCIRF) placed India in its "Tier 2" category, where religious freedom is concerned. In its latest annual report, released in April, the USCIRF states, in part:
"In 2018, religious freedom conditions in India continued a downward trend. India has a long history as a secular democracy where religious communities of every faith have thrived. The constitution guarantees the right to religious freedom, and the nation's independent judiciary has often provided essential protections to religious minority communities through its jurisprudence. Yet, this history of religious freedom has come under attack in recent years with the growth of exclusionary extremist narratives—including, at times, the government's allowing and encouraging mob violence against religious minorities. Those have facilitated a pervasive and ongoing campaign of violence, intimidation, and harassment against non-Hindu and lower-caste Hindu minorities.

Both public and private actors have engaged in this campaign. In 2018, approximately one-third of state governments increasingly enforced anti-conversion and anti-cow slaughter laws. These seemed to target in a discriminatory way non-Hindus and Dalits alike. Further, mobs that were trying to protect the cows engaged in violence predominantly targeting Muslims and Dalits, some of whom have, for generations, been legally involved in the dairy, leather, or beef trades. Mob violence was also carried out against Christians, with accusations of forced religious conversion. In cases involving mobs killing an individual based on false accusations of cow slaughter or forced conversion, police investigations and prosecutions often were not adequately pursued. Rules on the registration of foreign-funded nongovernmental organizations (NGOs) were discriminatorily implemented against religious minority groups..."
It is thus not surprising that Modi and his party garnered very little minority support in the latest election, with only 8% of Muslims and 11% of Christians and Sikhs each voting for the BJP. In addition, the BJP saw a dip of 11 percentage points in support from the younger generation of religious minorities.
Modi must now make it his mission to realize his own mantra, and guarantee the safety and freedom of all minorities in his country.
Jagdish N. Singh is a senior journalist based in New Delhi.