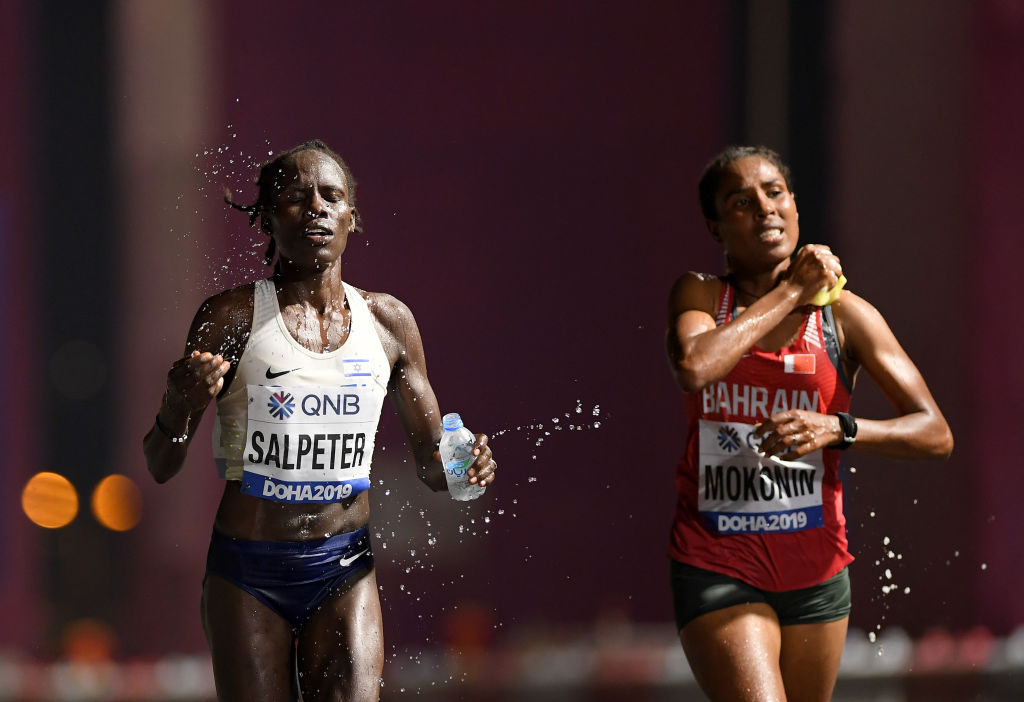 The presence of Israeli athletes at the World Athletics Championships in Qatar (Sept. 27 - Oct. 6) drew sharp criticism from many Arabs, who expressed outrage on social media through a hashtag titled, "Normalization is Treason." Pictured: Lonah Chemtai Salpeter of Israel (left) and Desi Jisa Mokonin of Bahrain during the Women's Marathon at the World Athletics Championships in Doha, Qatar on September 27, 2019. (Photo by Matthias Hangst/Getty Images)
Arabs who dare to greet Jews in public on the Jewish New Year are being denounced by their fellow Arabs as traitors. Arabs who dare to engage in sports activities with Jews are also being condemned by their fellow Arabs as traitors.
In the past week, many Arabs have taken to social media to express outrage over a Jewish New Year greeting by Sheikh Abdullah bin Zayed Al Nahyan, the Minister of Foreign Affairs and International Cooperation of the United Arab Emirates (UAE).
On September 29, the minister posted on his Twitter account "Shana Tova" ("Good Year" in Hebrew). His greeting to Jews celebrating the Jewish New Year has triggered a wave of condemnations from many Arabs, including Palestinians, who accused the minister of promoting normalization with Israel.
The vicious ad hominem attacks on the UAE foreign minister included prayers that God allow him to burn in hell and several posters comparing him to a monkey. Because of the greeting, the minister is also being denounced as a "Zionist," "war criminal," "dog," "traitor" and "pig."
Some Arabs expressed hope that the UAE will vanish "just like Israel will cease to exist."
Others seized the opportunity to remind the "shameless" minister of the Qur'an verse (Al-Ma'idah, 51) that says:
"O you who believe, do not take the Jews and the Christians as allies. They are allies of one to another (when against you), and whoso from amongst you takes them for allies, is indeed one of them."
The attacks on the UAE foreign minister came as many Arab social media users strongly condemned Qatar for allowing Israeli athletes to participate in the 2019 World Athletics Championship, held at the Khalifa International Stadium in Doha from September 27- October 6.
The presence of the Israeli athletes in Qatar drew sharp criticism from many Arabs, who expressed outrage on social media through a hashtag titled, "Normalization is Treason."
Qatar has been accused by its Arab neighbors, including Saudi Arabia and its Gulf allies, of sponsoring and funding the Islamist Muslim Brotherhood and extremist groups such as Hamas, the Palestinian terror group ruling the Gaza Strip.
Qatar's alleged support and financing of extremist groups, however, has not spared it criticism from Hamas and Islamic Jihad, the second-largest terror group in the Gaza Strip. In recent months, Qatar has been playing a role in preventing all-out war in the Gaza Strip between Israel and Hamas. The Qataris have also been delivering millions of dollars in cash to Palestinians in the Gaza Strip as part of an effort to boost the Palestinian economy there and help poor and unemployed Palestinians.
Hamas and Islamic Jihad now seem to be spearheading the campaign of incitement against Qatar for its decision to allow Israeli athletes to participate in the World Championships in Doha.
Hamas expressed "regret" over Qatar's decision and said it considers the hosting of the Israeli athletes as "a form of normalization that will be used [by Israel] to whitewash its image in front of the world." This is the same Hamas that has been begging Qatar for cash in the past few months.
Similarly, Islamic Jihad issued a statement strongly condemning Qatar and repeating its call for Arabs and Muslims to boycott Israel. The terror group also took Qatar to task for allowing the athletes to raise the Israeli flag in Doha.
Many Arab social media users claimed that the Israeli athletes were "soldiers" serving in the Israel Defense Forces.
Mohammed al-Madhoun, a Palestinian media personality and political activist from the Gaza Strip, commented:
"The presence of an Israeli athletic team in Qatar is a stain of disgrace on the forehead of those who hosted them and allowed to participate. Does the host [Qatar] know that the members of the team are soldiers in the occupation army? I wish you would ask them: Did they participate in the Gaza massacres? How many Palestinians did they kill during their military service? How many times did they storm the Al-Aqsa Mosque [in Jerusalem]?"
Some Arabs posted photos of Israeli runner Adva Cohen, who participated in the World Championships in Qatar, and falsely accused her of "slaughtering" Palestinians. The incitement is directed not only against Qatar, but also against the Israeli athletes who are now being forced to see their photos taken from their own social media accounts in the context of the "Normalization is Treason" online campaign.
Some Palestinians went as far as inciting Arabs to revolt against their leaders for reportedly engaging in normalization with Israel.
The "anti-normalization" campaign is even targeting Jordanian divers who teamed up with Israeli colleagues to clean the beach in the Jordanian Gulf of Aqaba and the Israeli city of Eilat. The divers were participating in the first-ever ecological festival during International Beach Clean-Up Day and the United Nations International Day of Peace.
An anti-Israel group called the Association for Supporting Resistance and Confronting Normalization claimed that Jordanians who work in Eilat and other Israeli cities are often recruited as informants by the Israeli security services. The group accused the Jordanian government of "complying with all the demands of the Zionists on the pretext of cooperation for the sake of peace." The claim that Jordanians who go to work in Israel or help clean the beach are recruited as spies is aimed at painting them as traitors, a charge that is likely to put their lives at risk.
Instead of thanking Israel for allowing Jordanians to come and work in Eilat, the "anti-normalization" activists are inciting the workers to boycott Israel. These activists, of course, are not offering the Jordanian workers jobs and salaries.
In March 2019, Israel agreed to increase by 33% the number of Jordanian day laborers employed at hotels in Eilat from 1,500 to 2,000. The permits for the Jordanians are designed to allow them to work in the hotel industry of Eilat, close to the border with Jordan. The move is part of an agreement signed between Israel and Jordan to advance ties between the two countries through economic and social cooperation initiatives.
As far as the "anti-normalization" activists are concerned, inciting their people against Israel and the Jordanian workers is more important than any economic and social initiatives. These activists hate Israel to a point where they prefer to see 2,000 workers lose their jobs than continue working and earning good salaries in Eilat.
If greeting a Jew on his or her holiday, cleaning the beach with an Israeli, or working in Israel are considered by many Arabs a "crime," what will be the fate of any Arab who makes peace with Israel?
Those who are calling for boycotts of Israel -- and are threatening and inciting their people against any Arab who dares to host a Jew or send him or her greetings -- are also emphatically opposed to peace with Israel. For them, making peace with the "Zionist entity" is considered an act of treason. They are worried that an Arab who greets a Jew may one day make peace with Israel. They are worried that an Arab state that hosts Israeli athletes may one day make peace with Israel. They are worried that Arabs who go to work in Israel may fall in love with Israelis and stop thinking of ways to kill them or destroy Israel.
Bassam Tawil is based in the Middle East.