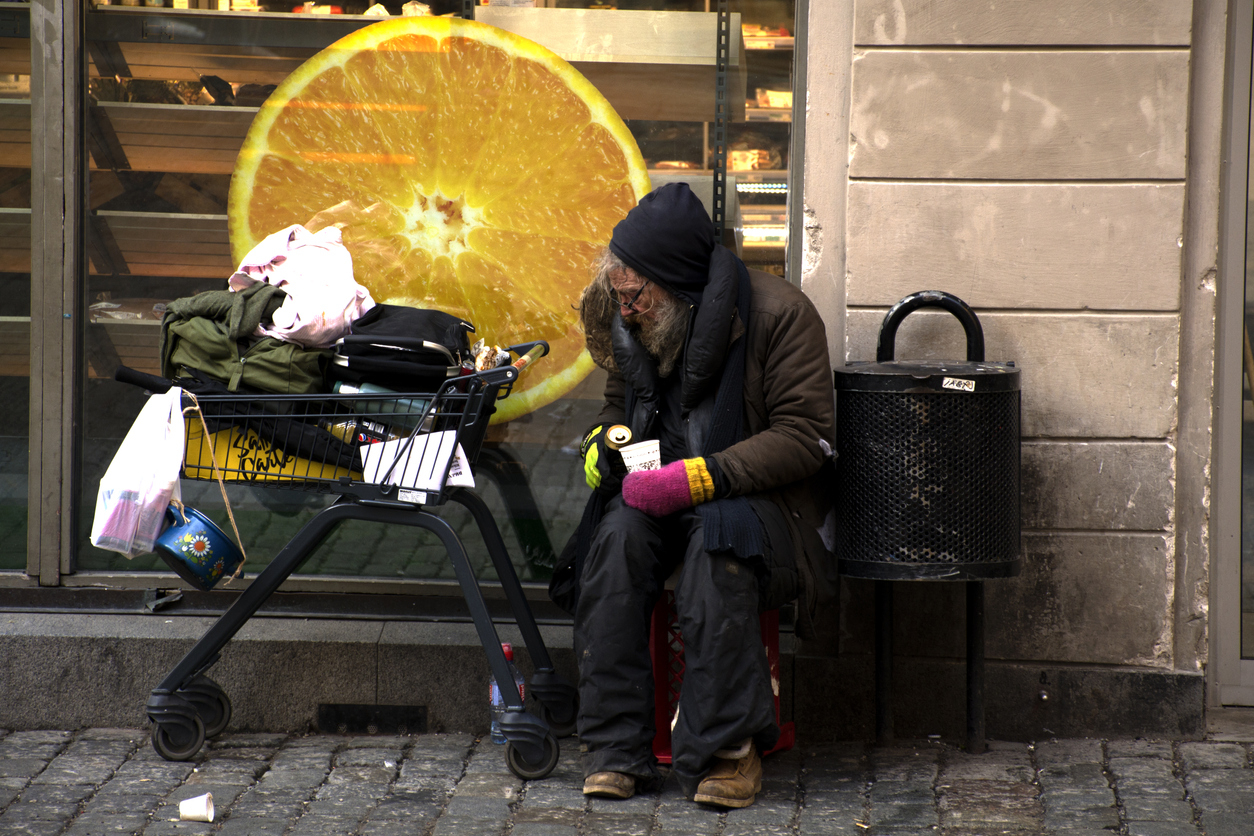 Every fourth municipality and every third region in Sweden ran a budget deficit in 2018. Many municipalities are making budget cuts. The cities of Ystad and Motala will no longer serve hot meals to the elderly. Motala announced that it would lower the heat in buildings managed by the city, including old age homes, to save money. Pictured: An elderly homeless man in Stockholm, Sweden. (Image source: iStock)
New figures from the European Union's statistical bureau, Eurostat, show that unemployment is rising in Sweden. According to Eurostat, unemployment there was 7.4% in August, whereas the EU average for August was 6.2 %. This leaves Sweden, on Eurostat's unemployment ranking of countries, at number 24 out of 28. According to the daily newspaper Expressen, one of the main reasons for Sweden's high unemployment happens to be the large number of immigrants that the country has taken in.
As late as February 2019, Sweden's Minister of Justice and Migration, Morgan Johansson, mocked those who worried that migration would lead to mass unemployment: "Do you remember when the doomsayers were squawking that migration would lead to mass unemployment?," he tweeted. "Now: unemployment continues to fall among foreign-born and young people. For domestic-born it is at a record low".
He cannot mock anyone now. In 2013, Social Democratic leader Stefan Löfven, who has been prime minister since 2014, said he would ensure that by 2020, Sweden would have the lowest unemployment in the EU. That is evidently not about to happen.
The disproportionately large influx of people who do not have the educational or language skills to work in the Swedish economy was never likely to help bring about the lowest unemployment in the EU. As previously reported by Gatestone, the small Swedish city of Filipstad exemplifies a place where the influx of non-Western migrants, some of them illiterate, with little or no education, has meant that the unemployment rate in that group is at 80%: they depend for their livelihoods on the municipality's social welfare program.
In 2015, during the European migration crisis, nearly 163,000 migrants arrived in Sweden seeking asylum -- primarily from Syria, Afghanistan and Iraq, according to a recent report by the daily newspaper Aftonbladet. Out of those 163,000 migrants, 60,000 received a residence permit. In the group of people over the age of 15, made up of 40,019 people, only 4,574 get their livelihood from employment, according to Aftonbladet's report. 18,405 people from the cohort live on welfare handed out by municipalities and 9,970 people receive funds for studying.
According to Aftonbladet, eight of the ten municipalities that received the most asylum seekers in 2015 have higher unemployment than the national average, and in all ten municipalities there is a higher proportion of the population living on welfare. Aftonbladet mentions Ljusnarsberg in Örebro County as the municipality that received the highest number of asylum seekers -- 230 per 1000 inhabitants. There, the unemployment rate is more than 10% and the number of welfare recipients is 22.9%. In Norberg, which received the second highest number in relation to its size, the unemployment rate is 8.6%. "The industries have a very limited need for people without experience and education," said municipal councilor Johanna Odö. "Even if we had money to hire more people, we would not find these people among those who are outside the labor market in our municipality today". Economist and professor Per Lundborg told Aftonbladet:
"Sweden is one of the most high-tech countries in the world, where we have cut simpler jobs. Therefore, the knowledge gap is too large for many of the refugee immigrants who come here".
In Malmö, where unemployment is 13.7 %, almost double the national average, the municipality is looking at a deficit of 390 million kroner ($40.2 million). "This is something we share with many other municipalities. It is due to the demographic development, where fewer [people] have to provide for more," the financial director of Malmö municipality, Anna Westerling, recently told the daily newspaper Sydsvenskan.
Every fourth municipality and every third region, according to a report by the Swedish Association of Local Authorities and Regions (SKL), had a budget deficit in 2018. At least 110 municipalities expect to run a deficit this year. (There are 290 municipalities and 21 regions in Sweden.)
Many municipalities therefore need to make budget cuts. In Ystad, in the south of Sweden, the municipality, as part of the services of the welfare state, helps the elderly with hot meals and cleaning services. Now, to save money, the municipality will no longer serve hot meals to the elderly and cleaning services will be limited to once every three weeks. The elderly will instead have to get ready-made meals from the supermarket.
"It's about trying to streamline our work processes. But also to inspire and rethink," said Dan Kjellsson, Social Manager of Ystad municipality, when interviewed for an article in Aftonbladet. The article also quoted the daughter of an elderly person who receives help:
"Imagine that you cannot do very much on your own, which is why [the municipality helps with] cleaning. Imagine the toilet, what it looks like after three weeks? How does it look in the kitchen, hygienically? I think there needs to be cleaning every two weeks" she said.
Motala municipality, according to a report in Aftonbladet, announced that it would lower the heat in buildings managed by the city, including old age homes, to save money. "We will take care of the elderly; they will not be freezing, they can have blankets," the message went.
The criticism of the proposed savings on care for the elderly in Motala, however, was so massive that the municipality had to back down. "It is good that Motala has changed its mind and listened. We assume that they have learned their lesson and that care for the elderly will be the last thing that is saved on in the future," said Eva Eriksson, the spokesperson for the organization of pensioners in Sweden, SPF Seniorerna. Motala municipality is also planning to save on hot meals for the elderly by replacing them with ready-made microwavable meals. It remains to be seen whether that idea will also be scrapped.
Meanwhile, in June, the Swedish parliament voted in favor of a law that is likely to increase immigration to Sweden based on family reunification. The Moderate Party and the Sweden Democrats were the only ones to vote against the proposal. "The government is completely relaxed about this. They are closing their eyes to what has happened after 2015," said Maria Malmer Stenergard, a Moderate Party MP; "there is still a crisis in the municipalities. We say no to this because we need a strict refugee policy."
John Richardson is a researcher based in the United States.