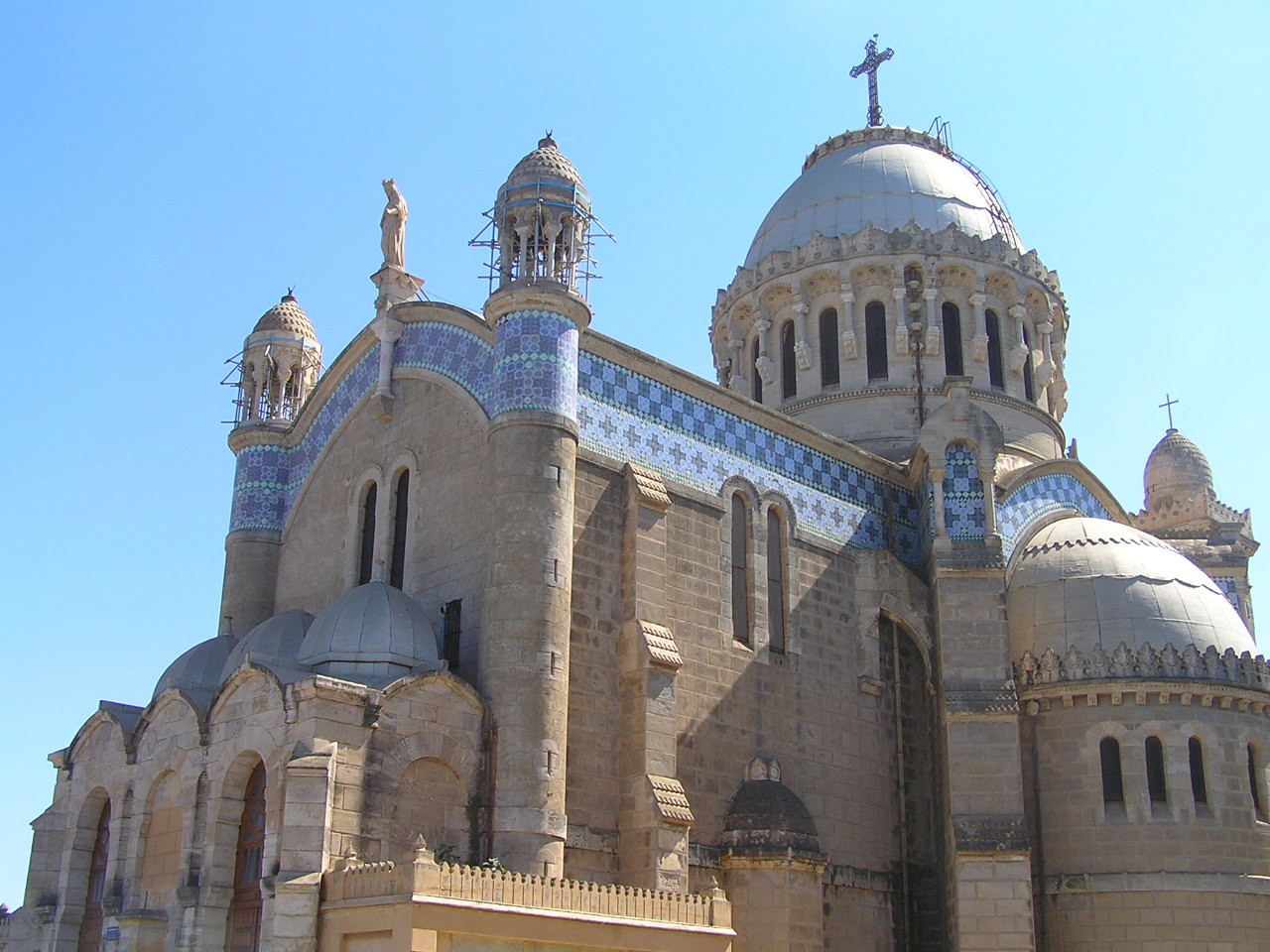 Christians continue to be persecuted by the Algerian government. The most recent example is the closure in mid-October of three churches and the forced eviction of their congregants by police. Pictured: The Basilica of Notre-Dame-d'Afrique in Algiers, one of the most famous churches in Algeria. (Image source: Damien Boilley/Flickr/Wikimedia Commons)
Although Christians make up a mere one percent of Algeria's Muslim-majority population, they continue to be persecuted by the government in Algiers. The most recent example is the closure in mid-October of three churches and the forced eviction of their congregants by police.
William Stark, regional manager of International Christian Concern (ICC), told Gatestone that shuttering the churches is just part of a broader campaign that began two years ago to target places of Christian worship.
Stark said his organization's sources in Algeria report that 12 churches have been closed by Algerian authorities since the beginning of 2019 alone:
"The closing of the latest three churches is most concerning, as it came only days after members of the l'Eglise Protestante d'Algerie (EPA) -- an umbrella organization for Protestant churches -- staged a peaceful sit-in against earlier church closures, and therefore suggests that it was an act of retaliation by Algerian authorities against those Christians willing to protest.

"One impetus for the protests is a 2006 law stating that any non-Muslim worship be conducted in specific, designated buildings. But since this law came into effect, no Christian places of worship have been designated by the government of Algeria."
According to the ICC, one of the churches that was shut down -- the Full Gospel of Tizi-Ouzou , with approximately 1,000 members -- is the largest in Algeria. Its lead pastor, Salah Chalah, also happens to head the EPA.
The pastor reportedly attempted to meet with government representatives multiple times, with no success. While his church was being raided by police, he was beaten with a baton.
Stark explained to Gatestone:
"The mere existence of an open Christian minority seems to challenge Algeria's national identity as a Muslim nation. The fact that this small, nonconforming minority is openly projecting its own image of what it means to be Algerian is at least part of the reason that it is being targeted."
Chapter I, Article 2 of Algeria's constitution determines that "Islam is the religion of the State."
According to the US State Department's 2018 Report on International Religious Freedom, in Algeria:
"Proselytizing of Muslims by non-Muslims is a crime... According to media reports, authorities charged five Christians from Bouira Province, three of whom belong to the same family, with 'inciting a Muslim to change his religion' and 'performing religious worship in an unauthorized place.' On December 25, a judge at the court of Bouira acquitted the five individuals. In March a court in Tiaret convicted and fined two Christian brothers for carrying more than 50 Bibles in their car. Prosecutors said the accused planned to use them for proselytism; the brothers said they were for church use only. The court fined each man 100,000 dinars ($850). In May another court convicted a church leader and another Christian of proselytizing, sentenced them to three months in prison, and fined them 100,000 dinars...

"Some Christian leaders and congregants spoke of family members abusing Muslims who converted to or expressed an interest in Christianity. Media reported unknown individuals vandalized two Christian cemeteries, smashing tombstones and ransacking graves. Individuals engaged in religious practice other than Sunni Islam reported they had experienced threats and intolerance, including in the media."
Open Doors, a watchdog group that monitors the persecution of Christians, recently reported that,
"Over the last year, Algeria has seen increasing numbers of churches closed. At the same time, Christian converts have become more open about their faith, leading to a backlash by Muslim families and the intolerant society, including converts' immediate and extended families. The state also adds to this pressure. Restrictive laws regulating non-Muslim worship, banning conversion and prohibiting blasphemy put Christians at extreme risk...

"Algeria's blasphemy laws make it difficult for Christians to share their faith out of fear their conversation may be considered blasphemous and used against them. In Algeria, it's forbidden by law to 'shake the faith' of a Muslim or to use 'means of seduction' to convert a Muslim to another religion. Christians also suffer from harassment and discrimination in their daily life. Family members and neighbors try to force converts to adhere to Islamic norms and follow Islamic rites..."
None of the persecution above will lessen until Western Christians, particularly church leaders, call Algiers to task. Sadly, however -- as Fox News Radio political analyst Bethany Blankley decried in a December 2018 op-ed in Patheos – even Pope Francis is sugar-coating the plight of his co-religionists in the North African country. Pointing to comments that the Pontiff made at a beatification mass held in Oran, Algeria, Blankley wrote:
"Despite centuries of violence, the pope's message said that Christians and Muslims in Algeria 'have been victims of the same violence for having lived, with faithfulness and respect for each other, their duties as believers and citizens in this blessed land. It is for them, too, that we pray and express our grateful tribute.'

"He added that all Algerians are heirs of the great message of love that began with St. Augustine of Hippo and continued with the martyred religious men and women 'at a time when all people are seeking to advance their aspiration to live together in peace.' The time of peace to which he refers remains unclear."
Uzay Bulut, a Turkish journalist, is a Distinguished Senior Fellow at the Gatestone Institute.