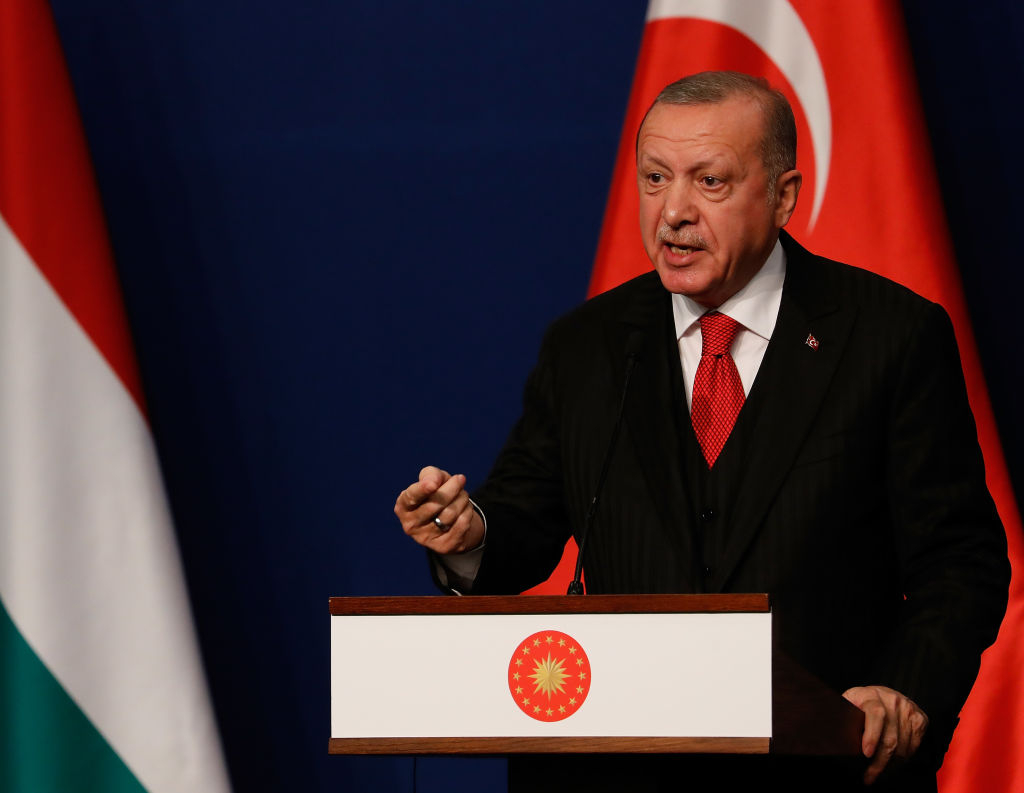 Pictured: Turkey's strongman, President Recep Tayyip Erdoğan. (Photo by Laszlo Balogh/Getty Images)
In theory, Turkey has a secular regime. Its constitution dictates the state and its institutions to be at equal distance to every faith, including no faith. In theory, discrimination based on religious belief is a criminal offense. Turkey's Islamist strongman, President Recep Tayyip Erdoğan, said he is at equal distance to every faith, and that he is against "religious nationalism", and he told the media at the White House on November 13 that Turkey would restore damaged churches in Syria.
In reality, however, Erdoğan and his Islamist governance stand as an excellent example to illustrate how political Islam cannot be secular.
The 2019 annual report by the United States Commission on International Religious Freedom (USCIRF) concluded that the Turkish government continues to discriminate against the minority Alevi community, and interfere in the affairs of what remains of the country's historic Armenian and Greek Orthodox populations.
USCIRF said the US government should:
"Urge the Turkish government to fully comply with the European Court of Human Rights (ECtHR) rulings on freedom of religion or belief..."
"Press the Turkish government to streamline measures that would permit non-Sunni Muslim faith communities to apply for government funding to support the construction, maintenance, and upkeep of their houses of worship;"
"Urge the Turkish government to ensure the education curriculum remains inclusive of all of Turkey's religious groups..."
"Press the Turkish government to publicly rebuke government officials who make anti-Semitic statements or other derogatory statements about religious communities in Turkey."
In January 2007, the Turkish Armenian journalist Hrant Dink was assassinated on a busy Istanbul street by a young nationalist Turk. Three months later, five young Muslim Turks murdered three Christian employees (one German and two Turkish) of the Zirve publishing house for their Christian missionary activities, including distributing copies of the Bible. The Christians were brutally murdered seemingly because their activities were viewed by Turkish Muslims as proselytizing and thus they were "enemies of Turkey".
According to research published in 2018 by Istanbul's Kadir Has University, merely 8.2% of Turks would be happy to have an Armenian neighbour, and only 10.2% would feel fine with a Greek (Orthodox Christian) neighbor.
A secular state, however, does not have the luxury of liking or disliking its citizens' religious beliefs. Article 10 of the Turkish Constitution puts it plainly: "Everyone is equal before the law regardless of his language, race, sex, color, political opinion, philosophy, religious belief, sect..." As always, laws are different from law enforcement.
In October, Esma B.K., as she was identified in administrative proceedings, was probed for being a Christian and maintaining Christian missionary activity. B.K., a who has a degree in theology, is a teacher of religious culture at a public school in the Western province of Aydın. The governor's office in Aydın admitted that an inspector was probing B.K. due to "allegations of Christian missionary activity." B.K. was suspended. Tuma Çelik, an opposition member of parliament, filed a question motion to education minister inquiring why B.K., a civil servant, was suspended.
Why was the teacher suspended? Simple -- even though Turkish officials cannot officially say what got unmasked as an open secret. The Conscious Teachers Association stated: "It is unacceptable that a teacher of religious culture in a country where 90% of the people are Muslim is not Muslim herself".
Equality before law regardless of religious belief? Forget it. Islamists are always majoritarian in lands where they are the majority and pluralist in lands where they are a minority. If a Muslim Turkish teacher were suspended in Christian-majority Germany because he is Muslim, they would turn the world upside down. They would rush to the European Court of Human Rights decrying religious discrimination. But in Turkey, religious discrimination against non-Muslims is fine because Turkey is 90% Muslim.
A century ago, Christians made up 20% of Turkey's population. Today they are at just 0.2%. But the Turkish mindset is still fearful of a handful of fellow citizens belonging to a different religion.
Burak Bekdil, one of Turkey's leading journalists, was recently fired from the country's most noted newspaper after 29 years, for writing in Gatestone what is taking place in Turkey. He is a Fellow at the Middle East Forum.