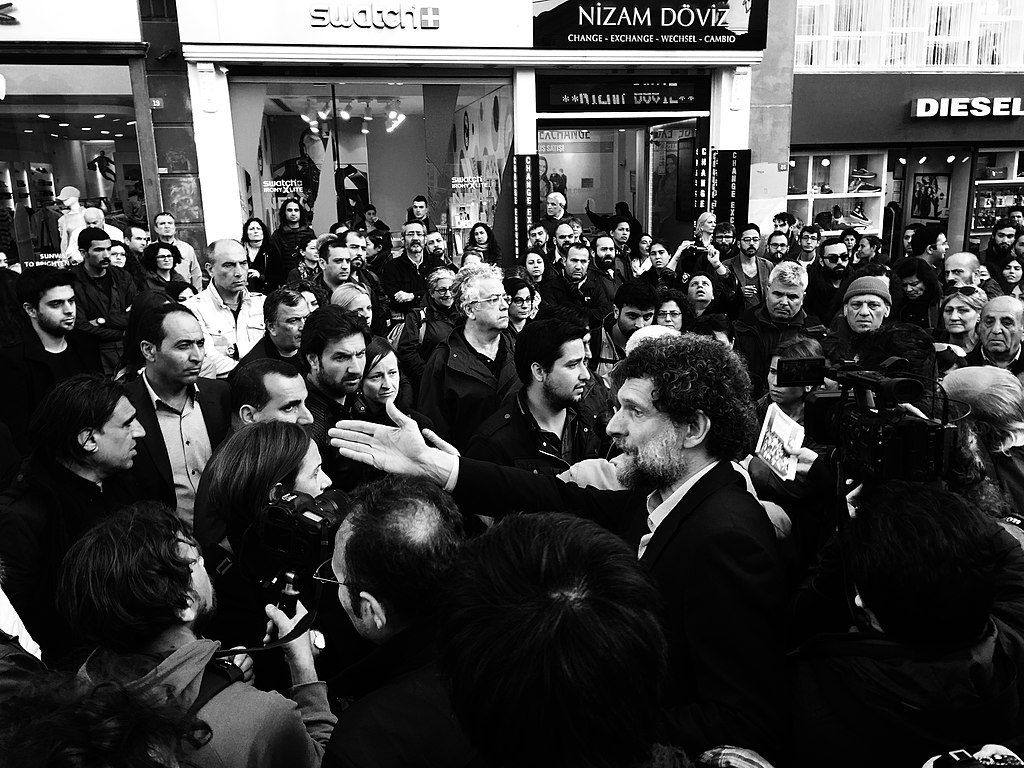 Even if Turkey releases Osman Kavala from jail soon, as the Constitution dictates, he will have spent nearly 800 days in jail for no crime, and, from the moment he is released, will have to carry on with his legal struggles against a state with no tolerance for dissent. Pictured: Kavala (gesturing) at the Armenian Genocide centennial commemoration near Taksim Square, Istanbul (Image source: Rupen Janbazian/Wikimedia Commons)
Businessman-turned-philanthropist Osman Kavala has been promoting arts, culture and history since he started to devote his time to civil society in the early 1990s. His understanding of promoting culture was to promote cultural diversity and pluralism. His resumé says, "he dedicated his life to building a civil and just society." His Anatolian Cultural Foundation seeks to bridge ethnic divides through art, including with neighboring Armenia with which Turkey has no diplomatic relations.
Kavala did not know that such activity would one day put him in jail: He has been in jail without a verdict since Oct. 18, 2017 -- for nearly 800 days.
Kavala was detained at the Istanbul Airport as he was returning from a visit with representatives of the (German) Goethe Institute to Gaziantep, southeastern Turkey, where he supported a project for Syrian refugees. A criminal court ordered him to be held in pretrial detention allegedly on suspicion that he had organized the anti-government Gezi Park protests in Istanbul in 2013 -- which then spread to most Turkish provinces, with millions participating. In March 2019, Kavala and 15 others were indicted on charges of "attempting to overthrow the government or partially or wholly preventing its functions" for their alleged role in the Gezi protests. In other words, charges against Kavala and others came nearly six years after the Gezi protests which were brutally suppressed by security forces.
The timing of the indictment, however, tells us the real story behind the Kavala trial which he calls a "fantastical fiction." In two speeches, in November and December 2018, Turkey's Islamist strongman, President Recep Tayyip Erdoğan, accused Kavala of "financing terrorists," and that Kavala was Turkey's representative of "that famous Jew (George Soros) who tries to divide and tear up nations." Three months later an indictment accused him of the same allegations made by Erdoğan.
Although the indictment does not give any evidence of Kavala's involvement in any violent protest, it claims Kavala's phone conversations with ordinary people -- academics and NGO people -- are evidence of "terrorist activity."
As in most oppression stories in Turkey the Kavala case also has its lighter side. The police found a map of Turkey and the wider region in his smart phone. The prosecutors took it as evidence of his intentions to destroy Turkey's territorial integrity and his efforts to "redraw borders in the Middle East." As it turned out the map showed bee species in the region.
The 657-page indictment also alleges that Kavala was trained to organize Gezi protests by an organization called Otpor. In fact, Otpor is the name of a Serbian activist organization that aimed in 1998 to overthrow ultra-nationalist leader Slobodan Milosevic with a "philosophy of protest – laced with humor and rock'n'roll – worldwide".
"[Dark] forces of global capital serving Otpor and its derivatives ... and coup attempts against countries that do not obey maps imposed onto them..." read the indictment. Kavala was absolutely right to call this whole legal theater a "fantastical fiction."
To no one's surprise, on December 10, the European Court of Human Rights (ECtHR) called for the immediate release of Kavala, saying there was a lack of reasonable suspicion that he had committed an offense. According to its official statement, the court found that Kavala's detention "pursued an ulterior purpose... namely that of reducing [him] to silence," ruling that the charges he faced and the detention "were likely to have a dissuasive effect on the work of human-rights defenders." The court found violations of Article 5/1(c), which sets out lawful grounds of detention, 5/4 which guarantees all detainees a right to a speedy review of the legality of their detention, and 18, which prohibits limitations on the rights of the European Convention (in this case liberty) for ulterior motives. In calling for Kavala's immediate release, the court stressed that "any continuation of the applicant's pre-trial detention in the present case will entail a prolongation of the violation of Article 5/1 and of Article 18".
Turkey is a signatory to the European Convention on Human Rights (ECHR) and its courts must abide by ECtHR's rulings. But in Erdoğan's Turkey, local courts were seen before ignoring the rulings of the country's supreme court in line with the supreme chief's wishes and orders. In any event, whether the Turkish courts obey the ECtHR ruling and release Kavala (which they must according to Article 90 of the Constitution) or they keep him in jail, the detention story will remain only one example of the harsh Islamist crackdown on government critics.
Even if Kavala is released shortly, as the Constitution dictates he should be, he will have spent nearly 800 days in jail for no crime, and, from the moment he is released, will have to carry on with his legal struggles against a state with no tolerance for dissent.
Burak Bekdil, one of Turkey's leading journalists, was recently fired from the country's most noted newspaper after 29 years, for writing in Gatestone what is taking place in Turkey. He is a Fellow at the Middle East Forum.