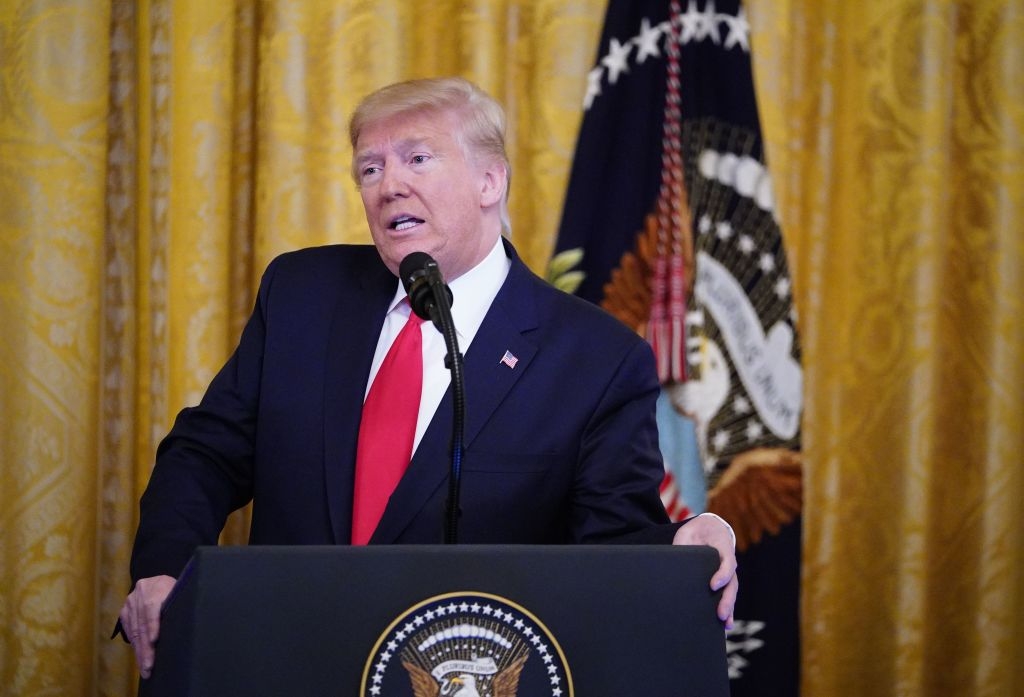 Pictured: US President Donald Trump announces his Middle East peace plan in the White House in Washington, DC on January 28, 2020. (Photo by Mandel Ngan/AFP via Getty Images)
President Donald Trump just unveiled his long-awaited Middle East peace plan, "Peace to Prosperity", a strategy offering the Palestinians a state, $50 billion in international investment, and a US embassy in the newly-created state. This is a major step forward that the Palestinian Authority would be smart to accept as a starting point for discussions with Israel.
President Trump made an appeal to Palestinian President Mahmoud Abbas:
"President Abbas, I want you to know that if you choose the path to peace, America and many other countries will be there. We will be there to help you in so many different ways... Your response to this historic opportunity will show the world to what extent you are ready to lead the Palestinian people to statehood... Today's agreement is a historic opportunity for the Palestinians to finally achieve an independent state of their very own. After 70 years of little progress, this could be the last opportunity they will ever have."
But it is Jared Kushner, Mr. Trump's son-in-law, who oversaw the plan, which probably best describes the Palestinian mood: "It's a big opportunity for the Palestinians... they have a perfect track record of blowing every opportunity they've had in their past." He urged Palestinian leaders to "stop posturing" and accept the plan.
Yet, most probably, the Palestinian leadership will prefer "posturing" and reject concrete steps forward in order to keep pursuing unrealistic demands such as the "right of return," which is at the heart of the failures of past plans. Everyone knows that the right of return for the descendants of Palestinians who left their homes in 1948 would mean the end of a Jewish state, which, of course, no Jewish party could ever accept.
Maintaining the fiction that the descendants of the 1948 exiles are refugees is at the heart of the Palestinian identity and struggle. No Palestinian leader wants to give it up even though they know that this argument is far from the reality on the ground.
Recognizing as "refugees" fourth-generation Palestinians living in crushing poverty in "refugee camps" that have since long become cities, while neither their parents nor often their grandparents have known the beaches of Jaffa or Haifa is pure nonsense. By supporting a specialized agency of the United Nations, UNRWA, which indirectly finances and legitimizes Hamas in Gaza, European countries and others have fostered the illusion of this right of return.
Let us reflect for a moment on the aberration of this situation. After all, no one is destined to remain a refugee indefinitely. Are the Jews who were expelled from a series of Arab countries after 1948 still refugees? What about the Germans from the Sudetenland region of Czechoslovakia, the Boat People of Vietnam, or the Bosnians during the Yugoslav Wars? Will Syrians and Afghans recently arrived in Europe still be regarded as "refugees" in 50 years? It will be argued that the Palestinians have no other state of which they can easily become citizens. Certainly, but are the UN, European, and Arab countries doing them a service by maintaining them in this illusion that has lasted for the last 70 years? And would we still be calling them "Palestinian refugees" without international recognition of this status, often, seemingly, to punish Israel for successfully bringing its land into the 21st century?
The 1993 Oslo Accord led to a boom in the Palestinian economy. Ramallah and Gaza have nothing to do with the cities this author had known when they were under Israeli rule. Still, their potential for economic development is greatly untapped, and the majority of Palestinians are still poor. Perhaps their leaders like it that way, the better to have absolute control over them? Gaza could become a Singapore on the Mediterranean.
After coming to power through elections in 2006, Hamas has systematically chosen war over economic prosperity. When he decided to withdraw from Gaza, the "hawk" Ariel Sharon had promised more security for the Israelis. The opposite happened. More than a million Israelis are regularly forced to hide in bomb shelters to avoid the deluge of fire that Hamas launches from Gaza. Hamas also murdered dozens of Fatah members when it ousted Fatah's Mahmoud Abbas from Gaza and took control. President Abbas has not been able to set foot in Gaza to see his house there for the past 12 years.
The Palestinians already enjoy broad autonomy. The Israeli economy is prosperous and could employ hundreds of thousands of Palestinians. If they renounce terrorism, the number of those authorized to work in Israel could increase significantly. The Palestinian leaders, if they actually cared about the welfare of people, should focus on development and prosperity rather than on fostering a perverse and morbid culture of "martyrs".
Israel and a future Palestinian state could sign bilateral agreements and cooperate for their mutual benefit in many areas where Israeli expertise is recognized: agriculture, water, scientific research, technology, medicine. Why should the Palestinians be the only people not benefiting from it? The Trump deal could provide a dazzling future for those Palestinians who prioritize their economic situation over ideology. President Trump is offering money and investments, and it will be in Israel's interest to open its doors to broader economic cooperation.
Last but not least, it is also highly unlikely that any potential Democrat administration would come up with a more Palestinian-friendly plan that could also be accepted by Israel. And in the current global situation, there is little chance that the Palestinian cause will return to the center of the international agenda and find new allies, except on European and American university campuses.
Instead of openly supporting the Trump Plan, the European Union has already reacted in its usual way: by saying nothing substantial -- which is tantamount to preferring the current impasse and encouraging the Palestinians in their rejection of the Trump Plan and Israel. Cynicism will continue to prevail in European diplomatic circles.
Let us be realistic. There is no other plan on the table, and there will probably be no new -- better -- plan in the coming years. Israel can never give in on the security of its territory or agree on the "right" of Palestinians to "return."
If the Palestinian leaders are sensible, and if they care at all about about a peaceful, prosperous future for their people, as well as for the future leaders of a Palestinian state, they will join the negotiation table to deal with Israel on the basis of President Trump's plan. Mahmoud Abbas and the Palestinian Authority may remain self-righteous and draped in their claims, but it would unmask their real role as corrupt and autocratic leaders, intent on keeping their people as destitute and unempowered as possible.
Alain Destexhe, a columnist and political analyst, is an honorary Senator in Belgium and former Secretary General of Médecins Sans Frontières / Doctors Without Borders.