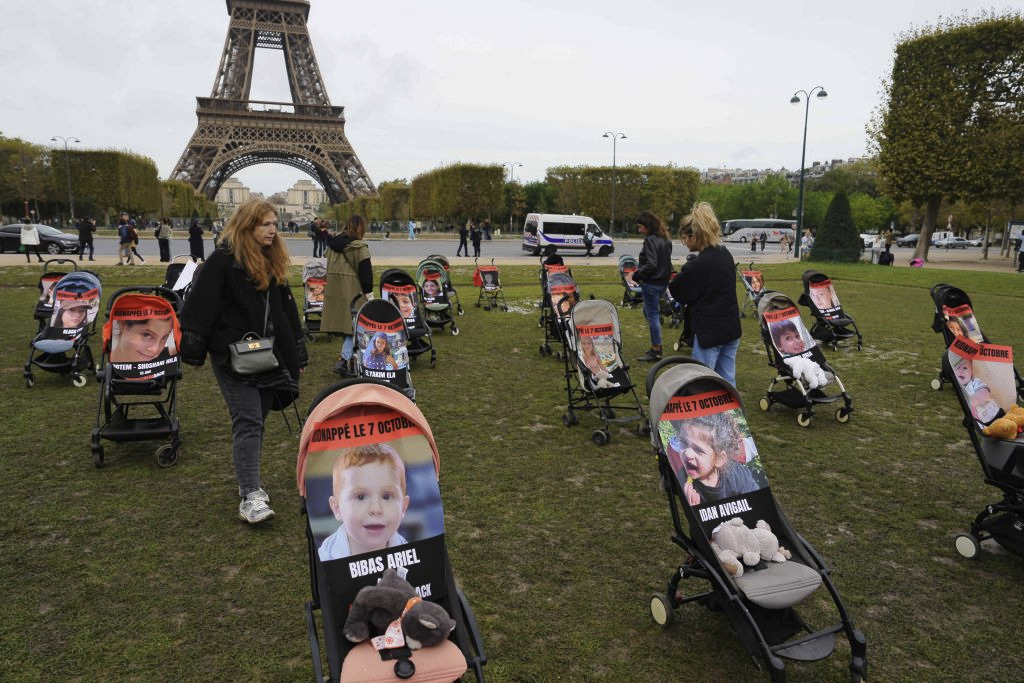 Last week, with 120 votes in favor, 15 against and 45 abstentions, the United Nations General Assembly passed a shameful resolution calling for a ceasefire and humanitarian corridors in Gaza -- without condemning the crimes of Hamas. While four European countries voted against and fifteen abstained (including Germany), France approved a UN General Assembly resolution that makes not even mention of Hamas's crimes. At the recent European Summit in Brussels, the heads of state and government did not make the call for "humanitarian pauses" conditional on the release of the Israeli and foreign hostages held in Gaza by Hamas.
France and the European Union do not count in the Middle East, but tend to forget it. The last time European countries played an important political role in the region was in 1956, during the Suez crisis, when the French and British were humiliated and kicked out of the region. Since then, the European Economic Community (founded in 1957), and then the European Union, along with France, Great Britain and Germany, to maintain a semblance of balance in the region, have stuck to a declamatory policy of affirming principles such as the "two-state solution," even though it has long since become obsolete, as well as to providing "humanitarian aid" to the Palestinians, even though that means resupplying the corrupt Fatah and the terrorist Hamas. When you do not count politically, you should start by keeping quiet. Primum non nocere ("first, do no harm"), as medical students are taught.
Last week's European Summit was a chance to show clear and unambiguous support for Israel. Instead, barely three weeks after the murder, rape and torture of Jews, including babies burned alive and beheaded, the EU has begun to attack Israel, calling for "humanitarian pauses" -- a victory for Hamas, whose genocidal intent, as set out in Hamas's 1988 charter, is perfectly clear.
Israel has taken pains not to deliberately target civilians in Gaza. European countries unreservedly support Ukraine, a country less democratic than Israel, in retaking its territory, but the Jewish state will not be entitled to the same indulgence in its just fight, on behalf of the rest of us in the West, against Islamist terrorism. Arab and Muslim countries are hypocritically supportive of the Palestinians, whom they do not wish to welcome into their homes, but to whom they feel culturally or religiously aligned.
The European Union and France are afraid to choose between our civilizational ally Israel and... Islam, which is now terrifying them because of the massive presence of Muslim populations in European neighborhoods, and who need to be "appeased" by a "balanced foreign policy". Instead of issuing a weak and neutral statement at the end of last week's summit, the EU should have declared: "We unreservedly support Israel, because it is a democracy that has fallen victim to terrorism, just as we have in Paris, Brussels, Berlin, Barcelona, Nice, etc." Instead, the very next day, the Europeans were divided at the United Nations, with France, along with six other countries of the 27, voting in favor of a resolution that Israel rightly described as shameful. The UN refused to condemn Hamas because 55 countries blocked the resolution; Hamas applauded.
French President Emmanuel Macron is calling for "a truce to organize the protection of civilian populations". What does he mean by this, and how does he intend to go about it? Thirty-five French citizens were murdered by Hamas on October 7, and nine others are being held hostage (among approximately 230 hostages), but France wants to provide aid to those who are holding them? Isn't this insulting to the French people, to the families of the French dead and the hostages?
Excuse me, Macron might reply, we are talking about helping the civilian population, not Hamas. Shouldn't he explain how the food is going to be distributed to the population without benefiting Hamas? Unsurprisingly, according to reports, Hamas has been hoarding the food and medicine intended for the suffering people of Gaza. Hamas's military infrastructure and headquarters are located under schools and hospitals. How much of the fuel brought in by international aid will be used for Hamas's war to kill Israelis? Are terrorist fighters being smuggled in the trucks? The trucks themselves can be used as weapons. Cement for "rebuilding Gaza" has instead been diverted to building attack tunnels, and water pipes from the European Union are made into rockets. Hamas has also reportedly hoarded food, water, medicine and fuel, with the fuel being used in their rockets.
Central, however are the hostages. Their release will not be facilitated by a ceasefire or humanitarian corridors; quite the contrary. France and the European Union should have made their aid to Gaza conditional on the hostages' release, and stated that no "humanitarian" aid will be provided until Hamas releases them. Hamas has created this situation, not Israel.
Alain Destexhe, Medical Doctor (MD), a Gatestone Institute distinguished senior fellow, is an Honorary Senator in Belgium, former secretary general of Médecins sans Frontières (Doctors without Borders) and former president of the International Crisis Group. Author of Rwanda and Genocide in the Twentieth Century.