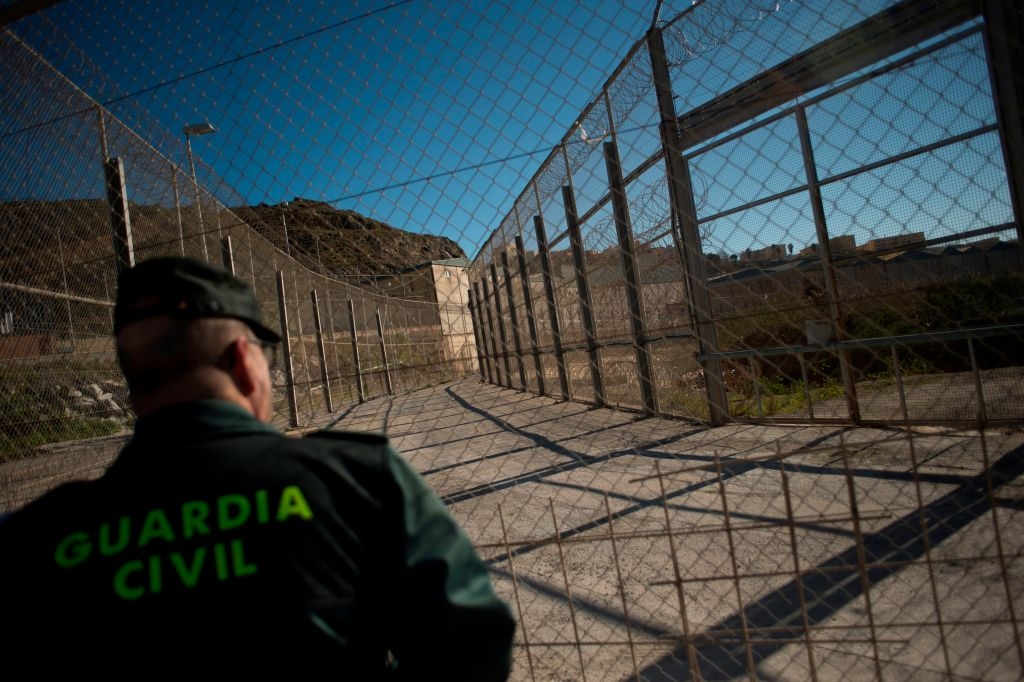 Migrants, often using extreme violence, are increasingly using the tactic of mass attacks against Spain's border fences in Ceuta and Melilla in an effort to overwhelm border police. During the past 18 months, thousands of migrants equipped with gloves, spike shoes and makeshift hooks have attempted to scale the fences. Pictured: The border fence between Morocco and Ceuta, a Spanish exclave in North Africa. (Photo by Jorge Guerrero/AFP via Getty Images)
In a landmark decision that will have potentially seismic implications for immigration policy in Europe, the European Court of Human Rights (ECHR) has ruled that Spain acted lawfully when it summarily deported two migrants who illegally tried to enter Spanish territory.
The Strasbourg-based court — which has jurisdiction over 47 European countries, and whose rulings are binding on all 27 member states of the European Union — ruled that in order for migrants to benefit from certain human rights protections, such as access to lawyers, interpreters and the right to remain in Europe, they must first enter European territory in a legal, as opposed to an illegal, manner.
The ruling, which effectively authorizes European governments summarily to deport illegal migrants immediately at the border, transfers some decision-making powers on immigration back to European nation states. The ruling is being viewed as a major victory for those who believe that sovereign nation states have the right to decide who is and is not allowed to enter their territory.
The Spanish case dates back to August 2014, when hundreds of migrants from sub-Saharan Africa stormed the border fence at Melilla, a Spanish exclave in North Africa. After spending several hours perched on top of the fence, two men, one from Ivory Coast and the other from Mali, climbed down and were handcuffed by Spanish border police, who handed them over to Moroccan authorities.
The two Africans said they were never given a chance to explain their personal circumstances or receive help from lawyers or interpreters. In February 2015, with the help of human rights lawyers, the pair took their case to the ECHR.
In October 2017, the ECHR ruled that summary deportations were a violation of European law. The Court determined that Spanish border police had failed to verify the identity of the migrants, or to provide them with access to lawyers, translators or medical personnel. It ordered Spain to pay each of the men €5,000. In December 2017, Spain's previous center-right government appealed the ruling.
On February 13, 2020, the ECHR unanimously reversed its previous judgment. In a statement, it explained:
"The Court considered that the applicants had in fact placed themselves in an unlawful situation when they had deliberately attempted to enter Spain on 13 August 2014 by crossing the Melilla border protection structures as part of a large group and at an unauthorized location, taking advantage of the group's large numbers and using force. They had thus chosen not to use the legal procedures which existed in order to enter Spanish territory lawfully. Consequently, the Court considered that the lack of individual removal decisions could be attributed to the fact that the applicants — assuming that they had wished to assert rights under the Convention — had not made use of the official entry procedures existing for that purpose, and that it had thus been a consequence of their own conduct.

"In so far as it had found that the lack of an individualized procedure for their removal had been the consequence of the applicants' own conduct, the Court could not hold the respondent State responsible for the lack of a legal remedy in Melilla enabling them to challenge that removal."
The ECHR added that the two men could have applied for visas, or for international protection, at an official border crossing or at Spanish embassies or consulates in Morocco or in their home countries.
The ECHR's decision has been greeted with outrage by human rights groups and other proponents of uncontrolled mass migration to Europe. Amnesty International, in a statement said:
"Today's judgment is very disappointing. These two men were marched back to Morocco as soon as they entered Spain, with no chance to explain their circumstances, no chance to request asylum, and no chance to appeal their expulsion.

"That the court has today decided that Spain was within its rights to do this, because the men entered the country irregularly, is truly a blow for refugees and migrant rights. People must have access to asylum procedures and to appeal any decision, regardless of how they entered the country they wish to seek sanctuary in."
Wolfgang Kaleck, General Secretary of the European Center for Constitutional and Human Rights, said that the ECHR's ruling will be perceived as a "carte blanche" for summary deportations elsewhere in Europe:
"Push-backs at the border to Morocco are a longstanding Spanish practice, which has become a model for other states along the European Union's external land borders."
Writing for the constitutional law blog, Verfassungsblog, Spanish lawyer Carlos Oviedo Moreno, accused the ECHR of racism:
"The ECHR...distinguishes between legal and irregular entry into the territory of a State and attaches to it the consequence of placing some people outside the protection of the European Convention on Human Rights....

"The consequence of such reasoning is perpetuating borders as no-rights places for very particular groups: (black) migrants, people from the Global South, the undesirable minority excluded from the benefits of global free movement encouraged for everybody else."
Others welcomed the ECHR's decision. "Borders must be defended," said the Mayor-President of Melilla, Eduardo de Castro, of the libertarian party, Ciudadanos (Citizens). "Countries must defend their sovereignty and territory."
Officials in Ceuta, another Spanish exclave in North Africa, also welcomed the ECHR's decision. Alberto Gaitán, spokesman for the Ceuta government, which is led by the center-right Popular Party, said:
"The ruling protects our right and obligation to preserve and defend the integrity and inviolability of our border as well as the actions carried out by our border police and national police, who have our respect, backing and support."
Congresswoman Teresa López, who represents Ceuta for the conservative party Vox, the third-largest party in Spain, added:
"The ECHR has sided with common sense in the defense of a well-defined border, which is one of the essential conditions for the stability of any state. The court has responded with common sense to the fact that the massive and violent assaults on the borders of Ceuta and Melilla are collective actions in which the assailants consciously and voluntarily place themselves in a situation of flagrant illegality.

"In reality, the so-called express deportations consist of each country being able to defend its borders and its inhabitants with all the legal and proportional means at their disposal. Since its creation, Vox has called for Spanish police and border guards to be provided with all material and legal means to protect the Spanish border."
Vox parliamentary spokesman Iván Espinosa de los Monteros described the ruling as "a victory for Spain and for the rule of law." He added:
"The ECHR's ruling determines that a nation state has the right to defend its borders. When someone is dedicated to violating those borders, the nation state has the right to return that person to their place of origin as quickly as possible."
It remains unclear if the ECHR's ruling will have a deterrent effect. Migrants, often using extreme violence, are increasingly using the tactic of mass attacks against the border fences in Ceuta and Melilla in an effort to overwhelm border police. During the past 18 months, thousands of migrants equipped with gloves, spike shoes and makeshift hooks have attempted to scale the fences. Notable recent incidents include:
Spain's new government, comprised of a coalition of Socialists and Communists, recently removed razor wire, known as concertina wire, from the border fences along Spain's frontier with Morocco. The government ordered its removal after migrants who tried to jump the fences suffered injuries from it.
Police and border patrols agents have warned that without concertina wire, the border will become even more vulnerable to mass incursions than it already is.
Vox leader Santiago Abascal said that the government's plan was part of a broader effort to undermine national sovereignty in favor of globalist mass migration. He called for replacing the fences with concrete walls to secure the border better:
"The borders in Ceuta and Melilla are permanently violated by avalanches of immigrants. We are going to propose a reform of the immigration law to be able to expel an immigrant immediately if his documentation is not in order. We believe that the best protection is a concrete wall that is high enough for security forces to control the border."
Espinosa de los Monteros blamed the government for encouraging mass migration. "We are not against immigration," he said during an interview with Spanish public television. "We are not even against the illegal immigrants. It is not their fault that an irresponsible government has called them to come here illegally."
Soeren Kern is a Senior Fellow at the New York-based Gatestone Institute.