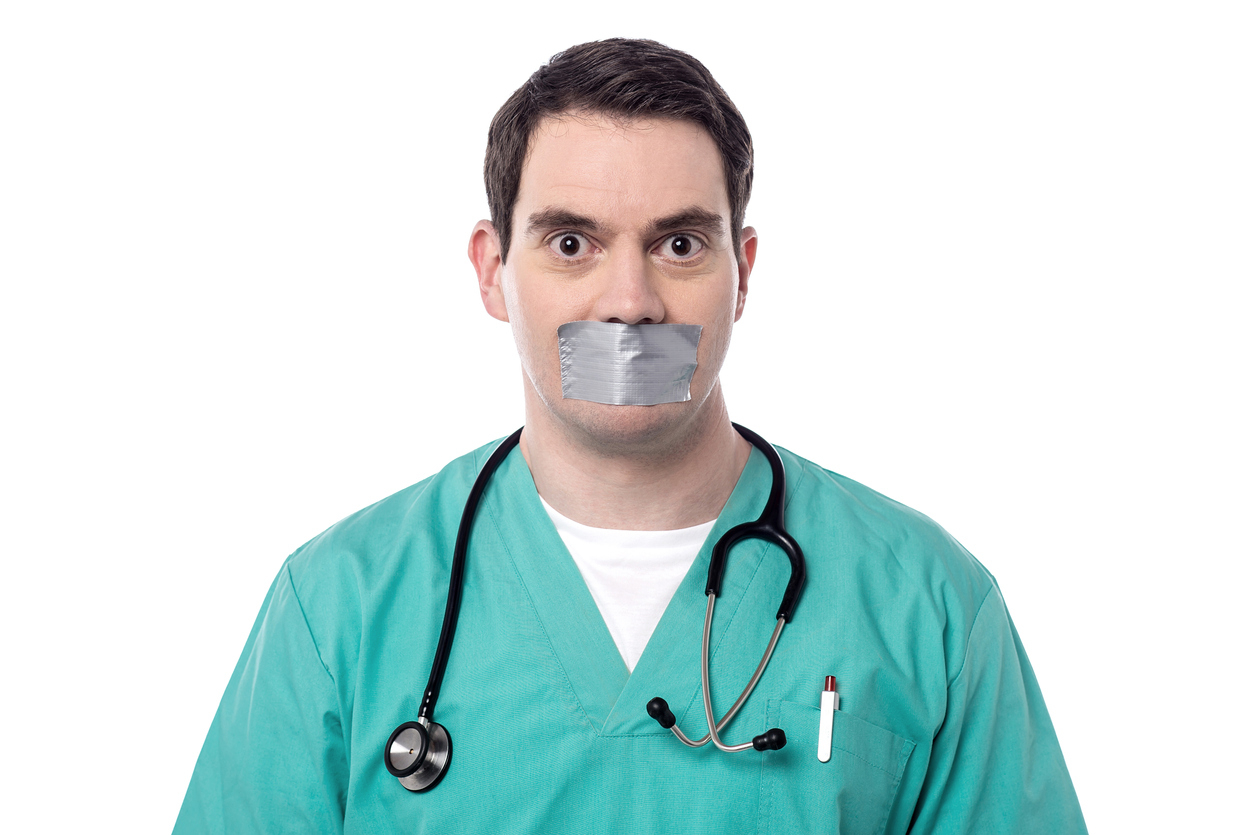 As the number of coronavirus infections in Turkey continues to climb, many medical experts there who have called on people to take more precautions or who have criticized the government for mishandling the virus crisis have been silenced by authorities. (Image source: iStock)
Since the first coronavirus case in Turkey was officially confirmed on March 11, the number of cases has climbed to 30,217 and Turkey's death toll to 649, Turkey's health minister announced on April 6.
Many medical experts, however, who have called on people in Turkey to take more precautions or who have criticized the government for mishandling the virus crisis have been silenced by authorities.
Two physicians have been made to apologize after giving information to their colleagues or the public about the threat of coronavirus in the country, and two others have been summoned to appear at police headquarters for statements they made to the media. The doctors, now officially under investigation, are accused of allegedly "creating fear and panic among the people".
On March 28, Dr. Yusuf Savran, a Pandemic Service Specialist at Izmir's Dokuz Eylül University, shared a video on his YouTube account, in which he said:
"Unfortunately, the majority of our people are still not aware of the danger we are facing... The whole world – including the most developed countries and richest people – are helpless in the face of this disease. This is a virus disease that medical people or scientists have never seen before and for which an effective, proven treatment does not exist yet. It has caused a serious number of deaths across the world and even in most advanced European countries.

"Turkey has still not understood the severity of the situation. So I want to share with you my observations as an official of the pandemic center.

"It has been 10 days since the first case emerged in Turkey on March 11. When we look at the statistics, unfortunately, we see that Turkey, which says 'we are prepared for that', is going through a more serious test than Italy, which has been caught unprepared. The number of our coronavirus cases and deaths are now more than those of Italy...

"Another observation is that because of some people who have not taken seriously our repeated calls to stay home, the virus has spread in a major way. Most of the initial cases were of young people that could recover easily – but the cases in the last 48 hours demonstrate that our elderly people have mostly been affected..."
Dr. Savran went on to give health advice on issues such as how people should wash their hands and what type of medical masks they should wear.
"I am saying this with concern and sadness. If we don't take it seriously, it will get out of control and thousands of people will die. So I am kindly asking you please to stay home. It is still not too late. This is the only way we can stop the virus.... This illness does not discriminate between the old and the young, or the rich and the poor. Even the richest people in the super-power countries suffer from this disease. Trust medical personnel and stay home."
The rector's office of the university immediately issued an "explanation for the public" saying:
"... it was unscientific to compare the deaths in Italy and other countries to the deaths in Turkey and based on that, to criticize the decisions that have been made... The professor shared his concerns and fear in a different style to warn our citizens. He has been misunderstood and he is sorry."
On March 30, Dr. Savran posted another video on his YouTube account, saying:
"Our state [government] and ministry of health have been handling the situation studiously from the very beginning. They have been providing us with all medical supplies and moral support that we need. I have full trust in the treatment algorithms and scientific data of our health ministry. As a doctor who loves our country, state and nation so much, if my messages that aimed to protect the health of our people and help them stay home had been misunderstood and caused panic, I apologize to all my state authorities and my people."
The Turkish Medical Association (TTB) Central Council President Sinan Adıyaman criticized those who made Dr. Savran apologize for his statements:
"The doctors are under pressure. The presidents of Van-Hakkari and Mardin Medical Chambers have been called by the police to testify at local police stations. Dr. Savran's statements aimed at bringing public attention to the seriousness of the virus. The current situation is not a bed of roses. Are we not supposed to say that?...

"A doctor who works 24 hours a day needs at least 6 masks daily. But only one mask is given to doctors. The ministry of health and authorities should solve this problem of doctors and health professionals who have to work with insufficient protective materials. If the struggle against the virus is a war, health professionals should not be left unarmed and unprotected on the battlefield. Doctors tell us about these problems but they also tell us not to reveal their names."
Meanwhile, the same university has launched an investigation into yet another doctor, Barbaros Çetin, a professor at the Department of Biology at Dokuz Eylül University, Izmir, for his statements on the coronavirus to the media.
In an interview on March 30, Dr. Çetin said:
"Those who recover from coronavirus treatment continue spreading the virus from 1 to 8 days. Quarantine should continue for at least 8 days after the treatment is completed. The coronavirus is a strong, pathogenic, lethal virus. People are in big trouble; we cannot see ahead. We do not know where we will stop it.

"The only thing that needs to be done against this virus worldwide is to be isolated and to be at home. We should definitely avoid going to public areas. When we have to leave the house, we must protect our social distance and use gloves and masks. We should not move out of our house for a long time, except for the obligatory food purchases. We see images coming from all over country. Mass graves are being excavated. They deny these images, but until when will they deny them? Why have all hospitals in Izmir been declared the coronavirus hospitals? Intercity travels and flights have been stopped. There is an inescapable situation; that is why, these things are being done. I'm so sorry; I wouldn't want to say these things as a biologist, but I've been in this business for over 40 years. Listen to biologists now and follow the rules. Biologists have been studying viruses and bacteria for years. But biologists in this country are not taken seriously.
"It is not revealed where the intense cases are in our country," Dr. Çetin said in another interview.
"The provinces and districts where there are intense cases should be revealed, as soon as possible.... When this epidemic started 15-20 days ago in our country, if announcements had been made [as to where the cases were] spot by spot -- like the US and Europe has done -- citizens would have taken precautions accordingly. This has nothing to do with creating panic. The truth must be told. Let people be afraid; it is okay to be afraid. Look at what's happening; people get too relaxed. The same thing happened in Iran. Cases were kept secret because [the government there was concerned about] the crisis and the economy. Then [cases] exploded in an instant."
The dean's office of the Physical Sciences Department of Dokuz Eylül University in Izmir then announced that they initiated "a legal process because of the doctor's irresponsible statements that could create fear and panic within society."
Another physician, Dr. Güle Çınar, of the Ankara University Medical School and an official of the Turkish Association of Clinical Microbiology and Infectious Diseases (Klimik), was also made to apologize for her statements on the pandemic in Turkey.
On a video posted on social media on March 18, Dr. Çınar was seen giving in-house training to health personnel of the university. She said that the situation was initially under control but that those who came from their pilgrimage in Saudi Arabia to Turkey had "ruined" the coronavirus situation in the country.
"Apparently, we have started off badly. And we do not know how it will continue. We hope we will not be like Italy," Dr. Çınar told her colleagues.
Dr. Çınar noted that the coronavirus cases in Turkey were not in the hundreds but in the thousands, contrary to what the government claimed. She also mentioned that those who had come back from their pilgrimage in Mecca, Saudi Arabia, had changed the course of the pandemic for the worse. She added that the situation in Istanbul and Ankara was particularly serious and that there were concerning cases in eastern Turkey, as well.
On the same day, Ankara University issued a statement, saying that "an investigation had been launched on the issue and required warnings had been made". The school added that they had also started an investigation into those who had filmed the training and posted it on social media.
Ankara University also issued an apology, which it claimed was written by Dr. Çınar, addressing the head physician's office of the university. The apology said that she had been participating in her medical duties and trainings "with very little sleep".
"My statements were not political and did not intend to cause public unrest. Unfortunately, only a small part of my speech, which was recorded secretly, was posted on social media. If my entire speech had been recorded and posted, it would have been clear that I did not mean to create a negative atmosphere.

"I realize that some of my erroneous words have created a very different perception in the society. I am so sorry. I will be much more careful from now on, as I continue my keen work to serve my patients, university and country, I will choose my words much more attentively. I apologize to everyone for causing a negative perception in the society."
Meanwhile, students at the Medical School of Ankara University issued a written statement, saying they support Dr. Çınar and wanted to express their gratitude to her for her efforts.
The Istanbul Medical Chamber also supported Dr. Çınar and criticized the Medical School of Ankara University for making her apologize:
"We support our colleague who works day and night, sticking to the Hippocratic oath. If there is anyone that needs to apologize, it is those who wrote the apology statement and posted it."
While many on social media, particularly doctors, expressed their support for Dr. Çınar, the Turkish Medical Association (TTB) also issued a statement supporting her and condemning the university's reaction:
"The statements by our colleague did not contain any defamation... As of today, about 21,000 people who came back from pilgrimage [in Mecca] have not been tested or put under quarantine and they have been scattered across Turkey.

"It is a shameful act to make a doctor apologize for the words she used at an in-house local gathering. In addition, putting pressure on an employee in this way is an attack on her personal rights and employee rights.

"The Turkish Medical Association... demands that the officials of the university apologize for publicly offending the dignity of the physician and our profession.

"Despite everything and everyone, we physicians will continue to fight the disease, be guided by scientific knowledge and prioritize the benefit of society.

"However, it should be known that while healthcare professionals in other countries are applauded and supported, such attitudes against physicians like Dr Güle Çınar, who work devotedly to stop the epidemic, disrupt the motivation of physicians and healthcare professionals, reinforce the feeling of being left alone, and carry the danger of negatively affecting the mass resistance and struggle against the epidemic."
Also targeted for their statements were the heads of the Van-Hakkari Medical Chamber and the Mardin Medical Chamber, Özgür Deniz Değer and Osman Sağlam.
The chairman of the Van-Hakkari Medical Chamber, Psychiatric Doctor Özgür Deniz Değer, in an interview with media on March 19, addressed his concerns for the enormous risk of the virus being spread in prisons across Turkey. He also criticized the ministry of health for not working with dissident health organizations. "We're ready for cooperation," he said, "but the government continues to distance itself from dissidents."
Değer further stated that the government engaged in inadequate testing, inadequate quarantine rules and inaccurate information sharing.
"Our guess is that the real number of cases in Turkey is much higher than what the ministry of health is saying," Değer said. "Also, not enough precautions are being taken at border entries and for those who return from their trips abroad."
On March 24, Değer was called to the local police department to testify about his statements. An investigation has been started into him for allegedly "creating fear and panic among the people".
Four days later, another doctor, the co-chair of the Mardin Medical Chamber, Osman Sağlam, was called to the police station. Sağlam, in an interview on March 18, had said:
"A doctor in the city of Mardin who diagnosed a patient with the coronavirus was told to go on leave after making a statement about the case to the public. Physicians are afraid to make a diagnosis."
Sağlam claimed that when it comes to the coronavirus, the Turkish government has been carrying out "a policy of denial and rejection."
"There are many patients for whom physicians are afraid of making a diagnosis. Obviously, private and other hospitals are also putting pressure on physicians."
Immigration between countries, Sağlam said, is also a factor in the transmission of the virus:
"Our region is at serious risk especially due to travel from Iraq, Iran, the Turkic Republics, Russia and other Caucasian countries. Currently, especially those who return from the pilgrimage [in Mecca] puts our country at risk. The shortcomings of the Ministry of Health and other ministries have had an enormous [role] in this disease's turning into an epidemic in Turkey."
Sağlam also told the newspaper Duvar on March 25 that doctors "need safe protective equipment, not applause from officials."
"We have requested an appointment from the provincial health directorate [in Mardin]. We called the provincial health director's personal phone for two days, sent him text messages, but we have not got any response for our request, so we cannot share information and cooperate with them."
Sure enough, on March 28, Sağlam was called to the Mardin police station to testify about his statements and an investigation has been launched into him for "creating fear and panic among the people."
Meanwhile, the Turkish government appears to be slowly waking up to the seriousness of the situation. On March 21, the government stated that citizens aged 65 and older and those with chronic medical conditions would be restricted from leaving their residences. On April 3, President Recep Tayyip Erdogan announced a partial curfew on citizens under the age of 20, effective from midnight, as a measure against the coronavirus outbreak.
Turkey's government also decided to shut down the borders of 31 cities, including Istanbul, to all vehicles, excluding transit passage and essential supplies such as food, medical and sanitary products, to contain the disease.
According to a report by Oxford University's "Our World in Data," the number of coronavirus cases in Turkey is growing at a faster pace than infections did during the same phase in other countries.
So, it appears that the doctors who have been calling on the people to stay home and take the virus seriously, or who have been criticizing the government for not taking enough measures such as implementing proper border controls, quarantine and testing on citizens, were right. The Turkish government, like China's, would be better off putting human lives first and listeneng to the country's medical experts, instead of silencing and persecuting them.
Sezen Şahin is based in Europe.