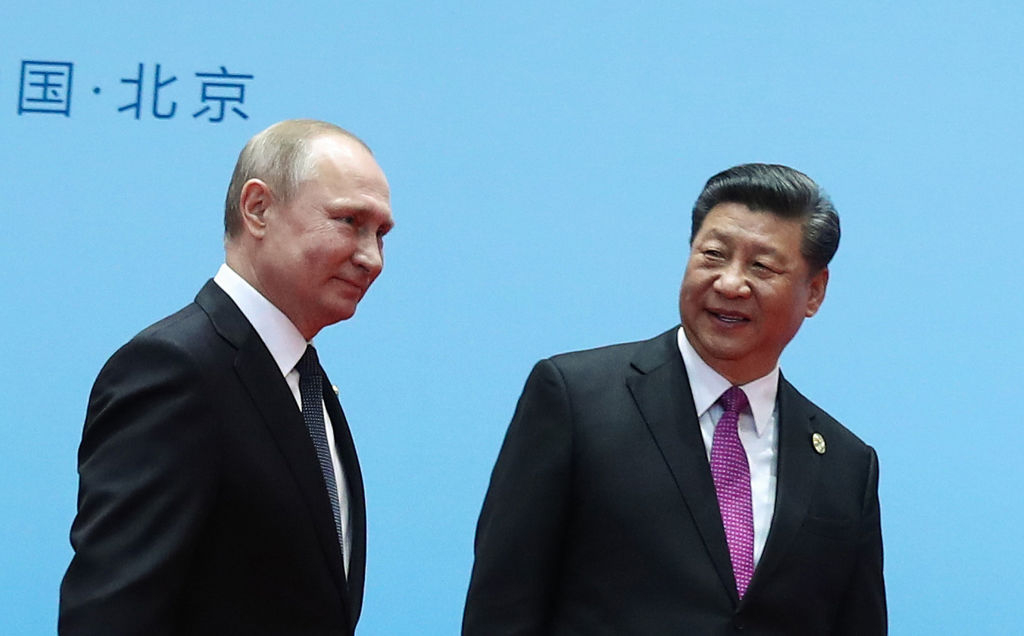 What does Russia think it will be gaining from its relationship with China, and what are the implications for US security? Pictured: China's President Xi Jinping (right) and Russia's President Vladimir Putin meet in Beijing on April 27, 2019. (Photo by Valeriy Sharifulin/Sputnik/AFP via Getty Images)
The Trump Administration's 2017 National Security Strategy predicted an approaching power rivalry. A key finding of the report was that China was America's greatest adversary with Russia right behind it.
Even before the 2017 strategy was released, Russo-Chinese relations were rapidly becoming closer in economics, and diplomacy and defense. Since then, this trend has accelerated to the point where many observers, as we have long argued, believe that those two powers -- Russia and China -- have fashioned a unique alliance.
Although other observers deny that an actual formal alliance exists, these critics admit that one can clearly see a growing bilateral intimacy between China and Russia on a host of issues. Such growing intimacy, whether it culminates in an informal or official alliance, means that both powers believe they have gains to derive from this trend.
What does Russia think it will be gaining from its relationship with China, and what are the implications for US security?
​Russia's gains are both tangible, such as energy trade, and intangible, such as political and diplomatic support.
The tangible gains have always been important to Russia, as to any country; however, ever since US economic sanctions against Russia began in 2014, Russia has placed a priority on getting around them and obtaining Chinese investment, particularly in key geographic sectors such as in the Arctic and the energy industry.
Chinese investment and technology transfers, for instance, are responsible for the completion of Russia's huge Arctic Yamal LNG installation and pipeline. One report notes "the Yamal LNG is China's first large-scale energy cooperation project with Russia under the Belt and Road Initiative (BRI). China also built tankers to ship LNG through sea routes thanks to China-Russia cooperation on Arctic exploration."
Russia also has become a major supplier of oil and gas to China. In 2019 the Power Siberia pipeline —shipping Siberian gas to China—opened to great fanfare, demonstrating the probable reorientation of Russian energy priorities to Asia, as opposed to a previous concentration on Europe.
Another major area of Russian sales to China is armaments. For a variety of reasons, such as increased U.S. and Chinese arms selling competition, the diffusion of advanced weapons capabilities around the world, and pressure on potential buyers of Russian weapons due to the threat of retaliatory US sanctions, Russia finds it harder and harder to compete in the global arms markets. China filled a big need for Russia's arms industry. Absent Chinese arms purchases, in fact, Russia's defense industry would face an extremely hard and stony path in today's market, especially given US pressure against Russia in the global arms market.
Russia and China are also formally cooperating to unite Russia's Eurasian Economic Union and projects involving it, with China's Belt and Road Initiative (BRI) in what is allegedly supposed to eventuate as a "Greater Eurasia" project.
However, any other Chinese investments in Russia have visibly failed to meet Russian expectations, and have generated considerable disappointment. Clearly, Chinese investors view the prospect of investing in Russia, outside the energy export area, warily, so while bilateral trade has taken off as noted above, Russian hope for investment in Russia by China beyond energy has not materialized. China has also not included Russia in its BRI projects, that are intended to launch a vast Chinese economic investment campaign in building infrastructure all the way to Europe.
On balance, therefore, Russia's material gains from its ties to China, apart from the huge bribes that we may presume are being paid to key players, are mixed. The energy sector investments provide China much needed energy, but beyond that, reviews are mixed.
Russia's intangible political-diplomatic gains, however, are considerable. Unlike the U.S., China, at least in bilateral encounters with Russia, fully accords Russia the great power status it desperately craves. Importantly, China does not ever talk of pushing for domestic reforms in Russia.
China thereby eliminates two of the most challenging aspects of U.S. foreign policy, as seen by Moscow: Russia is treated by China as a great power, and Russia's internal political processes are not on the table for discussion.
Additionally, since the inception of this relationship between Russia and China, both sides have agreed to seek to resolve any differences that may emerge -- and they do constantly resolve potential differences, for example China's establishment of a military base in Tajikistan just on the border with Russia. There are, consequently, no "surprises." China never overtly challenges Russian on important issues, even when China has reservations, such as on Russia invading Ukraine. Instead, China avoids taking an overt position and quietly sizes the situation up.
China, for example, is currently supporting Moscow's gamble on continuing to use force in Ukraine. Evidently, China sees the West's reaction as being too weak, i.e. insufficiently serious to challenge Russia's objectives. Therefore, China loses nothing by offering Russia its quiet but real diplomatic support over Ukraine. And China knows the US and Europe must devote security and military resources to deal with Ukraine that may divert such resources from being used to challenge China.
China also knows if it backs off supporting Moscow's Ukraine adventures, the cost diplomatically to Russia would be immense. That fact probably gives China considerable leverage over Russia. As a result, China arguably has profited handsomely from the Ukraine crisis. China gets Russian energy, help and weapons, and knows -- given Russia's continued dependence on China's political and diplomatic cover for Russia's military aggression -- that these benefits will continue. The same calculus likely applies to Russia's intervention in Syria and Afghanistan, as well.
Russia and China also have essentially identical positions in support of North Korea's negotiating stance on the North Korean nuclear issue. Neither power is pushing for any real reduction or elimination of the North's nuclear arsenal. As a result, the North Korean government feels under no pressure whatever to denuclearize. On top of that, the very presence of North Korea's nuclear weapons continues to disrupt the South Korean-Japanese-US alliance. The presence of American military forces in the region—what North Korea describes as a US "hostile policy" -- is often cited as the reason for North Korea's need for nuclear weapons, instead of the other way around.
Russia, nevertheless, has had to pay for the Chinese support. Virtually every analysis of the relationship concedes that China is the rider and Russia the horse, to use Bismarck's metaphor for alliances.
Russian President Vladimir Putin has stated that, "the main struggle, which is now underway, is that for global leadership and we are not going to contest China on this."
Consequently, Russia's greatest gain is China' support -- both material and otherwise -- for Russia's economic and military probes against the U.S. and its allies. In this manner, Russian hopes to gain Western acceptance of Russia as a great global power and to have it negotiate with Russia as an equal.
Ultimately Russia's ability to act and parade as a great power depends on China's tolerance for, and sufferance of, such behavior. As Beijing encourages Russia's forceful military behavior, however, Moscow continues it for two reasons:
First, Russia must convince itself, the Russian people, and foreign audiences that it truly is the great power it believes itself to be. Military adventures by Russia fill that need.
Second, Russia must convince China that it is indeed a strong player militarily, and thus worthy of an alliance with an ambitious military power such as China.
However, the coronavirus crisis ends, one can expect that Russia, with China's support, will continue to behave as aggressively as it can against the U.S. its allies, its values, and its interests. It will be doing so not only for its own benefit but for China's benefit.
Thus, the National Security Strategy got it right: China is the main adversary. But to confront that threat we need to see this alliance between Russia and China for what it is—a unique but so far durable -- alliance that will continue into the foreseeable future seriously to threaten the United States, the Free World and the West.
Stephen Blank is a Senior Fellow at the Foreign Policy Research Institute. Peter Huessy is Director of Strategic Deterrent Studies at the Mitchell Institute.