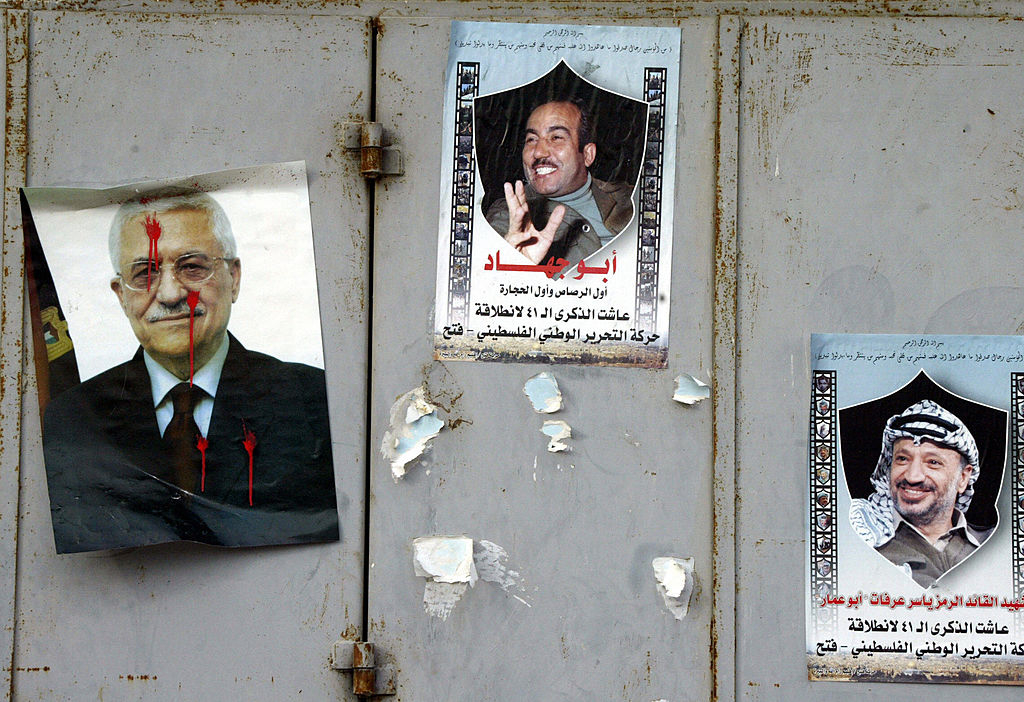 By praising and honoring the memory of the assassinated terrorist Abu Jihad, Palestinian Authority President Mahmoud Abbas is actually encouraging his people to follow in the footsteps of an arch-terrorist who sent people to murder innocent civilians in Israel. Pictured: Posters of Abbas (left), Abu Jihad (center) and late Palestinian leader Yasser Arafat on the shutters of a store in the village of Kharbata, near Ramallah, on January 13, 2006. (Photo by Patrick Baz/AFP via Getty Images)
Palestinian Authority President Mahmoud Abbas has not been seen in public since the outbreak of the coronavirus pandemic in the region last month. His absence, however, has not stopped Abbas from doing what he does best: praising and glorifying Palestinians who kill Jews.
On April 16, Palestinians marked the anniversary of the assassination of Khalil al-Wazir (Abu Jihad), a PLO leader and co-founder of the Palestinian ruling faction Fatah, which is today headed by Abbas. Before Abu Jihad was assassinated by Israeli commandos at his home in Tunis in 1988, he had planned several terror attacks inside Israel against both civilian and military targets.
Last week, Abbas, who is supposed to be busy helping his people curb the spread of the coronavirus, found the time to publish a statement describing Abu Jihad as "one of the historic leaders" of the Palestinians who "played an important role during an "historic, difficult and dangerous phase."
Abbas, in his statement, went on to praise Abu Jihad for "representing a legacy and an example of sacrifice for the sake of a free and independent Palestine." Abu Jihad, he added, was an "inspiration to all the freedom fighters who sacrificed their blood for the fulfillment of the hopes and aspirations of their people for freedom and independence."
What exactly, as Abbas argues, is Abu Jihad's "legacy" and what made him an "inspiration to all freedom fighters"?
Abu Jihad was a Palestinian "leader" who was responsible for the death of not only Jews, but Arabs as well.
Abu Jihad played an important military role in Jordan during the 1970-71 Black September clashes between the PLO and the Jordanian Army, according to the Encyclopedia of the Palestinians. "He also supplied the encircled Palestinian forces in [the Jordanian cities of] Jarash and Ajlun," it noted.
Acting as a state within a state, the PLO forces disregarded Jordanian laws and regulations, and even attempted to assassinate King Hussein twice -- leading to violent confrontations between the Palestinian forces and the Jordanian army.
The exact number of Palestinians and Jordanians killed during the clashes remains unknown. Former PLO Chairman Yasser Arafat claimed that Jordan's army had killed 25,000 Palestinians.
As someone who played an "important role" in the Black September clashes, Abu Jihad has the blood of many Palestinians and Jordanians on his hand.
After he and Arafat were expelled from Jordan to Lebanon, Abu Jihad planned a series of terrorist attacks against Israel.
On March 6, 1975, in the late hours of the night, two dinghies reached the shores of Tel Aviv. The boats carried two terrorist units sent by Abu Jihad to carry out a revenge attack for a 1973 raid on Lebanon, known as Operation Spring of Youth.
The terrorists made their way to the three-story Savoy Hotel and captured hostages. Israeli soldiers stormed into the hotel, thereby saving five hostages. Eight hostages and two Israeli soldiers were nevertheless killed during the mission.
On March 11, 1978, Abu Jihad planned the Kamal Adwan operation (named after a Fatah leader assassinated by Israel in Beirut in 1973), which was carried out by a terrorist group headed by Dalal Mughrabi.
The terrorists arrived from Lebanon on a boat and on the beach encountered nature photographer Gail Rubin, an American citizen, and shot her dead. Then, they proceeded towards Israel's coastal highway, took control of a taxi and a bus, and later another bus. The terrorists gathered all the passengers in one bus and continued southwards towards Tel Aviv. Along the way, they shot at other vehicles as well as at hostages inside the bus. Thirty-four Israeli civilians and an Israeli soldier were killed , and 71 were injured.
Last year, Abbas inaugurated the "Martyr Khalil al-Wazir Faculty for Administration and Military Sciences" at the Al-Istiqlal University in Jericho, as part of the annual events marking the anniversary of the PLO leader's death.
Speaking during the same year at a festival at Al-Quds Open University to mark the anniversary of Abu Jihad's death, Fatah's second-in-command Mahmoud Aloul said that students "should study the values of these leaders who led and died as martyrs."
While most Palestinians were in lockdown in their communities as part of precautionary measures to stem the spread of the coronavirus pandemic, Abbas's Fatah faction was busy last week celebrating the anniversary of the death of Abu Jihad.
"Thirty-two years have passed since your departure and your ideology and soul remains with us," Fatah said in a statement that described the terrorist leader as the "Prince of Martyrs."
Senior Fatah official Qadri Abu Baker, head of the Palestinian Commission for Prisoners, praised Abu Jihad as "The Great Servant of Palestine." He said that Abu Jihad was "a very decent and humane person, and he was very humble."
While Palestinians were expressing concern over the rising number of confirmed coronavirus cases in their villages and cities, Abbas also praised Palestinian prisoners held in Israeli prisons. Most of these prisoners were convicted for their role in terrorism against Israeli civilians and soldiers.
In a message to the imprisoned terrorists, Abbas said:
"We salute our captive heroes who have sacrificed their freedom for the cause of their people. We renew the pledge that we will not sign any peace agreement [with Israel] without the release of all our hero prisoners, who are freedom fighters."
Abu Jihad and the imprisoned Palestinian terrorists were responsible for some of the most horrific terrorist attacks against Israelis in the past five decades. Abu Jihad was not assassinated by Israel because of any political activities or ideology. His assassination stopped him from masterminding more attacks and killing more Israelis.
Abbas and his Fatah officials, nonetheless, believe that Abu Jihad and other Palestinian terrorists are honorable and decent men who were fighting for the sake of their people. What contribution did these terrorists make to Palestinian society? Did they build a school or a hospital for their people?
When Abbas says that Abu Jihad is an "example for sacrifice" for Palestinians, he is actually encouraging his people to follow in the footsteps of an arch-terrorist who sent people to murder innocent civilians in Israel.
When Abbas describes terrorists as heroes, he is actually telling young Palestinians that those who plan and carry out terrorist attacks against Israelis should serve as role models. Abbas evidently wants all Palestinians to be like Abu Jihad and the terrorists in Israeli prisons. For Abbas and other Palestinian leaders, the glorification of terrorists seems to be more important than the fight against a deadly virus.
Bassam Tawil is a Muslim Arab based in the Middle East.